Neurotech Devices Market size is expected to grow significantly from 2020 to 2026. Neurotechnology or neurotech is a burgeoning field of medical sciences. Neurotech devices are defined as the application of engineering and electronics to the human nervous system. The robust growth of this dynamic industry is due to advances in several fields of science and technology, including electrical stimulation, microelectronics, neuroscience, and biomaterials. Neurotech devices usage involves neuro-prosthetics, neuromonitoring, brain-machine interfaces, and neurostimulation. These neurotech devices are intended to bolster nervous system activities and to expand its capabilities.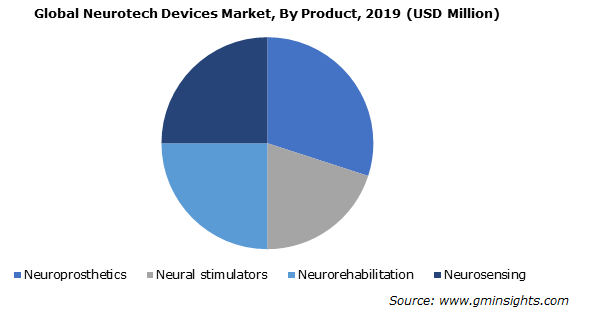 Get more details on this report - Request Free Sample PDF

Growing prevalence of chronic diseases such as brain diseases, epilepsy, dementias and Parkinson's disease have increased the demand for neurotech devices. The demographic shifts in the aging population is anticipated to drive the neurotech devices market growth over the projected timeline. Moreover, rising number of stroke cases and cognitive disorders across the globe will fuel the neurotech devices industry growth.

Technological advancements in the field of neurotech devices will augment the market growth in the foreseeable years. Neurotech devices companies have become more aware of the costs of these conditions to society in terms of productivity loss and diminished life quality. Increasing awareness of specific neuropsychiatric and neurological disorders such as depression, chronic pain, autism, and dyslexia has enforced the neurotech devices industry players to channel their focus on R&D. Such positive scenario will propel the neurotech devices industry growth.Based on product, the neurotech devices market is segmented into neuroprosthetics, neural stimulators, neurorehabilitation, and neurosensing. Neuroprosthetics accounted for significant revenue share in 2019. The robust growth of neuroprosthetics is attributable to increasing incidences of strokes causing cognitive and neural impairments. For instance, according to the Centers for Disease Control and Prevention (CDC), more than 16 million people in the U.S. are living with cognitive impairment. This will bolster the segment growth.

Based on indication, the neurotech devices market is segmented into Parkinson's disease, cerebral palsy, cognitive disorders, epilepsy, incontinence, migraine, hearing conditions, chronic pain, spinal cord injury, stroke, traumatic brain injury, and others. The incontinence segment is projected to witness significant growth over the analysis timeframe owing to rising prevalence of disorder, especially in women across the globe. For instance, as per the U.S. Department of Health and Human Services, around 13 million people in the U.S. suffer from urinary incontinence. Thus, increasing incidence of various neurological disorders will drive the market growth.

Based on usage, the market is classified into diagnostics and therapeutics. The therapeutics segment is projected to experience a robust growth over the analysis timeframe. Increasing prevalence of cognitive disorders, epilepsy, migraine, hearing conditions, chronic pain, spinal cord injury, and stroke, worldwide, has led to a rise in demand for therapeutic neurotech devices, thereby propelling the segment growth.

Based on end-use, the market is segmented into hospitals, clinics, diagnostic centers, ambulatory surgical center, and home care facilities. The hospitals segment is anticipated to experience significant growth over the forecast period. Increasing hospital establishments in numerous developed and developing countries, and growing healthcare expenditure by the government will propel the segment growth over the projected timeline.

North America neurotech devices market accounted for the largest share in 2019 and the scenario is likely to remain so over the foreseeable future. Presence of a large number of neurotech devices manufacturers and increasing R&D activities in the region is anticipated to fuel the regional growth.

Prominent industry players operating in neurotech devices market include Abbott, Advanced Bionics Corp, Axonics Modulation, Boston Scientific Corp, Cogentix Medical, Cleveland Medical Devices, EndoStim, LivaNova, Medtronic, Natus Medical, Neuronetics, NeuroSigma, Restorative Therapies and Zynex Medical among other players. These market players are investing significantly in R&D activities to develop novel neurotech devices products. For instance, in February 2018, Zynex introduced NeuroMove device for stroke rehabilitation. This product launch helped the company to expand its product offerings in neurotech devices industry.

Neurotech Devices Market, By Product, 2015-2026 (USD Million)
Neuroprosthetics

Auditory prostheses
Visual prostheses
Upper extremity neuroprosthetics
Lower extremity neuroprosthetics
Robotic exoskeletons
Others

Neural stimulators

Implanted spinal cord stimulators
Implanted brain stimulators
Vagus nerve stimulators
Peripheral nerve stimulators
Cranial nerve stimulators
Surface pain stimulators
Transcranial magnetic stimulators
Bioelectronic stimulators
Transcranial electrical stimulators

Neurorehabilitation

Muscle stimulators
Neural reeducation systems
Therapeutic neurorobotic systems
FES exercise systems
Others

Neurosensing

Electrophysiological sensing systems
Magnetic sensing systems
Brain analysis systems
Brain computer interfaces
Peripheral neural sensors
Neurotech Devices Market, By Indication, 2015-2026 (USD Million)
Parkinson's disease
Cerebral palsy
Cognitive disorders
Epilepsy
Incontinence
Migraine
Hearing conditions
Chronic pain
Spinal cord injury
Stroke
Traumatic brain injury
Others
By Usage, 2015-2026 (USD Million)
By End-use, 2015-2026 (USD Million)
Hospitals
Clinics
Diagnostic centers
Ambulatory surgical center
Home care facilities
The above information is provided for the following regions and countries:
North America
Europe

Germany
UK
France
Italy
Spain

Asia Pacific

Japan
China
India
Australia

Latin America
Middle East and Africa

South Africa
Saudi Arabia

What Information does this report contain?
Historical data coverage: 2016 to 2020; Growth Projections: 2021 to 2027.
Expert analysis: industry, governing, innovation and technological trends; factors impacting development; drawbacks, SWOT.
6-7 year performance forecasts: major segments covering applications, top products and geographies.
Competitive landscape reporting: market leaders and important players, competencies and capacities of these companies in terms of production as well as sustainability and prospects.