Hematology Diagnostics Market size is projected to experience significant growth from 2019 to 2025.

Hematology is the study of blood and blood diseases. Hematology includes the treatment of malignancies and blood disorders, including types of hemophilia, sickle-cell anemia, leukemia and lymphoma. Hematological tests can evaluate several medical conditions involving blood and its components. One of the most common hematology tests is the complete blood count, or CBC test. Hematology diagnostics market is estimated to witness substantial growth across the forecast period, owing to increasing technological advancements pertaining to hemoglobin analyzers.

Global Hematology Diagnostics Market, By Product, 2018 (USD Million)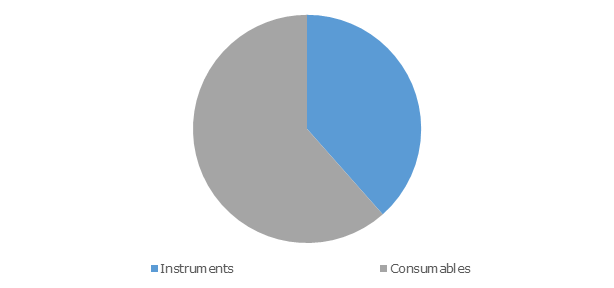 Get more details on this report - Request Free Sample PDF

The global hematology diagnostics market is expected to witness significant growth across the forecast timeframe. High growth is attributed to increasing prevalence of blood related disorders across the globe. As per Centers for Disease Control And Prevention (CDC), in 2015, 5,382 people died due to anemia in the U.S. Moreover, increasing incidence of iron deficiency in women and children will further boost prevalence of anemia and other blood related disorders. Hence, the above-mentioned factors will significantly drive hematology diagnostics market growth.

Increasing technological advancements is another chief factor propelling market growth. Major players such as Abbott, Danaher and EKF Diagnostics are primarily focusing on R&D activities to offer innovative hematology testing devices. Moreover, increasing inclination towards point of care testing is another important factor boosting product sales. Also, favorable government initiatives to educate people about several point of care tests to detect blood related disorders will further stimulate business growth. However, high cost associated with hematology diagnostic devices will impede market growth up to a certain extent.

Based on product, the hematology diagnostics market is segmented into instruments and consumables. The instruments segment is expected to witness substantial growth over the forecast period. Point of care hematology testing devices are gaining popularity around the world. Moreover, technological advancements pertaining to hematology diagnostic devices will further boost product demand. Additionally, increasing number of government approvals for such devices will further augment business growth.

The test-type segment is bifurcated into hemoglobin, hematocrit, platelet function and blood count. The hematocrit segment is expected to experience considerable growth over the forecast period. A hematocrit test is a part of complete blood count. Estimating the proportion of RBCs in the blood can help in monitoring or diagnosis of anemia and other blood disorders. Hence, increasing incidence of blood related disorder across various regions of the world will considerably boost segmental growth.

End-use segment consists of hospitals, clinics, laboratories, home care settings and surgical centers. Hospitals as an end-use is expected to witness positive growth across the projected years. Hospitals offer point of care hematology tests at an affordable price. Increasing awareness of patients towards various hemoglobin tests coupled with availability of state-of-the-art facilities will augment industry growth. Moreover, increasing number of hospitals performing hemoglobin test with essential safety standards with further propel segmental growth.

The U.S. is expected to witness substantial growth over the forecast period owing to increasing number of companies operating in the hematology diagnostics market. Companies such as Siemens, EKF Diagnostics and Bio-Rad are focused on new product development to gain competitive advantage in the market. Moreover, increasing technological advancements pertaining to hematology testing is another key reason in boosting industry growth. Also, rising prevalence of blood related disorders is another crucial factor propelling hematology diagnostics market in the U.S.

India is expected to witness significant growth in the hematology diagnostics market during the analysis period. Rising incidence of iron deficiency among pregnant women and children is one of the major factors driving the Indian hematology diagnostics market. The government of India have a long history of various political-run programs to educate the people about anemia and its ill effects. For instance, the government announced the launch of an awareness program called Anemia Mukt Bharat in April 2018, for combating anemia and other blood disorders. Hence, such initiatives will significantly drive industry growth during the forecast timeframe.

Some of the key industry players include Abbott, Beckman Coulter, Bio-Rad Laboratories, Danaher, EKF Diagnostics, F. Hoffmann-La Roche Ltd, Horiba, Mindray, Siemens Healthcare, CellaVision and Sysmex Corporation. Major strategies adopted by industry players include strategic collaborations, partnerships, mergers and innovative product launch to expand their business. For instance, in October 2019, CellaVision announced the acquisition of RAL Diagnostics. RAL Diagnostics is a leading producer of reagents in hematology. Hence, the acquisition will assist CellaVision to expand its hematology product portfolio.

Hematology Diagnostics Market, By Product, 2014-2025 (USD Million)
Hematology Diagnostics Market, By Test-Type, 2014-2025 (USD Million)
Hemoglobin
Hematocrit
Platelet function
Blood count
Hematology Diagnostics Market, By End-use, 2014-2025 (USD Million)
Hospitals
Clinics
Laboratories
Home care settings
Surgical centers
Others
The above information is provided for the following regions and countries:
North America
Europe

Germany
UK
France
Italy
Spain

Asia Pacific

Japan
China
India
Australia

Latin America
Middle East and Africa

Saudi Arabia
South Africa
UAE
Kuwait
Company Profiles:
Abbott
Beckman Coulter
Bio-Rad Laboratories
CellaVision
Danaher
EKF Diagnostics
F. Hoffmann-La Roche Ltd
Horiba
Mindray
Siemens Healthcare
Sysmex Corporation
What Information does this report contain?
Historical data coverage: 2016 to 2020; Growth Projections: 2021 to 2027.
Expert analysis: industry, governing, innovation and technological trends; factors impacting development; drawbacks, SWOT.
6-7 year performance forecasts: major segments covering applications, top products and geographies.
Competitive landscape reporting: market leaders and important players, competencies and capacities of these companies in terms of production as well as sustainability and prospects.