Prostate Cancer Diagnostics Industry Analysis
Prostate Cancer Diagnostics Market size was valued at USD 3.7 billion in 2022 and is estimated to witness 12.4% CAGR from 2023 to 2032. This market revenue is attributable to the various factors comprising the rising incidence of prostate cancer, advancements in diagnostic technologies, shift towards precision medicine, and surging focus on biomarkers & genomic profiling among others.

To get more details on this report: Request Free Sample PDF

Prostate cancer is one of the most common cancers among men worldwide. For instance, as per the American Cancer Society, in 2020, an estimated 3,343,976 men were living with prostate cancer in the U.S. This rising prevalence of prostate cancer is expected to drive the demand for target disease diagnosis. In the prostate cancer diagnostics industry, there is a growing focus on developing molecular diagnostics and genetic testing to identify specific biomarkers and genetic mutations associated with prostate cancer. This trend allows for more personalized treatment approaches and targeted therapies.
Prostate Cancer Diagnostics Market Report Coverage
Report Coverage
Details
Base Year:
2022
Market Size in 2022:
USD 3.7 Billion
Forecast Period:
2023 to 2032
Forecast Period 2023 to 2032 CAGR:
12.4%
2032 Value Projection:
USD 11.6 Billion
Historical Data for:
2018 to 2022
No. of Pages:
220
Tables, Charts & Figures:
376
Segments covered:
Test Type, Cancer Type, End-use, and Region
Growth Drivers:

Increasing prevalence of prostate cancer
Technological advancements
Surging awareness and screening initiatives
Increasing popularity of prostate cancer diagnostic tests

Pitfalls & Challenges:

Lack of skilled professionals
Stringent regulations
To get more details on this report: Request Free Sample PDF

Moreover, biomarkers play a crucial role in diagnosing and monitoring prostate cancer. There is a growing emphasis on identifying and validating novel biomarkers for early detection, prognosis, and treatment response monitoring. Genomic profiling, including next-generation sequencing (NGS), is also gaining prominence to understand the genetic characteristics of prostate cancer and guide treatment decisions. As a result, the market for prostate cancer diagnostics is expected to expand globally, driven by the increasing prevalence of prostate cancer, the shift towards precision medicine, and advancements in diagnostic technologies among others.

Prostate cancer diagnostics refers to the process of identifying and evaluating prostate cancer in individuals suspected of having the disease. The primary goal of prostate cancer diagnostics is to detect and diagnose prostate cancer at its earliest stages, allowing for timely treatment and improved outcomes.

However, the stringent regulatory framework related to the prostate cancer diagnostic products may hamper the market size. The U.S. FDA has rigid regulatory compliances and complex approval procedures that may obstruct the prostate cancer diagnostics market growth. The majority of such products need a premarket notification, or 510(k) process prior to their commercialization in the market. Such stringent product regulations may lead to penalties and loss of market access in a global marketplace.

Further, regulations majorly delay the approval of these products due to time-consuming documentation and review protocols. These products usually require the optimum level of scrutiny and a set of entire preclinical & clinical reviews through pre-market approvals, with the majority requiring clinical studies and subsequent information. These additional controls include mandates such as post-market surveillance, special labelling requirements, and meeting the pre-set performance standards.

COVID-19 Impact
The COVID-19 pandemic has had a negative impact on the prostate cancer diagnostics markets. During the pandemic, healthcare systems worldwide faced immense pressure due to the surged number of COVID-19 cases. As a result, many routine and non-urgent medical procedures including cancer screenings and treatments were delayed or postponed. This delay in diagnosis and treatment had an impact on the demand for prostate cancer diagnostic tests.

Non-essential surgeries and treatments were delayed prioritizing COVID-19 patients. This had led to decreased utilization of prostate cancer diagnostic tests during the pandemic. The global medical device supply chain experienced disruptions during the pandemic and these disruptions had led to delays in the production, distribution, and availability of prostate cancer diagnostic products, impacting market growth.

However, in 2021, the technological advancements and incorporation of advanced imaging techniques have augmented target disease diagnosis and treatment compliance and promoted the acceptance of products. Furthermore, focused efforts were being undertaken by numerous hospitals, oncologists, and healthcare authorities to restore the flow of prostate cancer diagnostic procedures. Thus, the COVID-19 pandemic has slightly affected the market in the shorter run; however, the reduced COVID-19 infection rates & patients and rising procedural volume facilitated the market revenue.
Prostate Cancer Diagnostics Market Trends
Prostate cancer diagnostic tests have witnessed significant technological advancements in recent years. These advancements are intended to improve the accuracy and effectiveness of cancer diagnostics, staging, and treatment options. Several biomarkers, such as prostate-specific antigen (PSA), have been used for prostate cancer screening and monitoring. However, novel biomarkers such as prostate cancer antigen 3 (PCA3), TMPRSS2-ERG fusion, and 4Kscore are developed to improve diagnostic accuracy and risk stratification. These biomarkers can be combined with other clinical information to enhance personalized treatment decisions.

Healthcare professionals are employing artificial intelligence and machine learning techniques to analyse medical imaging data and assist in prostate cancer diagnosis. These algorithms are helping radiologists and urologists identify suspicious regions on mpMRI, improve biopsy targeting, and aid in risk stratification.

Furthermore, advances in genomic sequencing technologies have allowed for comprehensive genomic profiling of prostate tumours. By analysing the genomic alterations, researchers are identifying specific genetic mutations or alterations that drive the development and progression of prostate cancer. This data is proving to be significant in selecting targeted therapies and personalized treatment approaches. As a result, technological advancements hold promise in improving prostate cancer diagnosis & treatment procedures efficiently.

Prostate Cancer Diagnostics Test Type Segmentation
To get more details on this report: Request Free Sample PDF

The prostate cancer diagnostics market from imaging tests segment held over USD 1.4 billion in 2022, owing to the several advantages associated with the imaging tests in the treatment of prostate cancer. Imaging tests are performing a crucial role in detecting the presence of prostate cancer and determining its location within the prostate gland. This information significantly assisting in making informed decisions about further diagnostic procedures and treatment planning. Imaging tests comprising magnetic resonance imaging (MRI), computed tomography (CT) scan, or positron emission tomography (PET) scan are helping to assess the size and spread of the tumour, involvement of nearby lymph nodes, and potential metastasis to other organs.

These medical imaging tests can be used at regular intervals to monitor the cancer's progression and assess the need for active intervention. This approach minimizes unnecessary treatments and their associated side effects. Imaging tests can be also employed during and after treatment to evaluate the response to therapies such as radiation or chemotherapy. By visualizing changes in tumour size and characteristics, healthcare providers can assess treatment effectiveness, modify the treatment plan if necessary, and monitor disease progression or recurrence. Thus, visual representation of the tumour and its characteristics through imaging provide valuable information associated with the diagnosis of prostate cancer.

Prostate Cancer Diagnostics Cancer Type Segmentation
To get more details on this report: Request Free Sample PDF

The prostate cancer diagnostics market from prostatic adenocarcinoma segment dominated around USD 1.6 billion in 2022. Prostatic adenocarcinoma is one of the most common types of prostate cancer globally. As per the European Association of Urology, in 2020, prostate cancer was the second most commonly diagnosed cancer in men, with an estimated 1.4 million diagnoses worldwide. Diagnostic tests play a crucial role in the treatment of prostatic adenocarcinoma. These tests help in various aspects of the treatment process, including early detection, accurate staging, and monitoring treatment response.

Some advantages of diagnostic tests in treating prostatic adenocarcinoma includes personalized treatment planning, treatment response monitoring, determining risk stratification, etc. Diagnostic tests are observed as highly valuable for monitoring the effectiveness of treatment. Regular PSA testing can track changes in PSA levels, that can indicate response to treatment. Imaging techniques like MRI or CT scans can assess tumor size and regression, allowing physicians to modify or adjust the treatment plan if needed. Hence, numerous benefits associated with the diagnostic tests in prostatic adenocarcinoma treatment will augment the business growth.

Prostate Cancer Diagnostics End-use Segmentation
The prostate cancer diagnostics market from hospitals segment is poised to reach USD 5.3 billion by 2032. Hospitals play a crucial role in the diagnosis of prostate cancer and offer several advantages for patients. Hospitals often have access to advanced medical technologies, equipment, and infrastructure required for the diagnosis, staging, and treatment of prostate cancer. This includes cutting-edge imaging techniques, biopsy systems, radiation therapy machines, and specialized laboratories, enabling accurate diagnosis and personalized treatment options.

Similarly, hospitals offer a range of supportive care services to enhance the overall well-being of prostate cancer patients. These services may include psychological counselling, pain management, nutritional guidance, physical therapy, and support groups. Thus, numerous benefits related to the hospitals in prostate cancer diagnosis & treatment are driving the segment growth.

Prostate Cancer Diagnostics Regional Analysis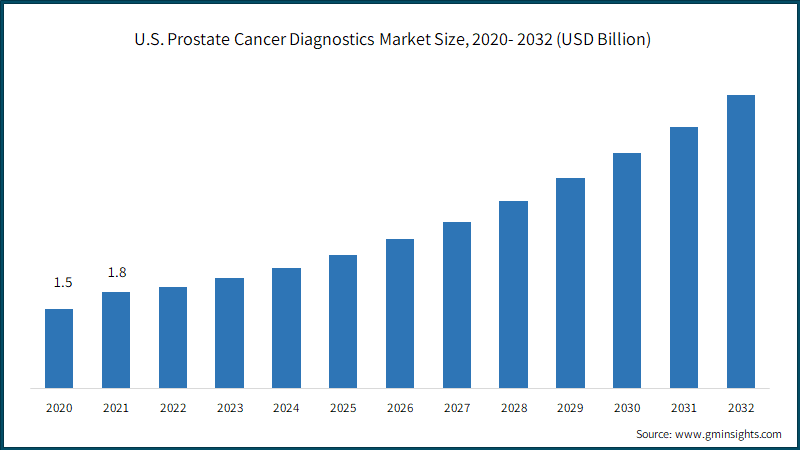 U.S. prostate cancer diagnostics market is anticipated to cross USD 5.4 billion by 2032, due to the multiple variables such as increasing prevalence of prostate cancer, favourable reimbursement policies, awareness & screening programs, and R&D activities among others. Prostate cancer is a significant health concern in the U.S., and the demand for effective diagnostic options has driven the industry statistics.

Prostate cancer is one of the most common cancers among men, and the aging population in the U.S. contributes to the growing incidence of this disease. Access to adequate reimbursement for prostate cancer treatment procedures and devices encourages the adoption of advanced diagnostic technologies. Increased awareness about prostate cancer and the availability of screening programs have also led to early detection and subsequent treatment, thereby driving the demand for diagnostic products. Moreover, ongoing R&D activities focused on improving treatment outcomes and reducing side effects have led to the introduction of new and more advanced prostate cancer diagnostic devices.

Prostate Cancer Diagnostics Industry Leaders
Some of the major companies operating in the prostate cancer diagnostics market are Abbott Laboratories, Agilent Technologies, AstraZeneca Plc., Bayer, Becton Dickinson and Company, and Biocept Inc. Major companies are adopting strategic formulations such as forward integration, new product development, geographical expansion, and research collaborations to garner maximum industry share and promote company growth.

Prostate Cancer Diagnostics Industry News:
In March 2023, Qritive launched new AI-powered tool for prostate cancer diagnosis. The new tool can accurately identify prostatic adenocarcinoma regions as well as classify malignant and benign tumors. Following identification and classification, the tool provides a detailed summary, that includes tumor size as well as the percentage for each slide or region of interest (ROI) for screening adenocarcinoma. This launch will assist the company in strengthening its market presence worldwide.

In October 2021, Roche launched comprehensive genomic profiling kit to expand access to personalized cancer research. The AVENIO Tumor Tissue CGP Kit complements the CGP portfolio offered by Roche and Foundation Medicine and allows laboratories to expand their oncology research in-house. As a result, the launch of this kit significantly expanded access to genomic profiling globally and boosted the company's R&D activities.

This prostate cancer diagnostics market research report includes an in-depth coverage of the industry with estimates & forecast in terms of revenue in USD (million) and volume (units) from 2018 to 2032 for the following segments:


Click here to Buy Section of this Report
Market, By Test Type
Imaging Tests
Biomarker Tests
Biopsy
Immunohistochemistry
Others
Market, By Cancer Type
Benign Prostatic Hyperplasia
Prostatic Adenocarcinoma
Small Cell Carcinoma
Others
Market, By End-use
Hospitals
Diagnostic Laboratories
Cancer Research Institutes
Others
The above information has been provided for the following regions and countries:
North America
Europe

Germany
UK
France
Spain
Italy
Poland
Switzerland
The Netherlands

Asia Pacific

Japan
China
India
Australia
South Korea
Indonesia
Philippines
Vietnam

Latin America

Brazil
Mexico
Argentina
Chile
Colombia
Peru

Middle East & Africa

South Africa
Saudi Arabia
UAE
Israel
Iran
Turkey