Enzyme Replacement Therapy Market Size, Industry Analysis Report, Regional Outlook (U.S., Canada, Germany, UK, France, Italy, Spain, Japan, China, India, Australia, Brazil, Mexico, Saudi Arabia, South Africa), Application Potential, Price Trends, Competitive Market Share & Forecast, 2021 – 2027
Report ID: GMI4449
Enzyme Replacement Therapy Market size is projected to experience significant growth from 2019 to 2025.

Enzyme replacement therapy is intended to treat the medical condition that is caused by deficiency or absence of an enzyme within the human body. The patients are usually given intravenous infusion or oral tablets containing the enzyme in either liquid or solid forms.

Enzyme Replacement Therapy Market, By Application, 2018 & 2025 (USD Million)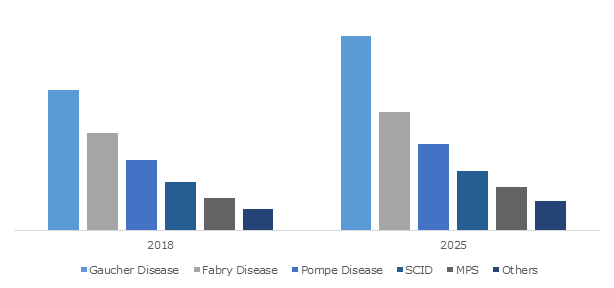 Get more details on this report - Request Free Sample PDF

Growing awareness pertaining to the efficient management of rare diseases and rising number of market players providing treatment options for rare diseases will boost market growth. Also, various government policies to support the development of treatment options for management of rare diseases will spur industry growth. For instance, in July 2017, Alexion announced that it entered into a funding agreement with National Institute for Health and Care Excellence (NICE) & NHS, UK for treatment of pediatric-onset hypophosphatasia (HPP) with its product Strensiq. Such funding activities will encourage the manufacturers to develop novel therapies, thus fostering market growth.

The global enzyme replacement therapy market is expected to show steady growth across the forecast timeframe. High growth is due to wider availability of therapy and ease of access for enzyme replacement therapy (ERT). Moreover, additional advantages associated with ERT include fewer side effects and increasing government support for enzyme treatment. Also, as enzyme replacement therapies are usually intended for rare diseases, the approval process is comparatively easier, thus fostering the market growth.

However, high cost of the treatment will be the major factor impeding market growth. Uneven biodistribution of the recombinant enzymes to the target area will further hamper the market growth.

The enzyme type segment includes alglucosidase alfa, agalsidase beta, galsulfase, idursulfase, imiglucerase, laronidase, pegademase, taliglucerase, velaglucerase alfa and others. Agalsidase beta segment is expected to witness substantial growth over the forecast period. Agaldidase beta is used for the treatment of Fabry's disease, a type of lysosomal storage disorder. It is caused due to deficiency of alpha-galactosidase A enzyme that leads to buildup of fat cells in the body. With growing number of cases of Fabry disease, the demand for Agaldidase beta-based enzyme replacement therapies is expected to grow, thereby fostering market growth.

The application segment is bifurcated into Gaucher disease, Fabry disease, Pompe disease, severe combined immunodeficiency (SCID) and Mucopolysaccharidosis (MPS). The Gaucher disease segment is forecasted to witness steady growth in the future. High growth is attributed to increasing prevalence of Gaucher disease. Also, major market players are involved in the development of various enzyme replacement therapy treatments to meet the growing needs of the patients. Aforementioned factors will significantly drive the market growth in the analysis period.

Enzyme replacement therapy is administered by oral and parenteral route. Parenteral route is estimated to witness lucrative growth across the forecast timeframe. Parenteral route facilitates rapid drug delivery and fast absorption. Moreover, few of the advantages of parenteral route include superior adherence to treatment regimen and controlled drug delivery. Also, as majority of the market players are involved in formulation of parenteral enzyme replacement therapy, the segment will show high growth rate in the future.

The end-use segment consists of hospitals, clinics and home care settings. Home care settings segment is expected to observe positive growth trajectory during the projected years. Easy treatment options and effective therapy at home care settings will spur segmental growth. Also, various treatment options are available for home care settings. With majority of the elderly patients prefering treatment at home care settings and growing influence of home infusion therapy, the home care settings market will show steady growth in the future.

The Asia Pacific enzyme replacement therapy market is expected to witness tremendous growth during the forecast period. Presence of developed nations such as Japan and Australia with superior healthcare infrastructure will be conducive the industry growth. Also, majority of the companies are increasingly seeking to explore the growth opportunities in developing nations of India and China. Furthermore, growing disposable income in developing economies of the region will prove to be beneficial to the regional growth.

Some of the key industry players include AbbVie, Alexion, Allergan, BioMarin, Johnson & Johnson, Protalix, Sanofi and Shire. These companies are adopting various strategies such as acquisitions, mergers, new product launch and agreements with the government organizations to expand their business. For instance, in January 2019, Takeda Pharmaceuticals announced that it completed the acquisition of Shire. This acquisition enabled the company to expand its product portfolio of rare disease treatment and strengthened the company's geographic footprint.

Enzyme Replacement Therapy Market, By Enzyme Type, 2014-2025 (USD Million)
Alglucosidase Alfa
Agalsidase Beta
Galsulfase
Idursulfase
Imiglucerase
Laronidase
Pegademase
Taliglucerase
Velaglucerase Alfa
Others
Enzyme Replacement Therapy Market, By Application, 2014-2025 (USD Million)
Gaucher Disease
Fabry Disease
Pompe Disease
SCID
MPS
Others
Enzyme Replacement Therapy Market, By Route of Administration, 2014-2025 (USD Million)
Enzyme Replacement Therapy Market, By End-use, 2014-2025 (USD Million)
Hospitals
Clinics
Home care settings
Others
The above information is provided for the following regions and countries:
North America
Europe

Germany
UK
France
Italy
Spain

Asia Pacific

Japan
China
India
Australia

Latin America
Middle East and Africa

Saudi Arabia
South Africa

What Information does this report contain?
Historical data coverage: 2016 to 2020; Growth Projections: 2021 to 2027.
Expert analysis: industry, governing, innovation and technological trends; factors impacting development; drawbacks, SWOT.
6-7 year performance forecasts: major segments covering applications, top products and geographies.
Competitive landscape reporting: market leaders and important players, competencies and capacities of these companies in terms of production as well as sustainability and prospects.
Customize this Report
Our Market Research Reports Include:
Market snapshot

Market Segmentation

Value Chain Analysis

Growth Dynamics

Potential Market Opportunities

Regulatory Overview

Technology Evolution

Innovation & Sustainability
Connect with our sales team