Transfer Switch Market Size
Transfer Switch Market size was valued at USD 2.3 billion in 2022 and is estimated to witness 6.1% CAGR from 2023 to 2032, due to ongoing reforms aimed at replacing conventional power generation technologies with sustainable energy sources, particularly in developed economies. This shift towards renewable energy has led to increased investments in large-scale renewable capacity integration. The demand for transfer switches has also been boosted by the renewable energy targets set by nations during the UN Climate Change Conference in 2015. As a result, the market growth is driven by the growing adoption of renewable energy sources.
To understand key trends &nbsp
Download Free Sample

A transfer switch is an electrical device that allows for the safe and seamless transfer of power between two different power sources. It is commonly used in various applications, including residential, commercial, and industrial settings, where uninterrupted power supply is critical. The primary function of a transfer switch is to switch the load between the main power source (usually the utility grid) and an alternative power source, such as a backup generator or a renewable energy system (e.g., solar panels). When the main power source fails or is unavailable, the transfer switch automatically detects the power interruption and initiates the transfer of the load to the backup power source, thus making the adoption of transfer switches necessary in order to minimize power outages.
Transfer Switch Market Report Attributes
Report Attribute
Details
Base Year:
2022
Transfer Switch Market Size in 2022:
USD 2.3 Billion
Forecast Period:
2023 to 2032
Forecast Period 2023 to 2032 CAGR:
6.1%
2032 Value Projection:
USD 4.2 Billion
Historical Data for:
2019 to 2022
No. of Pages:
700
Tables, Charts & Figures:
991
Segments covered:
Operation, Switching Mechanism, Transition, Ampere Rating, Installation Advancing auxiliary switching technologies
Growth Drivers:

North America
Increasing demand for refurbishment of electric grid networks
Integration of advanced switching technologies

Europe
Growing security of supply concerns
Rising investments towards industrial expansion
Rapid expansion of micro-grid networks
Asia Pacific
Large-scale renewable integration reforms
Increasing demand for electricity
Middle East & Africa
Increasing demand for off grid electricity
Latin America
Growing demand for a sustainable electrical network
Pitfalls & Challenges:

Advancing auxiliary switching technologies
To understand market opportunities &nbsp
Download Free Sample

COVID-19 Impact
COVID-19 pandemic has posed various challenges to the transfer switch market. Supply chain disruptions and manufacturing constraints caused by lockdowns, travel restrictions, and workforce limitations have impacted the production and availability of transfer switches, thus restraining the market growth. This has led to delays in project timelines and installations, affecting the overall market growth. Furthermore, economic uncertainties and budget constraints caused by the pandemic have led to cautious spending and delayed investments in new infrastructure projects. This has impacted the demand for transfer switches, especially in commercial and industrial sectors, thereby declining the overall industry growth.
However, the covid-19 pandemic also had some positive impacts on the transfer switch market revenue. The pandemic has increased awareness and importance of uninterrupted power supply, particularly in critical sectors such as healthcare facilities, data centers, and essential infrastructure. This has led to a higher demand for transfer switches as organizations seek to ensure reliable power backup solutions to maintain operations during power outages or disruptions.
The pandemic has accelerated the adoption of remote work and remote learning, leading to an increased reliance on digital connectivity and power backup solutions at residential properties. This has driven the demand for transfer switches in residential applications, as homeowners seek to protect their electrical systems and essential appliances. Moreover, as the situation stabilizes and economies recover, the demand for transfer switches is expected to rebound and continue its upward trajectory.
Transfer Switch Market Trends
The electricity industry has experienced significant growth in recent years, particularly in Asia Pacific and Africa, due to factors such as urbanization and the establishment of commercial buildings. However, the complexity of the power grid infrastructure and frequent failures necessitate the need for auxiliary power sources. This has led to a substantial increase in the adoption of transfer switches in commercial and residential applications, driving the growth of the transfer switch market. Manufacturers are focusing on developing more efficient products to reduce standby losses and overall energy costs, further contributing to market expansion.
The demand for transfer switches is also being driven by evolving technologies and increased industrial investments. Industries are prioritizing the implementation of reliable and safe operating environments, leading to a higher demand for transfer switches. Additionally, government initiatives aimed at enhancing operational safety and the growing need for HVAC systems in industries are expected to stimulate market demand. Regulatory reforms that encourage foreign direct investment (FDI) in industrial establishments will also have a positive impact on the market. FDI plays a crucial role in the sustainable growth of the global manufacturing industry, and its influence will contribute to the overall market outlook.
Transfer Switch Market Analysis
To understand key market trends &nbsp
Download Free Sample

The automatic transfer switch market held over 65% revenue share in 2022 and is poised to expand at 5% CAGR through 2032, due to their operational flexibility and frequency sensing capabilities, which provide reliable power transfer. Automatic transfer switches are expected to maintain their majority share in the market due to their compatibility with permanently installed standby generators and their ability to provide quick response times. The ongoing deployment of critical power systems, such as HVAC networks, fire alarms, security systems, communication systems, and signaling units, will drive the demand for automatic transfer switches.
To understand key market trends &nbsp
Download Free Sample

The transfer switch market size from open transition transfer switches segment dominated around USD 1.3 billion in 2022 and will reach USD 2 billion by 2032. Open transition transfer switches, which effectively prevent in-rush current and offer low initial costs, have gained significant traction in the market. These switches are available in in-phase and delayed transition variations, providing operational flexibility. The demand for cost-effective electrical equipment in residential and small-scale industrial applications is expected to drive the adoption of open transition transfer switches.
The closed transition transfer switch market is projected to surpass the installation of over 4 million units annually by 2032. This technology has seen moderate penetration in the industry due to higher initial costs and the inability to synchronize with manual controller operations. However, favorable government initiatives focused on operational safety and the increasing adoption of advanced technology will drive the demand for closed transition transfer switches. The technology is expected to experience significant growth in the coming years, primarily due to the rising interest in reducing energy costs through peak shaving.
Transfer switch market from optional standby systems segment is set to observe more than 4% CAGR till 2032. Growing awareness among residential and commercial users about the importance of backup power systems to maintain essential operations during power outages is set to enhance the demand for optional standby system transfer switches owing to their ability to seamlessly transfer power between utility and standby sources. The emergence of smart technologies is further transforming the transfer switch adoption for optional standby systems. Manufacturers are incorporating advanced features such as remote monitoring, control interfaces, and connectivity options, allowing users to monitor and control their backup power systems remotely, thus driving the product penetration.
In addition, the integration of renewable energy sources, such as solar power and wind power, with optional standby power systems is gaining traction. Transfer switches are being designed to accommodate multiple power sources, including utility power, standby generators, and renewable energy systems, which in turn is complementing its penetration, thus boosting the transfer switch market growth exponentially.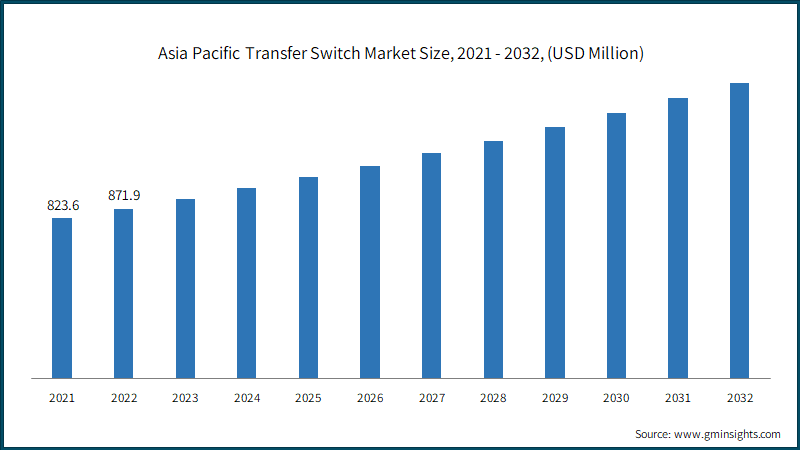 To understand regional trends &nbspDownload Free Sample

Asia Pacific transfer switch market is predicted to exhibit a CAGR of 5.5% during the forecast period, owing to soaring population growth resulting in growing reliable electricity demand. The region's fast-growing urbanization and infrastructure development are driving the demand for reliable power transfer solutions. The construction of commercial buildings, residential complexes, data centers, hospitals, and manufacturing facilities necessitates the installation of transfer switches to ensure uninterrupted power supply during grid outages or maintenance.
Moreover, the need for energy security is a significant driver transfer switch adoption in the Asia Pacific region. Countries are investing in backup power systems and transfer switches to mitigate the impact of frequent power outages caused by natural disasters, infrastructure limitations, or high demand. This trend is particularly prominent in countries prone to typhoons, earthquakes, and other extreme weather events.
The deployment of smart grid technologies is gaining traction across the region, which further acts as a major driver for market. Transfer switches are being integrated into smart grid systems to enable seamless switching between grid power and distributed energy resources, such as solar panels and battery storage. This integration enhances grid stability, load management, and renewable energy utilization, therefore proliferating the market statistics.
Transfer Switch Market Share
Notable companies operating in the transfer switch market include
General Electric
Vertiv Group Corp
Generac Power Systems, Inc.
Kohler Co.
Cummins Inc.
Caterpillar
Briggs & Stratton
Eaton
Schneider Electric
ABB
Siemens
AEG Power Solutions
Midwest Electric Products
One Two Three Electric Co. Ltd.

Key companies in the transfer switch industry are focusing on bulk manufacturing and making substantial investments in research and development to develop advanced protection and control technologies. Additionally, these companies are also prioritizing the production of high-end customized products and expanding their manufacturing facilities to meet the growing demand for flexible product integration. These strategic initiatives have become crucial in shaping the competitive landscape of the industry.
Transfer Switch Industry News:
In March 2023, Cummins Inc. has introduced the PowerCommand® B-Series transfer switches to its product line in North America. These transfer switches range from 1200 amps to 3000 amps and feature bypass-isolation functionality. This new product release aligns with Cummins' dedication to providing reliable, innovative, and comprehensive power solutions.

In June 2020, Generac introduced a new TX series transfer switches to expand its transfer switch offerings to the customers. The new innovative product is designed to offer a wide range of applications including commercial, residential and industrial application. The new transfer switch offers various features and can operate on any voltage required at the site. The product series launch will allow Generac to offer more innovative products to its customers, thus boosting their market share.
This transfer switch market research report includes an in-depth coverage of the industry with estimates & forecast in terms of '000 Units & USD Million from 2019 to 2032, for the following segments:


Click here to Buy Section of this Report
Market, By Operation
Manual
Non-Automatic
Automatic
By-pass Isolation
Market, By Switching Mechanism
Contactor
Circuit Breaker
Market, By Transition
Market, By Ampere Rating
<= 400 Amp
401 Amp to 1600 Amp
> 1600 Amp
Market, By Installation
Emergency Systems
Legally Required Systems
Critical Operations Power Systems
Optional Standby Systems
The above information has been provided for the following regions and countries:
North America
Europe

Germany
France
Russia
UK
Italy
Spain

Asia Pacific

China
Japan
South Korea
India
Australia

Middle East & Africa

UAE
South Africa
Saudi Arabia

Latin America