Robotics Actuators Industry Analysis
Robotics Actuators Market size was valued at USD 13.4 billion in 2022 and is anticipated to grow at a CAGR of over 10% between 2023 and 2032. The industry is driven by the increasing adoption of industrial automation, where in the mechanical components enable the movement & functionality of robots and automated machinery.

To get more details on this report: Request Free Sample PDF

In manufacturing, robots equipped with actuators can perform tasks with high precision and speed, leading to improved product quality and productivity. Industries including automotive, electronics, and aerospace have widely adopted robotic automation, fueling the demand for advanced actuators capable of intricate movements. As the concept of Industry 4.0 gains momentum, smart factories and IoT-enabled automation systems are emerging, further propelling the need for advanced actuators. These actuators enable robots to collaboratively work with humans, perform complex tasks, and adapt to dynamic environments, making them indispensable in the evolving the landscape of industrial automation.

Robotics Actuators Market Report Coverage
Report Coverage
Details
Base Year:
2022
Market Size in 2022:
USD 13.4 Billion
Forecast Period:
2023 to 2032
Forecast Period 2023 to 2032 CAGR:
10%
2032 Value Projection:
USD 40 Billion
Historical Data for:
2018 to 2022
No. of Pages:
200
Tables, Charts & Figures:
647
Segments covered:
Actuation, Characteristics, Type, End-use, & Region
Growth Drivers:

Growing interest in service robotics
Increasing adoption of industrial automation
Ongoing advancements in actuator technology
Process enhancement ability in 3D printing using linear actuators
Strategic initiatives by market players

Pitfalls & Challenges:

Volatility in the oil & gas industry and crude oil prices
High installation costs
To get more details on this report: Request Free Sample PDF

Robotics actuators are mechanical devices used in robotic systems to create controlled movement. They convert electrical, hydraulic, or pneumatic energy into precise motion, allowing robots to perform tasks such as lifting, rotating, and manipulating objects. Actuators are vital components in various industries, from manufacturing to healthcare, enabling robots to interact with their surroundings and execute programmed actions. These devices come in different types including electric motors, hydraulic cylinders, pneumatic, and pistons, each designed for specific applications in the robotics field.

High installation costs pose significant challenges for the robotics actuators market. While actuators themselves can be expensive, the costs associated with integrating and installing them into robotic systems can be even more substantial. This includes engineering, programming, and customization efforts, as well as the need for skilled labor. These expenses can deter potential buyers, particularly smaller businesses or those with budget constraints, and can lead to longer ROI periods. Therefore, reducing installation costs and simplifying integration processes are crucial to making robotics actuators more accessible and attractive to a wider range of customers.

COVID-19 Impact
The COVID-19 pandemic had significant impacts on various industries including the robotics actuators market. The market faced supply chain disruptions, which led to delays in the procurement of critical components, affecting production and availability. Reduced industrial activities and economic uncertainty resulted in decreased demand for actuators, causing revenue losses for manufacturers. Workforce challenges including remote work, labor shortages, and implementation of safety protocols disrupted production schedules and potentially affected the product quality. Additionally, the pandemic-induced market uncertainties made it difficult for companies to plan investments, slowing down innovations and growth in the robotics actuators industry.

Robotics Actuators Market Trends
There are several notable trends influencing the robotics actuator demand across numerous industries. The market is witnessing a shift toward smart actuators equipped with sensors and advanced control systems, enabling precise and adaptable robot movements. There is a growing demand for miniaturized actuators to support the development of smaller, more agile robots for tasks in confined spaces. Energy-efficient actuators are gaining traction to address sustainability concerns. Additionally, collaborative robotics (cobots) is driving the need for safe actuators that can work alongside humans. The increasing use of robotics in the healthcare, logistics, and service industries is spurring the demand for actuators that offer both accuracy and gentle, human-like motion to interact safely & effectively in various environments.

Robotics Actuators Actuation Segmentation
To get more details on this report: Request Free Sample PDF

Based on actuation, the robotics actuators market is segmented into electric, hydraulic, pneumatic, and mechanical. The electric segment is expected to showcase a CAGR of over 10% between 2023 to 2032. Electric actuators offer precise control, high efficiency, and faster response times, making them ideal for robotic applications requiring accuracy and speed. They are also compact, easy to integrate, and have a lower environmental impact compared to hydraulic or pneumatic alternatives. Furthermore, advancements in electric motor technology and control systems have improved the performance and reliability of electric actuators, making them increasingly attractive for a wide range of applications, from manufacturing and logistics to healthcare and consumer electronics.

Robotics Actuators Type Segmentation
To get more details on this report: Request Free Sample PDF

Based on type, the robotics actuators market is segmented into rotary and linear. The rotary segment was valued at over USD 8.5 billion in 2022 and is expected to grow at a lucrative pace till 2032. Rotary actuators are on the rise owing to their versatility and efficiency. They offer a wide range of motions, allowing robots to perform complex tasks including rotation, pivoting, and angular movements with precision. This flexibility is essential for a variety of applications, from manufacturing and assembly to medical devices and aerospace. Moreover, rotary actuators are more compact and lightweight than their linear counterparts, making them ideal for smaller robots and applications with space limitations. As robotics technology advances and the demand for agile & adaptable robots increases, the versatility & efficiency of rotary actuators will make them a preferred choice in the market.

Robotics Actuators Region Segmentation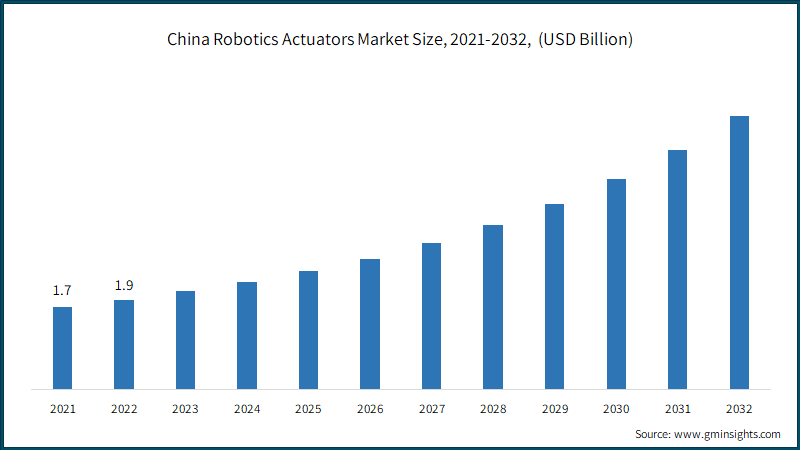 Asia Pacific has a strong presence in the robotics actuators market. The region is witnessing significant industrialization and automation across diverse sectors including manufacturing, automotive, and electronics. The demand for robotics actuators is surging as industries strive to enhance productivity and precision in their operations. Additionally, governments in countries including China and Japan are investing heavily in robotics and automation technologies, driving market growth. The emergence of collaborative robots (cobots) and the expansion of industries, such as healthcare and logistics, further contribute to the demand for advanced actuators. Economic growth and technological advancements in Asia Pacific make it a prominent hub for the robotics actuator industry.

Robotics Actuators Industry Leaders
The robotics actuators market is highly competitive owing to the presence of key players such as ABB, Altra Industrial Motion, Cedrat Technologies, Curtis Wright, DVG Automation, Emerson Electric CO., Harmonic Drive LLC, Macron Dynamics, MISUMI Group Inc., Moog, Nook Industries Inc., Rockwell Automation, SKF, SMC, and Tolomatic. Industry participants are expected to increase their foothold in the commercial industry with growing investments in facility centers & acquisitions. Significant investments in R&D to gain technological competitiveness and aggressive business strategies including technological launches, collaborations & long-term agreements with clients to capture the market share are positively impacting the market.

Robotics Actuators Industry News
In February 2022, Rollon, the manufacturer of linear motion guides, actuators, and systems, acquired Intelligent Machine Solutions, Inc. (iMS). Through this acquisition, Rollon expanded its lineup of linear actuator modules and robotic transport units.

The robotics actuators market research report includes in-depth coverage of the industry with estimates & forecast in terms of revenue (USD Million) and in terms of shipment (Million Units) from 2018 to 2032, for the following segments:


Click here to Buy Section of this Report
By Actuation
Electric
Hydraulic
Pneumatic
Mechanical
By Characteristics
By Application
Landing gear
Engine components
Doors & interiors
Flight control systems
Cockpit controls
Aerostructure
Others
By Type
By End Use
Oil & gas
Chemicals & CPI
Water & wastewater
Paper & pulp
Mining
Automotive
Food & beverages
Others