Optical Imaging Market size is expected to grow significantly from 2020 to 2026. Optical imaging is a method for non-invasive investigation of cellular and molecular structures in the living body. Optical imaging devices make use of light falling between wavelength of ultraviolet and near infrared to obtain images. The exceptional characteristics of photons benefit the optical imaging process to generate precise and comprehensive images of smaller structures from cells and molecules to bigger structures of tissues and organs.

Optical imaging has become prevalent in the field of medical imaging over the past few years owing to its vast and constantly expanding applications in various therapeutic areas. Currently scientists and doctors use optical imaging widely for research and clinical purpose.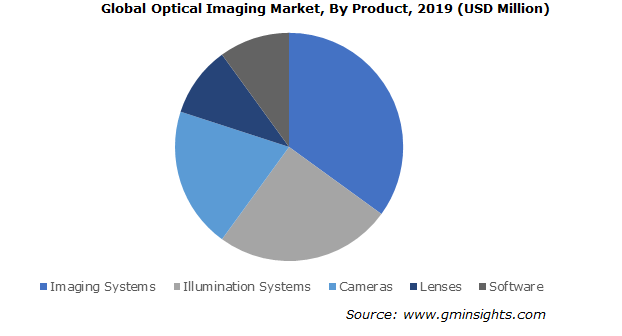 Get more details on this report - Request Free Sample PDF

Growing prevalence of chronic diseases like diabetes, breast cancer, prostate cancer, heart diseases, skin diseases, epilepsy, dementias and Alzheimer's disease have increased the need for better diagnostic imaging procedures. This is expected to drive the optical imaging market growth over the projected timeline. Moreover, the rising number of surgical procedures across the globe for cancer and cardiovascular diseases will fuel the market growth.

Rising demand for non-invasive procedures and non-ionizing imaging modalities, especially for the aging population, is anticipated to drive the market growth. Exposure to ionizing radiation such as X-ray may have several adverse health effects such as deterioration of cell functions and oncogenic transformations. Optical imaging techniques use non-ionizing radiation keeping the adverse effect of radiation in check, causing increased adoption in hospitals and clinics thereby propelling its market growth.

Based on the product, the market is segmented into imaging systems, illumination systems, cameras, and lenses. Imaging systems accounted for significant optical imaging market share in 2019. Imaging systems are extensively used for various applications including disease diagnosis, preclinical research, discrete molecular and cellular process imaging. Thus, increasing applications of optical imaging modalities for therapeutic and diagnostic purposes is expected to have a positive impact on the segment growth.

Based on technique, the optical imaging market is segmented into near-infrared spectrometry, optical coherence tomography, photoacoustic imaging, endoscopy, and hyperspectral imaging. The endoscopy segment is projected to witness robust growth over the analysis timeframe. Rising preference for minimally invasive diagnostic procedures and technological advancements are the major factors that will drive the segment growth.

Based on the therapeutic area, the optical imaging market is classified into ophthalmology, neurology, oncology, cardiology, dentistry, dermatology, and others. The oncology segment is projected to witness a robust growth over the analysis timeframe. Increasing prevalence of cancer worldwide has led to a rise in demand for cancer diagnosis and treatment options. For instance, according to the World Health Organization (WHO), nearly 9.6 million deaths, due to cancer, were reported, in 2018. Advanced optical imaging techniques are paving the way for easy and early-stage diagnosis of cancer. In addition, the surge in cancer research, and rise in the elderly population, globally, are contributing to the segment growth.

Based on the application, the optical imaging industry is bifurcated into pathological imaging and intra-operative imaging. The pathological imaging segment is projected to witness robust growth over the projected timeline owing to the rising prevalence of various chronic and infectious diseases. Also, improved analysis and increasing demand for diagnostic tools with quick turnaround time and point-of-care testing will further augment the segment growth.

Based on end-use, the optical imaging industry is segmented into hospitals, clinics, research laboratories, and diagnostic imaging centers. The hospitals segment is anticipated to experience robust growth. Increasing hospital establishments in numerous developed and developing countries, and growing healthcare expenditure by the government will propel the segment growth over the projected timeline.

North America optical imaging industry accounted for the largest share in 2019 and the scenario is likely to remain so over the foreseeable future. Presence of a large number of optical imaging product manufacturers and the ease of doing business in the region is anticipated to fuel the segment growth.

Prominent industry players operating in optical imaging market share include Carl Zeiss Meditec, Abbott, Topcon Corporation, Leica Microsystems, Michelson Diagnostics, Heidelberg Engineering Inc., Canon, Headwall Photonics, Optovue, Koninklijke Philips, PerkinElmer, Agfa-Gevaert Group, and Olympus Corporation. These market players putting enormous efforts in research and development activities to develop better optical diagnostic products. For instance, in May 2019, Santec Corporation collaborated with Alcon Inc. to integrate their technologies to develop cutting-edge diagnostic modalities.

Optical Imaging Market, By Product, 2015-2026 (USD Million)
Imaging systems

Optical imaging systems
Spectral imaging systems

Illumination systems
Cameras
Lenses
Software
Optical Imaging Market, By Technique, 2015-2026 (USD Million)
Near-infrared spectrometry
Optical coherence tomography
Photoacoustic imaging
Endoscopy
Hyperspectral imaging
Optical Imaging Market, By Therapeutic Area, 2015-2026 (USD Million)
Ophthalmology
Neurology
Oncology
Cardiology
Dentistry
Dermatology
Others
By Application, 2015-2026 (USD Million)
Pathological imaging
Intra-operative imaging
By End-use, 2015-2026 (USD Million)
Hospitals
Clinics
Research laboratories
Diagnostic imaging center
The above information is provided for the following regions and countries:
North America
Europe

Germany
UK
France
Italy
Spain

Asia Pacific

Japan
China
India
Australia

Latin America
Middle East and Africa

South Africa
Saudi Arabia
What Information does this report contain?
Historical data coverage: 2017 to 2021; Growth Projections: 2022 to 2028.
Expert analysis: industry, governing, innovation and technological trends; factors impacting development; drawbacks, SWOT.
6-7 year performance forecasts: major segments covering applications, top products and geographies.
Competitive landscape reporting: market leaders and important players, competencies and capacities of these companies in terms of production as well as sustainability and prospects.