Joint Pain Injections Market Size, Industry Analysis Report, Regional Outlook (U.S., Canada, Germany, UK, France, Italy, Spain, The Netherlands, Switzerland, Norway, Denmark, Sweden, Poland, Austria, Japan, China, India, Australia, South Korea, Singapore, Thailand, Malaysia, Brazil, Mexico, South Africa, Saudi Arabia, UAE), Application Potential, Price Trends, Competitive Market Share & Forecast, 2021 – 2027
Report ID: GMI4650
Joint Pain Injections Market size is expected to grow significantly from 2020 to 2026. Joint pain is a result of injury to any of the ligaments, bursae, or tendons surrounding the joint. Joint pain injections are the products that are injected directly into the joints to help relieve the patient suffering from inflammation and pain. Joint pain injections or intra-articular injections is often used for the treatment of inflammatory joint conditions such as psoriatic arthritis, rheumatoid arthritis, bursitis, osteoarthritis, gout and other kinds of joint pain.

The growing prevalence of joint disorders across the world is primarily driving the joint pain injections market growth. Increasing cases of osteoarthritis, rheumatoid arthritis, and spinal disorders are further propelling the market growth. Over the past few years, the rheumatoid arthritis prevalence has increased drastically, and the trend is likely to remain so over the forecast timeframe. For instance, according to the Centers for Disease Control and Prevention (CDC), 15 million people were reported to be suffering from severe joint pain due to arthritis in 2015 and by 2025, the count is expected to reach 67 million in the U.S. itself.

Growing elderly population is a major factor that will drive the market growth. According to the world population prospect, globally, number of elderly people aged 60 or above reached nearly 1 billion in 2017 and it is expected to reach at 2.1 billion by 2050. Geriatric population are prone to various joint related conditions. As the person ages the natural synovial fluid in the joints tears down causing stiffer and less flexible joint movement resulting in pain and inflammation. Use of joint pain injections is anticipated to grow robustly due to its benefit in pain management, thereby driving the joint pain injections market growth.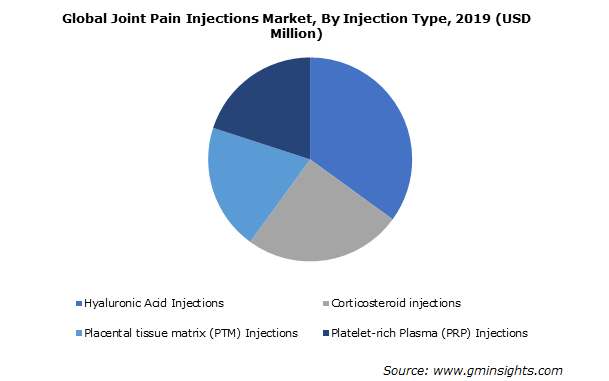 Get more details on this report - Request Free Sample PDF

Hyaluronic acid injections accounted for significant revenue share in 2019. The robust growth of hyaluronic acid injections is attributable to increasing availability and low-on-cost nature of these injections. Also, the effect of it lasts for three to six months, that fuels its usage, thereby driving the segmental growth.

Based on product type, the joint pain injections market is bifurcated into pre-filled injections and vials. The vials segment is projected to experience a significant growth over the analysis timeframe. Ease in accessibility and increasing availability of joint pain medication in vials is anticipated to drive the segmental growth.

The knee & ankle segment is projected to witness significant growth over the analysis timeframe owing to the increasing cases of strokes and bursitis. The increasing cases of bursitis increases with the growing elderly population, thereby driving the segmental growth.

The online pharmacies segment is anticipated to experience a significant growth over the forecast period. Increasing internet penetration and public preference to online channels will propel the segment growth over the projected timeline.

North America joint pain injections market size accounted for the largest share in 2019 and the scenario is likely to remain so over the foreseeable future. Graying population and increasing R&D activities in the region are anticipated to fuel the regional growth.

Prominent industry players operating in joint pain injections market share include Anika Therapeutics, Arthrex, Bioventus, Teva Pharmaceuticals, Pfizer, Ferring Pharmaceuticals, Sanofi, Eli Lilly and Company, Flexion Therapeutics, and Zimmer Biomet among other players. These market players are investing significantly in R&D activities to develop novel joint pain injections. For instance, In May 2018, Teva Pharmaceuticals received FDA approval for its knee joint pain reliever, SYNOJOYNT, for osteoarthritis patients.

By Injection Type, 2015-2026 (USD Million)
Hyaluronic Acid Injections
Corticosteroid injections
Placental tissue matrix (PTM) Injections
Platelet-rich Plasma (PRP) Injections
By Product Type, 2015-2026 (USD Million)
Pre-filled injections
Vials
By Application, 2015-2026 (USD Million)
Shoulder & Elbow
Knee & Ankle
Hip Joint
Spinal Joints
Others
By Distribution Channel, 2015-2026 (USD Million)
Hospital Pharmacies
Retail Pharmacies
Online Pharmacies
The above information is provided for the following regions and countries:
North America
Europe

Germany
UK
France
Italy
Spain
The Netherlands
Switzerland
Norway
Denmark
Sweden
Poland
Austria

Asia Pacific

Japan
China
India
Australia
South Korea
Singapore
Thailand
Malaysia

Latin America
Middle East and Africa

South Africa
Saudi Arabia
UAE

What Information does this report contain?
Historical data coverage: 2016 to 2020; Growth Projections: 2021 to 2027.
Expert analysis: industry, governing, innovation and technological trends; factors impacting development; drawbacks, SWOT.
6-7 year performance forecasts: major segments covering applications, top products and geographies.
Competitive landscape reporting: market leaders and important players, competencies and capacities of these companies in terms of production as well as sustainability and prospects.
Customize this Report
Our Market Research Reports Include:
Market snapshot

Market Segmentation

Value Chain Analysis

Growth Dynamics

Potential Market Opportunities

Regulatory Overview

Technology Evolution

Innovation & Sustainability
Connect with our sales team