Zirconium Market Size
Zirconium Market size was valued at around USD 1.7 billion in 2022 and is estimated to reach USD 3.6 billion by 2032. The Market is characterized by its versatile applications and sustained growth. Zirconium, a corrosion-resistant and heat-tolerant metal, is utilized in various forms.

To understand key trends &nbsp
Download Free Sample

Zirconium's applications span from critical components in nuclear reactors, ceramics, and zirconium compounds for ceramics and refractories to zirconium alloys and zirconia-based dental and medical implants. Its significance lies in serving the nuclear, ceramics, chemical, foundry, electronics, and other industries. The market is driven by the nuclear sector's demand, the increasing utilization of zirconium in ceramics, and its wide-ranging applications.

The growth is sustained by the metal's exceptional corrosion resistance and the versatile solutions it offers, making it a pivotal element in several industrial processes and innovative product developments.

Zirconium Market Report Attributes
Report Attribute
Details
Base Year:
2022
Zirconium Market Size in 2022:
USD 1.7 Billion
Forecast Period:
2023 to 2032
Forecast Period 2023 to 2032 CAGR:
7.5%
2032 Value Projection:
USD 3.6 Billion
Historical Data for:
2018 – 2022
No. of Pages:
180
Tables, Charts & Figures:
203
Segments covered:
Type, Application, End use Industry and Region
Growth Drivers:

Increasing Nuclear Energy Demand:
Electronics and Zirconia-based Implants
Ceramics and Refractories:

Pitfalls & Challenges:
To understand market opportunities &nbsp
Download Free Sample

The limited supply sources of zirconium indeed present a significant restraint and pitfall for the zirconium market. Zirconium is predominantly sourced from a handful of countries with significant reserves, leaving the market vulnerable to supply chain disruptions due to geopolitical tensions, export restrictions, or unforeseen events. This dependency on a small number of suppliers can lead to price volatility, reduced reliability of supply, and increased production costs.

COVID-19 Impact
The COVID-19 pandemic had a notable impact on the zirconium market. During the early phases of the pandemic, disruptions in supply chains and reduced industrial activity led to a slowdown in demand for zirconium. Many industries, including construction, manufacturing, and ceramics, experienced delays or shutdowns, affecting zirconium consumption. The lockdowns and travel restrictions hindered the mining and processing of zirconium ores. However, the market showed resilience due to zirconium's vital role in various applications, including nuclear reactors and ceramics. As economies gradually reopened and infrastructure projects resumed, demand for zirconium rebounded.

Zirconium Market Trends
The market trends reflect the dynamic landscape of this versatile material. One prominent trend is the growing demand for zirconium in nuclear energy generation, driven by the need for reliable and heat-resistant materials in nuclear reactor components. The ceramics industry is witnessing increased use of zirconium compounds for their exceptional durability and heat resistance. The market is also influenced by the expansion of the electronics sector, where zirconium is valued for its electrical conductivity and high-temperature resistance.

As consumer preferences shift toward sustainable packaging, zirconium's recyclability makes it an attractive choice for eco-conscious consumers. Technological advancements continue to enhance zirconium products, producing lighter, stronger, and more recyclable options. Emerging markets, particularly in Asia, contribute to market growth, further solidifying zirconium's importance in various industries, while environmental and sustainability concerns drive the adoption of zirconium as a green and durable material.

Zirconium Market Analysis
To understand key market trends &nbsp
Download Free Sample

Based on product type, the market is segmented as zirconium ores and concentrates, zirconium chemicals, zirconium metal and others. Zirconium metal held a majority market value of USD 686.6 Million in 2022.In the market, Zirconium ores, typically extracted from mineral sands, serve as the foundation for various downstream applications. "Zirconium Chemicals" play a pivotal role in several industries, particularly ceramics, as zirconium compounds are utilized for their heat resistance and durability. They are instrumental in the production of ceramics, refractories, and foundry materials. These diverse categories highlight the comprehensive role of zirconium, not only as an essential raw material but also as a critical component in the production of ceramics and other high-performance materials, underpinning its importance across multiple industries in the Market.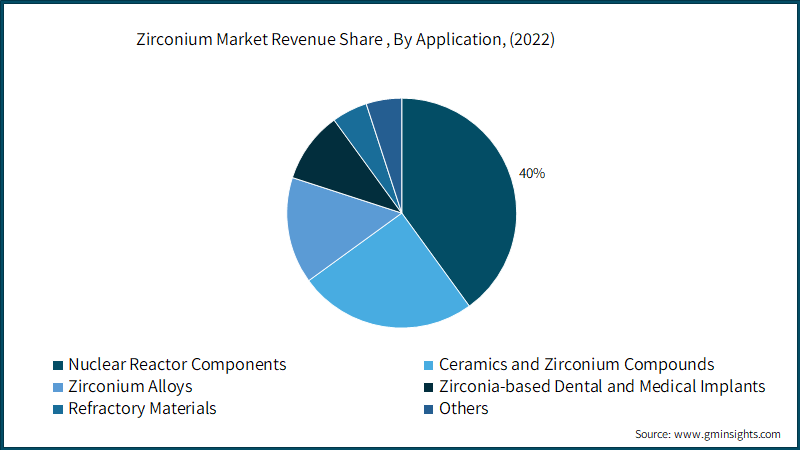 To understand key market trends &nbsp
Download Free Sample

Based on application, the zirconium market is segmented as nuclear reactor components, ceramics and zirconium compounds, zirconium alloys, zirconia-based dental and medical implants, refractory materials, and others. Nuclear reactor components segment held a dominant market share of around 40% in 2022 and is expected to grow at a lucrative pace by 2032. In market offer a wide array of uses for this remarkable material.

"Ceramics and Zirconium Compounds" benefit from zirconium's exceptional heat resistance and durability, making it a preferred choice for the production of ceramics, refractories, and foundry materials. "Zirconium Alloys" are crucial in various industries, especially nuclear power generation, where zirconium alloys enhance the performance and safety of nuclear reactor components. "Zirconia-based Dental and Medical Implants" rely on zirconium's biocompatibility and strength, offering robust and safe solutions for dental and medical applications. "Refractory Materials" capitalize on zirconium's heat-resistant properties, providing materials for high-temperature industrial processes.

Based on end use industry, the zirconium market segmented as nuclear industry, ceramics industry, chemical industry, foundry industry, electronics industry, and others. In the end-user industry segment, the "Nuclear Industry" holds the dominant share in the market. Zirconium plays a pivotal role in the nuclear sector, where it is used in critical components such as fuel rods and cladding due to its unique properties, including resistance to corrosion and heat. While other industries, such as ceramics, chemical, foundry, electronics, and more, also rely on zirconium, the nuclear industry's demand remains a significant driving force in the market due to its stringent requirements for safety and performance in nuclear reactor applications.

To understand regional trends &nbspDownload Free Sample

U.S. zirconium market exceeded USD 406.9 million in 2022 and is anticipated to expand at a significant pace from 2023-2032. due to several key factors. First, the U.S. has a robust nuclear industry, where zirconium is crucial for nuclear reactor components, contributing significantly to the market share. Second, the country's ceramics industry relies on zirconium compounds for the production of ceramics, refractories, and other materials, further bolstering the demand.

Additionally, the U.S. is a hub for technological advancements, leading to the development of innovative zirconium-based products. As the global economy recovers and infrastructure projects gain momentum, the demand for zirconium is anticipated to expand, particularly in the U.S., reinforcing its dominant position in the North American region.

Zirconium Market Share
Major players operating in the zirconium industry include:
Iluka Resources Limited
Tronox Holdings plc
Eramet
Kenmare Resources PLC
Rio Tinto Group
Wanhua Chemical Group
BASF SE
Huntsman International LLC
Evonik Industries AG
Dow Chemical Company
Momentive Performance Materials Inc.
Carpenter Co.
King Industries, Inc.
MOFAN POLYURETHANE CO., LTD.
Umicore
Tronox Holdings plc and Tronox Holdings plc have captured substantial market shares in the Asia-Pacific market, driven by companies in the Asia-Pacific region, driven by the surging demand for zirconium products, particularly in China and India. The Asia-Pacific region, the world's largest market, is poised for continued growth due to rapid economic development, urbanization, and increasing demand across industries such as nuclear power, chemicals, ceramics, and aerospace. As leading producers, Tronox Holdings plc and Tronox Holdings plc are well-positioned to cater to this escalating demand in the region.

Zirconium Industry News
In October 2023, Tronox Holdings plc Announces Increase in Zirconium Oxide Prices. Tronox Holdings plc, a leading global producer of titanium dioxide and zircon products, announced an increase in its zirconium oxide prices for all grades and regions. The new prices are effective immediately. Tronox cited the strong demand for zirconium oxide products and the ongoing inflationary pressures as the reasons for the price increase.

In February 2023, Iluka, the world's largest producer of zircon, announced robust sales results, attributed to increasing prices in the zircon market. As a prominent global producer of premium-grade zircon, Iluka benefited from the prevailing market dynamics, which saw rising prices for zircon, a critical material in various industries, including ceramics, foundry, and nuclear power generation.

Zirconium Market research report includes an in-depth coverage of the industry with estimates & forecast in terms of revenue in USD Million & Kilo Tons from 2018 to 2032, for the following segments:


Click here to Buy Section of this Report
Market, By Product Type
Zirconium Ores and Concentrates
Zirconium Chemicals
Zirconium Metal
Others
Market, By Application
Nuclear Reactor Components
Ceramics and Zirconium Compounds
Zirconium Alloys
Zirconia-based Dental and Medical Implants
Refractory Materials
Others
Market, By End Use Industry
Nuclear Industry
Ceramics Industry
Chemical Industry
Foundry Industry
Electronics Industry
Others
The above information is provided for the following regions and countries:
North America
Europe

Germany
UK
France
Spain
Italy
Netherlands
Poland
Russia

Asia Pacific

China
Japan
India
Australia
South Korea
Indonesia
Thailand

Latin America
Middle East & Africa

South Africa
Saudi Arabia
UAE