Sperm Bank Market size is projected to experience substantial progress from 2020 to 2026. Sperm bank is an enterprise or facility that purchases, stores, and sells human semen. Sperm bank services provides an opportunity to lesbians couples, single women or heterosexual couples to conceive a baby. The growing range of services that is available through sperm banks allow more couples to have choices over the issues of reproduction. Thus, the market is anticipated to witness a substantial growth in the upcoming years.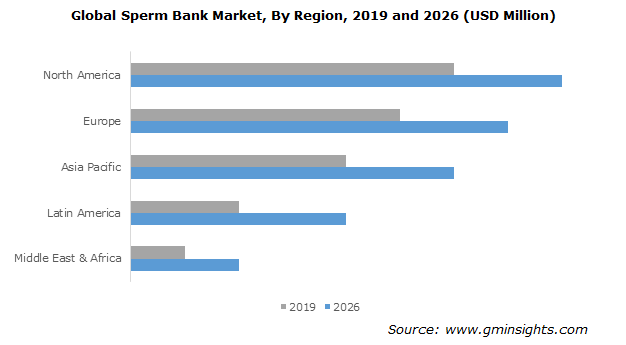 Get more details on this report - Request Free Sample PDF

Growing incidence of obesity is one of the leading factors that causes infertility. Obese women are prone to develop high risk for reproductive health such as infertility, miscarriage and conception rates. Rising concerns of male infertility owing to insufficient sperm volume is anticipated to propel the demand for sperm bank services. According to the recently published article, 17% couple in the U.S. deal with infertility and around 30% of the infertility cases are due to male infertility in the U.S. Hence, owing to these factors the sperm bank market revenue is expected to witness a significant growth in the forecast period.

Growing government initiatives to offer better reimbursement scenario and rising incidence of infertility cases are driving the market growth. Rising lifestyle changes coupled with other factors such as genetic factors, exposure to certain chemicals and toxins, problems with sperm or egg production are projected to drive the market growth. Furthermore, growing acceptance of Gay, Bisexual, Lesbian, Transgender (LGBT) community is one of the factors that is boosting the sperm donations across various countries. Hence, the above-mentioned factors are expected to witness a substantial growth in the upcoming years.

Based on donor type, the sperm bank market is segmented as known donor, anonymous donor, client donors and directed donors. The known donor market is expected to witness a significant growth in the upcoming years. This is due to the fact that various countries such as UK, Australia, Sweden and others have introduced a mandate that supports the right to the offspring to know their biological parent. Furthermore, the identity of known donors ensures the availability of the medical background of the donor. Thus, the adoption of sperms from known donors is expected to contribute to the segment growth.

On the basis of insemination method, the market is segmented as intracervical insemination, intrauterine insemination, and in-vitro fertilization. In-vitro fertilization segment is expected to witness a lucrative growth in the upcoming years. This is attributed to the growing incidence of infertility, obesity, delaying marriages and lower marriage rates. Thus, all the above factors are projected to drive the in-vitro fertilization market during the forecast period.

On the basis of service type, the market is bifurcated into sperm storage, semen analysis, and genetic consultation. Sperm storage segment is forecasted to show substantial growth over the forecast period owing to advantages such as rising prevalence of infertility, modernization in cryopreservation techniques and growing demand for IVF procedures. Hence, the above-mentioned factors will boost the sperm bank market demand in the upcoming years.

Based on sperm collection center, the market is segmented as in-vitro fertilization centers and donor insemination centers. In-vitro fertilization segment is projected to show lucrative growth over the forecast time frame. Rising awareness pertaining the benefits of in-vitro fertilization procedures over other insemination procedures is one of the significant factors propelling the market growth. Hence, growing demand for in-vitro fertilization procedures will fuel the business growth over the projection period.

U.S. sperm bank market share is estimated to hold a majority market share in 2019 owing to the growing prevalence of infertility population in the country. According to the Centers for Disease Control and Prevention, around 6.1 million women in the U.S. aged between 15-44 experience difficulty in conceiving. The major reason that causes infertility is due to fertility problems in women and men. The other factors that causes infertility in women in the U.S. are smoking, stress, high alcohol consumption, diabetes, poor diet and among others. Hence, all the above-mentioned factors are impelling the market growth in the country.

Some of the major market players involved in the global sperm bank market share are Cryo-Save AG, Androcryos, New England Cryogenic Center, Indian Spermtech, European Sperm Bank, Seattle Sperm Bank, Fairfax Cryobank Inc., London Sperm Bank, Xytex Corporation and among others. The key players are emphasizing on major industry strategies such as mergers & acquisitions and are taking a few initiatives to maintain a competitive edge in the market. For instance, in 2018, California Cryobank, one of the leading donor egg and sperm bank announced that it was acquired by GI partners from leading healthcare investors NovaQuest Capital and Longitude Capital.

Sperm Bank Market, By Donor Type, 2015-2026 (USD Million)
Known Donor
Anonymous Donor
Client Donor
Directed Donor
Sperm Bank Market, By Insemination Method, 2015-2026 (USD Million)
Intracervical Insemination
Intrauterine Insemination
In-vitro Fertilization
By Service Type, 2015-2026 (USD Million & Units)
Sperm Storage
Semen Analysis
Genetic Consultation
By Sperm Collection Center, 2015-2026 (USD Million)
In-vitro Fertilization Centers
Donor Insemination Centers
The above information is provided for the following regions and countries:
North America
Europe

Germany
UK
France
Spain,
Italy
Russia
Sweden
Denmark

Asia Pacific

Japan
China
India
Australia
South Korea
Taiwan
New Zealand
Singapore

Latin America

Argentina
Mexico
Brazil
Chile

Middle East and Africa

South Africa
Saudi Arabia
UAE
Israel
What Information does this report contain?
Historical data coverage: 2017 to 2021; Growth Projections: 2022 to 2028.
Expert analysis: industry, governing, innovation and technological trends; factors impacting development; drawbacks, SWOT.
6-7 year performance forecasts: major segments covering applications, top products and geographies.
Competitive landscape reporting: market leaders and important players, competencies and capacities of these companies in terms of production as well as sustainability and prospects.