Maritime Patrol Aircraft Industry Analysis
Maritime Patrol Aircraft Market size was valued at USD 16.2 billion in 2022 and is anticipated to grow at a CAGR of over 5.5% between 2023 and 2032. Driven by increasing demand for maritime security. The maritime domain is increasingly recognized as a vulnerable area susceptible to various security threats such as piracy, drug trafficking, smuggling, and illegal fishing. The growing demand for maritime security is a response to the evolving security landscape at sea, making maritime patrol aircraft a vital asset for surveillance, reconnaissance, and response to ensure the safety & security of maritime environments.

To get more details on this report: Request Free Sample PDF

Maritime patrol aircraft (MPA) are specialized aircraft designed and equipped for surveillance, reconnaissance & security operations in maritime environments. These aircraft are tailored to operate over oceans, seas, and coastal regions, where they perform a range of tasks such as monitoring maritime traffic, detecting & tracking vessels, conducting Anti-Submarine Warfare (ASW) missions, and supporting search & rescue efforts. MPAs are equipped with advanced sensor systems, communication equipment, and weaponry to enhance their maritime surveillance & response capabilities. They play a crucial role in safeguarding territorial waters, enforcing maritime regulations, combating piracy, illegal fishing & drug trafficking, and enhancing maritime security overall.

Maritime Patrol Aircraft Market Report Coverage
Report Coverage
Details
Base Year:
2022
Market Size in 2022:
USD 16.2 Billion
Forecast Period:
2023 - 2032
Forecast Period 2023 - 2032 CAGR:
5.5%
3 - 2032 Value Projection:
USD 27 Billion
Historical Data for:
2018 - 2022
No. of Pages:
250
Tables, Charts & Figures:
344
Segments covered:
Type, Engine, Component, Platform, and Region
Growth Drivers:

Protection of Exclusive Economic Zones
Increased defense budgets in various countries
Growing number of maritime disputes
Expansion of global trade routes and economic activities at sea
Increasing demand for maritime security

Pitfalls & Challenges:

International waters can lead to legal and political challenges
Shortage of skilled professionals
To get more details on this report: Request Free Sample PDF

International waters can pose legal and political challenges for the maritime patrol aircraft market due to overlapping claims, disputes over territorial waters, and varying interpretations of international maritime laws. These complexities can lead to diplomatic tensions and disputes among nations, impacting MPA operations & access. The absence of clear legal frameworks can hinder cooperative efforts in monitoring and securing international waters, making it challenging to effectively address maritime security threats. Additionally, the potential for unintended escalation of conflicts in these areas underscores the need for careful navigation and diplomacy when conducting MPA missions, highlighting the intricate legal & political landscape in international maritime zones.

COVID-19 Impact
The COVID-19 pandemic impacted the maritime patrol aircraft market through production delays, budget constraints, diversion of resources, and limitations on international collaboration & trade. Despite these Lockdowns the defense industry affected supply chains & production facilities, leading to delays in the manufacturing and delivery of MPAs. Many governments that grappled with economic challenges faced budgetary constraints, impacting their ability to procure new MPA systems or invest in modernization efforts. The pandemic also redirected resources and attention toward public health, temporarily diverting focus from defense priorities. Furthermore, international travel restrictions hindered collaboration and trade in the defense sector, affecting the global MPA market.

Maritime Patrol Aircraft Industry Trends
The maritime patrol aircraft market is experiencing several prominent market trends. There is a growing emphasis on technological advancements and enhanced sensor technologies & automation are revolutionizing maritime surveillance capabilities. The demand for longer endurance and extended operational ranges is growing, driven by the need to cover vast maritime areas. The emergence of unmanned MPA systems is reshaping the market, offering cost-effective and versatile options. There is also a heightened focus on anti-submarine warfare capabilities, given the evolving underwater threats.

Export control regulations and international collaboration are also shaping the market dynamics, affecting procurement and development strategies. Overall, these trends are driving innovation and adaptation in the maritime patrol aircraft market to meet the security & surveillance needs.

Maritime Patrol Aircraft Component Segmentation
To get more details on this report: Request Free Sample PDF

The Sensors segment crossed USD 2.5 billion revenue in 2022 and is poised to witness around 7% CAGR from 2023 to 2032. Sensors provide critical data for maritime surveillance, reconnaissance, and security missions. They enable MPAs to detect, track & identify vessels, submarines, and other objects in vast maritime domains. As sensor technologies develop, they offer higher resolution, longer ranges, and improved accuracy, bolstering the MPA's ability to monitor & respond to evolving threats. In addition, the integration of various sensors, such as radar, sonar, electro-optical/infrared (EO/IR), and signals intelligence (SIGINT) systems, allows for comprehensive situational awareness, making MPAs invaluable assets in safeguarding territorial waters, combating piracy, and addressing illicit activities.

Maritime Patrol Aircraft Engine Segmentation
To get more details on this report: Request Free Sample PDF

The turboprop segment held approximately 55% of maritime patrol aircraft market share and generated USD 9 billion in 2022. It is expected to grow at a lucrative pace by 2032, due to their unique combination of efficiency, endurance, and versatility. These engines provide the necessary power to MPAs while ensuring extended flight durations, crucial for covering vast maritime areas. Their ability to operate at lower speeds & altitudes allows for effective surveillance and reduced operational costs.

Moreover, they enable shorter takeoff and landing distances, crucial for operations from naval vessels or remote airfields. In the evolving landscape of maritime security challenges, where extended patrolling and operational flexibility are paramount, turboprop-powered MPAs are becoming increasingly favored for their ability to meet these demands efficiently and cost-effectively.

Maritime Patrol Aircraft Regional Analysis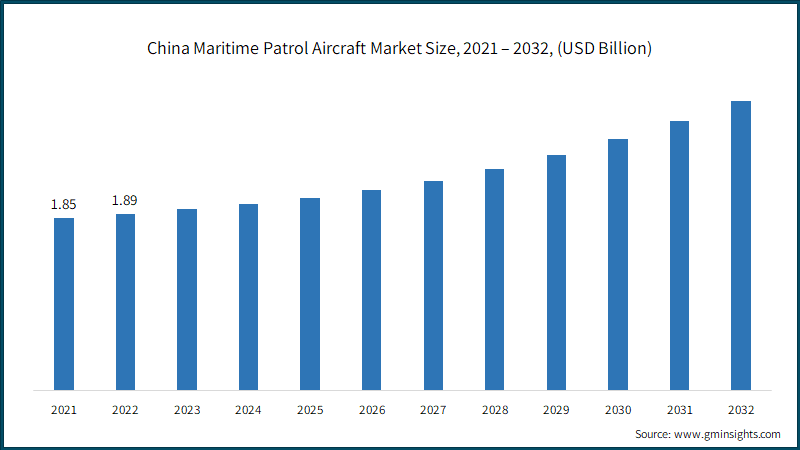 Asia pacific maritime patrol aircraft market captured about 30% revenue share in 2022. Asia Pacific has one of the world's largest defense budgets and a strong commitment to technological advancement in defense. The region's dynamic economic growth has increased maritime trade activities, leading to a greater need for maritime security and surveillance, consequently driving the demand for MPAs. It is escalating territorial disputes, particularly in the South China Sea, have prompted nations to bolster their maritime capabilities, including the acquisition of MPAs for reconnaissance and monitoring purposes. As nations modernize their defense forces, there is a focus on procuring advanced MPA systems to ensure maritime domain awareness.

Maritime Patrol Aircraft Industry Leaders
Major companies operating in the maritime patrol aircraft market are Airbus S.A.S, AVIC, BAE Systems plc, Boeing, Dassault Aviation, Embraer S.A., Harbin Aircraft Industry Co., Kawasaki Heavy Industries, Leonardo S.p.A., Lockheed Martin Corporation, RUAG Group, Saab AB, Textron Inc., and Thales Group. The competitive landscape is characterized by continuous innovation as companies strive to improve their offerings with new technologies, integrations, and partnerships.

Maritime Patrol Aircraft Industry News
In July 2023, The Irish air crop inducted of two Airbus C295 maritime patrol aircraft at the value of USD 252.2 million. Airbus Defence and Space won the contract to supply two maritime patrol aircraft in December 2019. The C295 is a maritime surveillance aircraft particularly fisheries protection.

This maritime patrol aircraft market research report includes in-depth coverage of the industry with estimates & forecast in terms of revenue (USD Million) from 2018 to 2032, for the following segments:


Click here to Buy Section of this Report
By Type
By Engine
Jet Engine
Turboprop Engine
By Component
Radar
Camera
Sensors
Others
By Platform
The above information is provided for the following regions and countries:
North America
Europe

UK
Germany
France
Italy
Russia
Spain
Rest of Europe

Asia Pacific

China
India
Japan
South Kore
ANZ
Rest of APAC

Latin America

Brazil
Mexico
Rest of Latin America

MEA

South Africa
Saudi Arabia
UAE
Israel
Rest of MEA