Hydrogen Fluoride Gas Detection Market Size
Hydrogen Fluoride Gas Detection Market was valued at over USD 560.5 million in 2022 and is anticipated to grow at a CAGR of around 5.2% between 2023 and 2032. There is a heightened awareness about workplace safety issues including the risks associated with HF gas exposure that has become a major concern for employers. HF gas, being highly toxic, necessitates specialized detection systems. Owing to the growing awareness about the potential health risks associated with HF exposure, the industries are investing in advanced gas detection technologies to ensure the safety of workforce. As employers are keen to ensure the well-being of their workers, it has led to the increased adoption of HF gas detectors.

To understand key trends &nbsp
Download Free Sample

Hydrogen fluoride gas detection refers to the technology and systems used to identify and measure the presence of hydrogen fluoride gas in industrial environments. These detectors employ various sensors and technologies to ensure the safety of workers, prevent accidents, and comply with regulatory standards by providing real-time monitoring and early warning of HF gas leaks.

Hydrogen Fluoride Gas Detection Market Report Attributes
Report Attribute
Details
Base Year:
2022
Hydrogen Fluoride Gas Detection Market Size in 2022:
USD 560.5 Million
Forecast Period:
2023 to 2032
Forecast Period 2023 to 2032 CAGR:
5.2%
2032 Value Projection:
USD 900 Million
Historical Data for:
2018 - 2022
No. of Pages:
220
Tables, Charts & Figures:
246
Segments covered:
Form, system type, end-use industry and region
Growth Drivers:

Stringent regulations and safety standards
Increasing awareness about industrial accidents
Rising awareness about workplace safety
Growing environmental concerns

Pitfalls & Challenges:

Technological complexities
Calibration and maintenance
To understand market opportunities &nbsp
Download Free Sample

The advanced HF gas detection systems involve complex technologies including IoT integration, data analytics, and wireless communication. It can be challenging to manage and maintain these sophisticated systems, requiring specialized knowledge and training. Companies may face difficulties in finding skilled professionals capable of effectively operating and maintaining such systems.

COVID-19 Impact
The COVID-19 pandemic had notable impacts on the hydrogen fluoride gas detection market. It disrupted global supply chains, leading to shortages of the essential components and materials required for manufacturing HF gas detection systems. Delays in the supply chain impacted production schedules and led to challenges in meeting the demand, affecting the availability of HF gas detectors. Lockdowns, social distancing measures, and reduced industrial activities during the pandemic led to decreased demand for gas detection systems including those for HF. Industries operating at limited capacities or those that had temporarily shut down their operations postponed investments in safety equipment, affecting market growth.

Hydrogen Fluoride Gas Detection Market Trends
Gas detection systems including those for HF gas are being increasingly integrated with the Internet of Things (IoT). IoT-enabled devices allow real-time monitoring, remote data analysis, and predictive maintenance. Smart technologies enhance the efficiency of gas detection systems, providing businesses with valuable insights for decision-making. Such systems provide data analytics, enabling businesses to predict potential issues, optimize maintenance schedules, and enhance the overall operational efficiency. IoT integration ensures that safety protocols are not just reactive but proactive, preventing incidents before they occur.

Data analytics and predictive maintenance have emerged as the vital tools for the management of HF gas detection systems. These technologies analyze large datasets generated by gas detectors, identifying patterns and anomalies that can signal potential issues. This proactive approach minimizes downtime, reduces the maintenance costs, and ensures that HF gas detectors operate at peak efficiency. Predictive maintenance also increases the longevity of the equipment, providing cost-effective solutions for industries.

Hydrogen Fluoride Gas Detection Market Analysis
To understand key market trends &nbsp
Download Free Sample

Based on system type, the market is segmented into fixed devices and portable devices. The fixed devices segment dominated the global market with a share of over 50% in 2022.

In industries with large, open areas or expansive facilities, fixed devices are necessary to provide comprehensive coverage. Portable detectors may not be practical for monitoring extensive spaces. Strategically placed fixed systems cover large areas effectively, ensuring that HF gas leaks are detected regardless of the location within the facility.

Fixed HF gas detection systems often come equipped with data logging capabilities. They record gas concentration levels over time, enabling a detailed analysis of historical data. This data can be valuable for identifying trends, conducting root cause analyses, and optimizing safety protocols. The ability to analyze historical data helps industries enhance their safety strategies and prevent future incidents.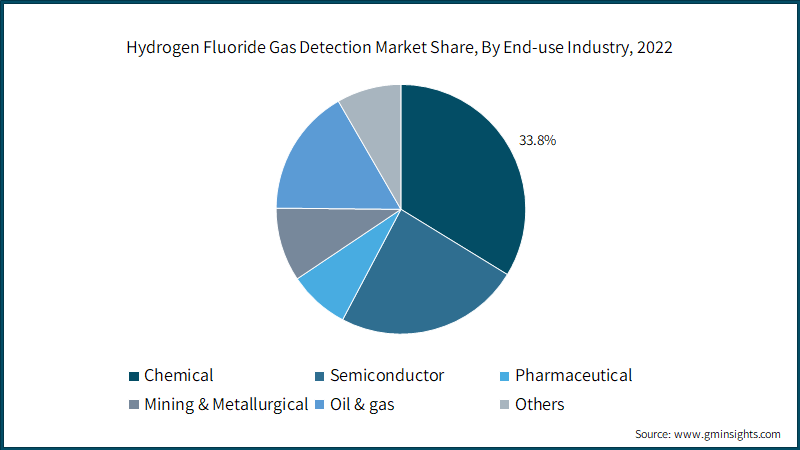 To understand key market trends &nbsp
Download Free Sample

Based on the end-use industry, the market is divided into chemical, semiconductor, pharmaceutical, mining & metallurgical, oil & gas, and others. The chemical segment is anticipated to register a CAGR of over 5% through 2032.

Ensuring worker safety is the top priority in the chemical industry. HF gas exposure can cause severe health issues, including skin burns, respiratory problems, and even death at higher concentrations. To protect workers and provide a safe working environment, chemical companies invest in state-of-the-art HF gas detection systems. These systems enable early detection of leaks, allowing for timely evacuation and minimizing potential health risks.

HF gas detection systems are crucial for preventive maintenance in chemical plants. Regular monitoring and early detection of HF gas leaks allow for prompt maintenance and repairs. Preventive maintenance ensures the reliability of equipment and prevents costly downtimes. Chemical companies invest in HF gas detection systems as part of their preventive maintenance strategies, ensuring the uninterrupted operation of their facilities.

To understand regional trends &nbspDownload Free Sample

Asia Pacific hydrogen fluoride gas detection market is expected to grow at a CAGR of over 5% between 2023 and 2032. The region is home to many innovative technology companies that focus on developing advanced sensors and detection technologies. These advancements lead to the production of more efficient, sensitive, and reliable HF gas detection systems, encouraging industries in the region to adopt the latest technologies for enhanced safety. Countries in Asia Pacific, particularly Taiwan, South Korea, China, and Japan, are the major hubs for semiconductor & electronics manufacturing. HF gas is used in semiconductor etching processes. With the growing demand for electronic components globally, there will be an increased demand for HF gas detection systems subsequently in these manufacturing facilities to protect both workers and the sensitive electronic equipment.

Hydrogen Fluoride Gas Detection Market Share
The players operating in the market focus on implementing different growth strategies to strengthen their offerings and expand market reach. These strategies involve new product development & launches, partnerships & collaborations, mergers & acquisitions, and customer retention. The market players also heavily invest in R&D to introduce innovative and technologically-advanced solutions in the hydrogen fluoride gas detection industry. The major players operating in the hydrogen fluoride gas detection industry are mentioned below:
Honeywell International Inc.
Teledyne Technologies Incorporated
Drägerwerk AG & Co. KGaA
MSA Safety Incorporated
GfG Instrumentation, Inc.
Sensidyne, LP
Crowcon Detection Instruments Ltd.

Hydrogen Fluoride Gas Detection Industry News
In September 2021, MSA Safety Incorporated established a 20,000-square-foot production facility in the U.S. to focus on gas detection technology. At this manufacturing facility, the assembly work for the Fixed Gas and Flame Detection (FGFD) products from Lake Forest, California unit, will be done.

The hydrogen fluoride gas detection market research report includes in-depth coverage of the industry with estimates & forecast in terms of revenue (USD million) from 2018 to 2032 for the following segments:


Click here to Buy Section of this Report
Market, By Form
Gas hydrogen fluoride
Liquid hydrogen fluoride
Market, By System Type
Fixed devices
Portable devices
Market, By End-use Industry
Chemical
Semiconductor
Pharmaceutical
Mining & metallurgical
Oil & gas
Others
The above information is provided for the following regions and countries:
North America
Europe

Germany
UK
France
Italy
Spain
Rest of Europe

Asia Pacific

China
Japan
India
South Korea
ANZ
Rest of Asia Pacific

Latin America

Brazil
Mexico
Rest of Latin America

MEA

UAE
Saudi Arabia
South Africa
Rest of MEA