Home Energy Management System Market Size
Home Energy Management System Market was valued at USD 4.8 billion in 2022 and is projected to grow at a CAGR of over 7.8% between 2023 and 2032. HEMS platforms are becoming more sophisticated in analyzing energy data, providing homeowners with detailed insights into their consumption patterns. This data can help identify energy-saving opportunities and track the impact of energy efficiency measures. Growing awareness of environmental issues and the desire to reduce carbon footprints are driving consumers to seek HEMS solutions to lower their energy consumption and reliance on fossil fuels.

To understand key trends &nbsp
Download Free Sample

A Home Energy Management System (HEMS) is a technology solution that helps homeowners monitor, control, and optimize their energy consumption within their homes. It typically consists of hardware devices and software applications designed to improve energy efficiency, reduce energy costs, and enhance overall energy management. Government regulations and energy efficiency standards are encouraging the adoption of HEMS, especially in new construction and home renovations. In some regions, compliance with energy efficiency requirements may require the installation of HEMS.
Home Energy Management System Market Report Attributes
Report Attribute
Details
Base Year:
2022
Home Energy Management System Market Size in 2022:
USD 4.8 Billion
Forecast Period:
2023 to 2032
Forecast Period 2023 to 2032 CAGR:
8.3%
2032 Value Projection:
USD 10.8 Billion
Historical Data for:
2019 to 2022
No. of Pages:
200
Tables, Charts & Figures:
327
Segments covered:
Component, Product
Growth Drivers:

Convenience of cloud computing and data analytics
Increasing demand for energy-efficient solution
Growing urbanization across the globe

Pitfalls & Challenges:
To understand market opportunities &nbsp
Download Free Sample

COVID-19 Impact
The economic uncertainty caused by the pandemic led some homeowners to postpone non-essential expenditures, including investments in home energy management systems. The HEMS market, like many other industries, experienced disruptions in the supply chain due to lockdowns, travel restrictions, and factory closures, leading to delays in product availability. However, with remote work becoming the norm for many, homeowners looked for ways to optimize their home environments for comfort and energy efficiency. HEMS solutions that offered remote monitoring and control of home systems gained popularity.
Home Energy Management System Market Trends
HEMS is increasingly becoming an integral part of smart home ecosystems. Integration with voice assistants like Amazon Alexa and Google Assistant, as well as compatibility with various smart devices, allows homeowners to control and optimize their energy consumption seamlessly. HEMS platforms are leveraging AI and machine learning algorithms to analyze energy consumption patterns and provide personalized recommendations for energy optimization. These systems can learn from user behavior and adapt to changing conditions to maximize efficiency.
The combination of HEMS with energy storage solutions, such as batteries, is gaining popularity. This allows homeowners to store excess energy generated by renewable sources including solar panels and use it during peak demand times or in case of power outages. HEMS is increasingly being used in demand response programs, where homeowners can voluntarily reduce their energy consumption during peak demand periods in exchange for incentives or lower energy bills. This benefits both consumers and utilities.
Home Energy Management System Market Analysis
To understand key market trends &nbsp
Download Free Sample

Based on component, the networking device segment held more than 23% of the market share in 2022. Networking devices play a crucial role in connecting various components of a HEMS and enabling communication between them. These devices facilitate the transfer of data and control signals, allowing homeowners to monitor and manage their energy consumption efficiently. A router serves as the central hub for connecting all devices within the home, including HEMS components. It manages the data traffic between these devices and the external network, such as the internet.
To understand key market trends &nbsp
Download Free Sample

Based on product, the intelligent HVAC controllers segment is set to register 8.5% growth rate through 2032. The Internet of Things (IoT) is playing a significant role in HVAC control. HVAC controllers are increasingly equipped with sensors and connected to IoT networks, enabling data collection and analysis to optimize HVAC operation based on real-time conditions. Energy efficiency remains a top priority for both residential and commercial sectors. Intelligent HVAC controllers are designed to maximize energy efficiency by adjusting temperature and airflow based on occupancy, weather, and usage patterns, leading to reduced energy consumption and lower operating costs.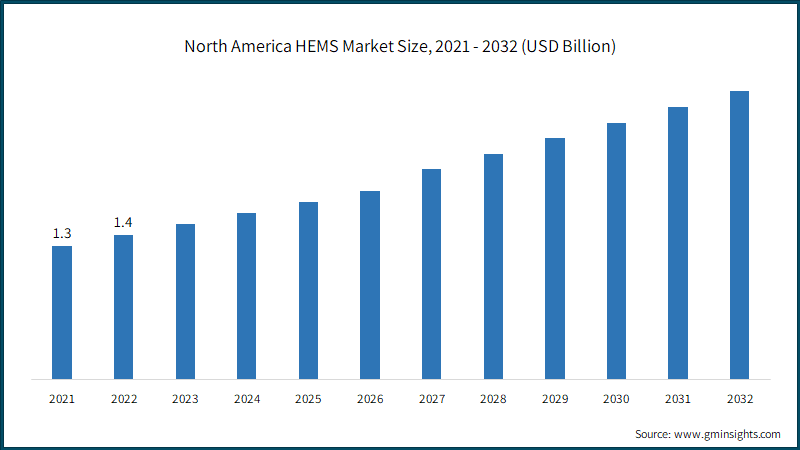 To understand regional trends &nbspDownload Free Sample

The North America home energy management system market will grow at a CAGR of over 6.6% up to 2032. The integration of HEMS with broader smart home ecosystems is on the rise. Consumers are seeking seamless control and automation of energy-related devices, such as thermostats, lighting, and appliances, through a single platform. As energy costs continue to increase and environmental awareness grows, there is a strong demand for HEMS solutions that can help homeowners reduce energy consumption, lower utility bills, and minimize their carbon footprint.
The North American HEMS market is witnessing greater integration with renewable energy sources like solar panels and wind turbines.

HEMS allows homeowners to optimize the use of their self-generated renewable energy and, in some cases, feed excess energy back into the grid.

HEMS is increasingly being used to participate in demand response programs. Utilities are incentivizing homeowners to reduce energy consumption during peak demand periods, and HEMS can automate these responses to lower energy costs.

The combination of HEMS with energy storage solutions, such as batteries, is gaining traction. This enables homeowners to store surplus energy generated during off-peak times and use it during high-demand periods or grid outages.

Advanced data analytics and AI are being applied to HEMS systems to provide homeowners with insights into their energy usage patterns and offer recommendations for optimizing consumption.
Home Energy Management System Market Share
Honeywell commands a substantial share in the home energy management system industry, distinguished for its extensive experience in engineering and producing diverse EMS types, encompassing home energy management system, intelligent energy management systems, commercial energy management system, among others. With a rich history deeply rooted in the HVAC sector, the company has delivered EMS solutions across a broad spectrum of residential and commercial applications.
Some of the key market players operating across the home energy management system industry are:
General Electric
Honeywell International Inc.
Alphabet, Inc.
Vivint Inc.
Comcast Cable Communications, LLC
EcoFactor, Inc.
Energyhub, Inc.
Ecobee, Inc.
Panasonic Corporation
Schneider Electric
Alarm.com
Robert Bosch Gmbh
Johnson Controls
Nest Labs, Inc.
NX Technologies
Ingersoll Rand
Siemens
This home energy management system market research report includes an in-depth coverage of the industry with estimates & forecast in terms of revenue in USD Million from 2019 to 2032, for the following segments:


Click here to Buy Section of this Report
By Component
Metering & Field Equipment
Hardware
Software
Networking Device
Control Systems
Sensors
Others
By Product
Lighting Controls
Self-Monitoring Systems & Services
Programmable Communicating Thermostats
Advanced Central Controllers
Intelligent HVAC Controllers
The above information is provided for the following regions and countries:
North America
Europe

Germany
UK
France
Spain
Italy

Asia Pacific

China
India
Japan
South Korea
Australia

Middle East & Africa

Saudi Arabia
Qatar
UAE
South Africa
Iran

Latin America