Chickpeas Market Size
Chickpeas Market size was valued at USD 13.93 billion in 2022 and is estimated to witness 7.3% CAGR from 2023 to 2032. Chickpeas, also known as garbanzo beans, are a significant component of various cuisines worldwide and are recognized for their nutritional value, including being a rich source of protein, fiber, vitamins, and minerals.

To understand key trends &nbsp
Download Free Sample

The chickpeas market has been primarily driven by the increasing consumer preference for plant-based protein sources and the growing awareness of the health benefits associated with chickpeas consumption. Moreover, the rising demand for gluten-free and non-GMO food products has further amplified the market growth, as chickpeas are naturally gluten-free and non-genetically modified.

Chickpeas Market Report Attributes
Report Attribute
Details
Base Year:
2022
Chickpeas Market Size in 2022:
USD 13.93 Billion
Forecast Period:
2023 to 2032
Forecast Period 2023 to 2032 CAGR:
7.3%
2032 Value Projection:
USD 28.20 Billion
Historical Data for:
2018 to 2022
No. of Pages:
220
Tables, Charts & Figures:
246
Segments covered:
Product Type, Form, Sales Channel, Application
Growth Drivers:

Increasing popularity of plant-based diets
Increasing Health Consciousness

Pitfalls & Challenges:

Price volatility
Competition from alternative protein sources
To understand market opportunities &nbsp
Download Free Sample

Chickpea crops are vulnerable to climatic fluctuations and environmental stress. Unpredictable weather patterns, including droughts, excessive rainfall, and temperature extremes, can lead to reduced yields and poor crop quality, affecting the overall supply chain. Furthermore, the susceptibility of chickpeas to pests and diseases adds another layer of complexity, necessitating the use of pesticides and other chemical interventions that can raise production costs and pose potential environmental risks. Price volatility is another critical challenge, as market prices can fluctuate rapidly due to changes in supply and demand, geopolitical factors, and global trade policies. Such volatility can impact the profitability of both farmers and traders, leading to economic uncertainties within the chickpeas market.

COVID-19 Impact
As the pandemic led to widespread lockdowns and restrictions on movement, the food and agriculture sector faced obstacles in terms of transportation, distribution, and labour availability, thereby disrupting the supply chain for chickpeas and other agricultural commodities. The closure of restaurants, hotels, and catering services, which are significant consumers of chickpeas and chickpea-based products, led to a sharp decline in demand, causing a substantial market slowdown.

Moreover, the economic uncertainty caused by the pandemic led to shifts in consumer spending patterns, with many individuals prioritizing essential items over premium food products, further impacting the demand for chickpeas. Additionally, the disruptions in international trade and logistics, coupled with fluctuating currency exchange rates, posed challenges for both importers and exporters, leading to a reduction in the volume of chickpeas traded globally.

Chickpeas Market Trends
There is an increasing popularity of plant-based diets, driving a surge in demand for chickpeas and chickpea-based products as a vital source of plant-based protein. This trend is further amplified by the growing number of vegetarian and vegan consumers globally, who perceive chickpeas as a sustainable and nutritious alternative to animal-based protein sources.

Additionally, the rising consumer awareness regarding the health benefits of chickpeas, such as their high fiber content and low glycemic index, has propelled their inclusion in various functional food products and snacks. Moreover, the diversification of chickpeas-based products, including innovative snacks, gluten-free alternatives, and ready-to-eat meals, reflects the dynamic nature of the market, catering to evolving consumer preferences for convenient and healthier food options.

Chickpeas Market Analysis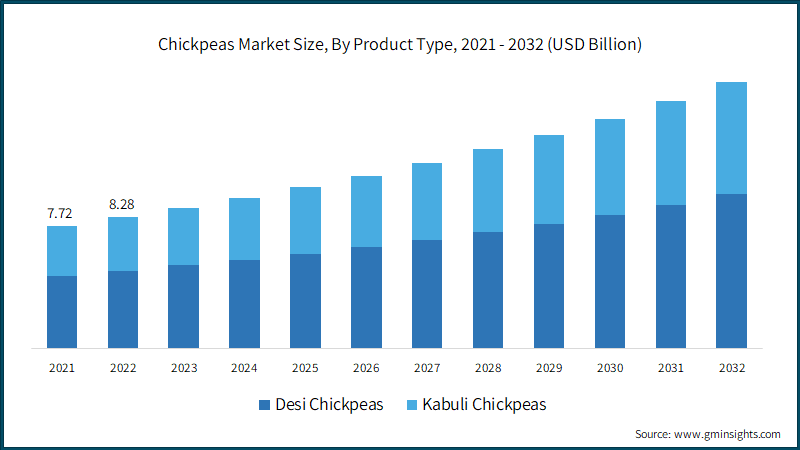 To understand key market trends &nbsp
Download Free Sample

Based on product type, The desi chickpeas segment dominated around USD 8.28 billion revenue in 2022. Desi Chickpeas, also known as "Bengal gram," are smaller in size with a rough outer coat and possess a stronger flavor profile compared to Kabuli Chickpeas. These varieties are predominantly consumed in South Asia and are commonly used in the preparation of traditional dishes such as curries and stews. They are also utilized in the production of besan, a popular chickpea flour used in various culinary applications.

To understand key market trends &nbsp
Download Free Sample

Based on form, the dried chickpeas market accounted for 55% of revenue share in 2022, led by their widespread use in various culinary applications, ranging from traditional dishes to modern, health-focused recipes. They are preferred for their versatility and extended shelf life, making them a staple ingredient in households and the foodservice industry alike. Flour and powder derived from chickpeas have also gained prominence, owing to the increasing demand for gluten-free and healthier alternatives in the food industry. Chickpea flour, known for its high protein content and gluten-free nature, is utilized in a diverse range of products such as bakery items, snacks, and as a thickening agent in various recipes.

Based on sales channel, the chickpeas market from supermarkets/hypermarkets segment will gain remarkable momentum during the forecast timeline. Supermarkets/Hypermarkets offer a wide range of chickpea products, including both raw and processed variants, to cater to the diverse needs of consumers. These large-scale retail outlets provide convenience and variety, attracting a significant consumer base seeking one-stop shopping for their grocery needs.

Based on application, the Food and beverage industry is anticipated to grow substantially through 2032. In the food and beverages sector, chickpeas are extensively used in the preparation of a wide range of dishes, including soups, stews, salads, snacks, and traditional cuisines such as hummus and falafel. This segment holds the largest market share, driven by the widespread consumption of chickpeas as a primary ingredient in various culinary delights worldwide.

The animal feed segment, although comparatively smaller in market share, plays a significant role in the chickpeas market, primarily as an essential component in livestock and poultry diets. Chickpeas serve as a valuable source of protein and nutrients for livestock, contributing to their overall health and growth, thereby catering to the needs of the animal husbandry and feed industry.

To understand regional trends &nbspDownload Free Sample

Asia Pacific chickpeas market size held over USD 5.51 billion in 2022. Countries such as India, Pakistan, and Australia contribute substantially to the overall market in the region. India, in particular, stands out as a major producer and consumer of chickpeas, with a rich culinary tradition that heavily relies on this versatile legume. The demand for chickpeas in the Asia Pacific region is primarily propelled by the region's large vegetarian population and the widespread use of chickpeas in various traditional dishes and snacks. Additionally, the rising awareness of the health benefits associated with chickpeas consumption has further bolstered the market growth in the region.

Chickpeas Market Share
Some of the major companies operating in the chickpeas industry are:
Agrana Group
Archer Daniel Midland (ADM) Company
Cargill Inc.
Abbott Blackstone
Adascan Grain
AGT Food and Ingredients, Inc.
BroadGrain Commodities, Inc.
The Wimmera Grain Co., Pty Ltd.
Bean Growers Australia Limited Market
OLEGA S.A.
ATC Group India
Cono Group
Roland Foods
Olam Agri
Ardent Mills
These companies focus on strategic partnerships, new product launch & commercialization for market expansion. Furthermore, these companies are heavily investing in research that allows them to introduce innovative products and garner maximum revenue in the market.

ADM, Cargill Inc, Olam Agric & Ardent Mills are all major companies in the global agricultural commodity market, and they have a significant presence in the chickpea market. They source chickpeas from farmers around the world and process them into a variety of products, including whole chickpeas, chickpea flour, and chickpea protein.

Chickpeas Industry News
In February 2021, Ardent Mills LLC completed the acquisition of all the business operations of Hinrichs Trading Co. (HTC), a significant presence in the North American chickpea market. This acquisition aligns with Ardent Mills' strategic growth initiative to expand its range of customer solutions, while leveraging its existing flour milling business as a foundation.

Tate & Lyle PLC, a notable ingredient supplier, has recently acquired a significant portion of the assets belonging to Nutriati, based in Richmond, Va. Nutriati specializes in the development and production of chickpea-based ingredients, notably marketed under the Artesa brand. While the specific terms of the acquisition were not disclosed, this move comes after a prior agreement between the two companies in November 2021, where Tate & Lyle became the exclusive distributor of Nutriati's chickpea protein and flour.

The chickpeas market research report includes an in-depth coverage of the industry with estimates & forecast in terms of revenue in USD Million & Units from 2018 to 2032, for the following segments:


Click here to Buy Section of this Report
Market, By Product Type
Desi Chickpeas
Kabuli Chickpeas
Market, By Form
Dried
Flour & Powder
Canned
Market, By Sales Channel
Supermarkets and Hypermarkets
Convenience Stores
Online Retail
Others
Market, By Application
Food & Beverages
Animal Feed
Nutraceuticals
Other
The above information has been provided for the following regions and countries:
North America
Europe

Germany
UK
France
Spain
Italy

Asia Pacific

China
Japan
India
Australia
South Korea
Indonesia
Malaysia

Latin America
Middle East & Africa

South Africa
Saudi Arabia
UAE
Egypt