Asia Pacific AGM Battery Industry Analysis
Asia Pacific AGM Battery Market size was valued at over USD 7.8 billion in 2022 and is predicted to observe about 3.3% CAGR between 2023 and 2032, driven by rapid urbanization, industrialization, and increasing power consumption, is fostering the adoption of AGM batteries. The escalating deployment of renewable energy sources, such as solar and wind power, coupled with the need for effective energy storage to manage intermittent generation, is further boosting AGM battery demand.

To get more details on this report: Request Free Sample PDF

The burgeoning automotive sector is also contributing to market growth, as AGM batteries find applications in advanced start-stop systems and hybrid vehicles, aligning with the growing emphasis on environmentally friendly transportation solutions. Additionally, the expansion of telecommunication networks, UPS systems, and backup power solutions in developing economies amplifies the requirement for dependable energy storage, driving the market expansion.

Asia Pacific AGM Battery Market Report Coverage
Report Coverage
Details
Base Year:
2022
Market Size in 2022:
USD 7.8 Billion
Forecast Period:
2023 to 2032
Forecast Period 2023 to 2032 CAGR:
3.3%
2032 Value Projection:
USD 10.8 Billion
Historical Data for:
2019 to 2022
No. of Pages:
205
Tables, Charts & Figures:
209
Segments covered:
Application, Sales Channel
Growth Drivers:

Expanding infrastructure of datacenters
Increasing demand for uninterrupted power supply
Burgeoning expansion in the automotive industry
Ongoing technological advancements in battery technologies

Pitfalls & Challenges:

Increasing penetration of alternative lithium-ion batteries
Stringent government regulations
To get more details on this report: Request Free Sample PDF

COVID-19 Impact
The Asia Pacific AGM battery market experienced a notable impact from the COVID-19 pandemic. Disruptions in supply chains, manufacturing operations, and logistics led to delays in production and distribution. Lockdown measures and economic uncertainties also affected consumer spending and industrial activities, resulting in reduced demand for AGM batteries across various sectors.

The automotive industry, a significant consumer of AGM batteries, witnessed a slowdown in production and sales due to factory closures and reduced consumer spending. However, as economies gradually recover and adapt to new norms, the emphasis on reliable power supply, energy storage, and renewable integration is expected to drive the market's resurgence, as AGM batteries continue to play a crucial role in various applications across the region.

Asia Pacific AGM Battery Industry Trends
The Asia Pacific AGM battery market is characterized by several notable trends. The increasing adoption of renewable energy sources, such as solar and wind, has stimulated the demand for AGM batteries as efficient energy storage solutions to manage intermittent power generation. Moreover, the growing telecommunications industry is relying on AGM batteries for backup power to maintain network reliability during outages. These trends underscore the pivotal role AGM batteries play in meeting the region's energy storage needs, enhancing grid stability, and supporting the transition towards more sustainable and resilient power systems.

Asia Pacific AGM Battery Application Segmentation
To get more details on this report: Request Free Sample PDF

The SLI applications captured around 66% share of the Asia Pacific AGM battery market and is poised to grow at a CAGR of 3.1% up to 2032. This growth can be attributed to the compatibility of AGM batteries with start-stop systems, owing to their adeptness in accommodating frequent deep cycling and rapid recharging, positions them as an optimal choice. The mounting embrace of start-stop systems, driven by both regulatory mandates for fuel efficiency and environmental consciousness, acts as a catalyst for AGM battery demand in SLI applications.

Asia Pacific AGM Battery Sales Channel Segmentation
To get more details on this report: Request Free Sample PDF

Across the Asia Pacific region, AGM batteries are accessible to both Original Equipment Manufacturers (OEMs) for integration within their systems and through distribution networks and aftermarket sales channels. The aftermarket sector, contributing significantly, has commanded a market value surpassing USD 6.2 billion in 2022, with projections exceeding USD 8.6 billion by 2032. The expansive distribution network in the aftermarket encompasses garages, automotive dealerships, spare part retailers, and construction centers, collectively addressing the demand for replacement batteries. In the automotive segment, the surge in aftermarket AGM battery sales is underpinned by the imperative of securing reliable and cost-effective power supply solutions.

Asia Pacific AGM Battery Country Analysis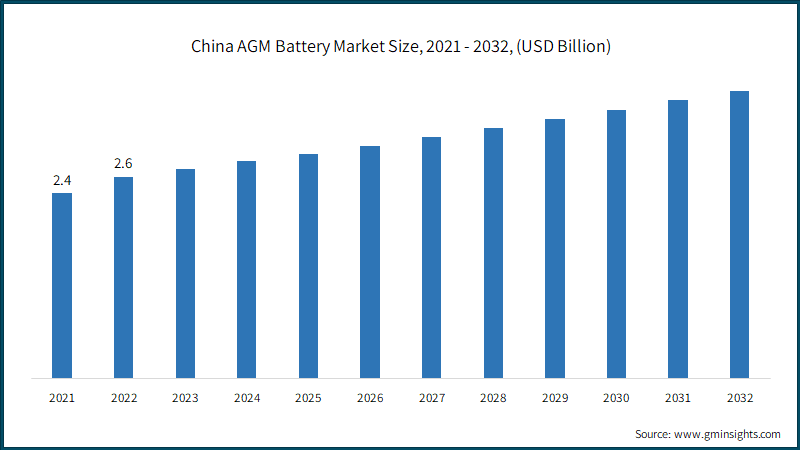 China AGM battery market is expected to witness about 3.6% growth rate through 2032, owing to the rapid expansion of the automotive sector along with rising urbanization, increasing disposable incomes, and a growing middle class. China's increasing focus on building smart cities and modernizing infrastructure, including telecommunications and UPS systems, has elevated the need for reliable backup power solutions, thus fueling the market growth. Furthermore, the rising adoption of e-bikes and electric scooters, coupled with government incentives to promote electric mobility, is augmenting the demand for AGM batteries.

Asia Pacific AGM Battery Industry Leaders
Key players operating across the Asia Pacific AGM battery market include Shandong Sacred Sun Power Sources Co., Ltd., C&D Technologies, Inc., ENERSYS, Clarios, Exide Technologies, East Penn Manufacturing Company, THE FURUKAWA BATTERY CO., LTD., Mutlu Battery, GS Yuasa International Ltd., HOPPECKE Batterien GmbH & Co. KG, leoch International Technology Limited Inc, Amara Raja Batteries Ltd., and CROWN BATTERY.

Asia Pacific AGM Battery Industry News:
In January 2022, Clarios revealed its strategic move to broaden its AGM battery offerings by introducing a 12V AGM battery variant within the upcoming three years. This innovative battery model is specifically engineered for Electric Vehicle (EV) applications and features advanced smart monitoring technology, encompassing real-time performance tracking and indicators for maintenance or replacement. The company's strategic objective revolves around attaining a significant market share within the expanding SLI battery sector, capitalizing on the ever-growing demand for reliable energy solutions.

In August 2021, Exide Industries Ltd. has introduced an innovative Batmobile Doorstep Service in India, aimed at enhancing customer convenience. This initiative encompasses the seamless delivery of inverters and battery systems to customers' doorsteps in Kolkata, West Bengal. This service can be conveniently accessed through the company's online portal by sending a text message. The strategic launch of this new service aligns with Exide's overarching goal of expanding its presence throughout India while ensuring that its products are easily accessible and user-friendly. This move is anticipated to not only streamline customer experiences but also contribute to the company's market penetration and increased customer engagement across the nation.

This Asia Pacific AGM Battery market research report includes an in-depth coverage of the industry with estimates & forecast in terms of Million Units and USD Million from 2019 to 2032, for the following segments:


Click here to Buy Section of this Report
By Application
Stationary

Telecommunications
UPS
Control & Switchgear
Others

Motive
SLI
By Channel
The above information has been provided for the following countries:
China
Japan
India
South Korea
Indonesia