Self-administered Drugs Market size is projected to experience significant growth from 2020 to 2026. Self-administered drugs are those drugs that can be regularly administered by the patients themselves. Drugs from this category are usually consumed by the patients to control blood glucose, blood pressure or other chronic illnesses. Self-administered drugs are available in oral, injectable as well as nasal form and the route of administration of a drug depends on the type of biologic product and the absorption rate of the therapeutic.

The global self-administered drugs market is categorized as oral, injectable and others segment based on the route of administration, while on the basis of formulation, the market is categorized as solid, semi-solid and liquid formulations.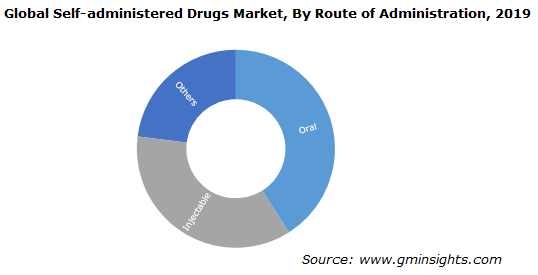 Get more details on this report - Request Free Sample PDF

Global self-administered drugs industry growth can be attributed to increasing prevalence of chronic diseases across the globe. As per the Centers for Disease Control and Prevention, about six in ten adults in the U.S. suffer from a chronic disease. Patients with chronic conditions require regular and repeated administration of drugs for proper management of the disease. Thus, increasing risk factors leading to the development of chronic diseases will create significant demand for self-administered drugs in the coming years. Moreover, development of novel technologies for self-delivery of drugs and improvement of drug delivery technique largely impacts the market growth. Emerging smart technologies simulate drug delivery, thereby lowering the rate of errors from self-delivery of biologics, thus augmenting the business size.

Growing burden of cost containment on the patients will escalate the demand for self-administering injectable drugs. Drugs administration in healthcare settings involve high cost associated with drug delivery including physician charges. Hence, increasing patient inclination towards drug delivery at homes with greater convenience, will drive injectables segment growth. In addition, rapid effect of injected drugs will further favor patient preference over the forthcoming period. However, limited or insufficient coverage for self-administered drugs coupled with adverse effects related to self-delivery of injectables may hinder the market demand upto a certain extent.

Solid formulation segment will witness rapid growth during the analysis period. Ease-of-administration in patients of all age groups and easy availability will serve as the major factors impelling the segmental growth. A broad spectrum of diseases are treated with solid formulation drugs. Furthermore, better affordability of solid formulations will garner considerable segmental share.

On the basis of application, the market is segmented as cardiovascular diseases, diabetes, osteoporosis, pain management and others. Demand for self-administered drugs for osteoporosis is projected to boost in the upcoming years. Rising pervasiveness of osteoporosis among women will lead to rapid adoption of self-administered osteoporosis drugs. As per the International Osteoporosis Foundation, more than 200 million people among worldwide population suffer from osteoporosis. With growing lifestyle changes and obesity, the disease is estimated to grow at rapid pace in future. Self-administered drugs for treatment of osteoporosis are available with good tolerance rate. For instance, Teriparatide is a very effective osteoporosis drug that can be self-injected. Hence, increasing focus of companies to develop new drugs and rising risk of bone disorders will stimulate the segmental growth.

On the basis of distribution channel, the market is segmented as pharmacies, e-commerce and other channels. Distribution of self-administered drugs through online channels will escalate e-commerce segment growth. Growing internet penetration in developing and underdeveloped nations will highly impact the segmental growth. Moreover, e-commerce provides easy accessibility, convenience and cost-effective alternatives to the buyers, thus favoring the segmental size.

U.S. self-administered drugs industry is forecast to hold for substantial revenue share during the analysis timeframe. Increasing incidence of cancer, bone disorders, diabetes and other ailments will generate robust demand for self-administered drugs. In addition, rising number of admissions in outpatient facilities in the country will boost the demand. Availability of insurance for some self-administered drugs will further influence the U.S. self-administered drugs market growth over the forecast timeframe.

Asia Pacific self-administered drugs market will progress at significant rate over the estimation period. Expanding geriatric population prone to several chronic disorders will majorly impact the business growth. Moreover, increasing number of retail pharmacies and reach of online distribution of drugs will facilitate self-administered drugs industry growth.

Abbott Laboratories, Novartis, Bristol-Myers Squibb and Eli Lilly and Company are some of the key market players involved in the global self-administered drugs market. These players are adopting strategies such as product innovation and inorganic growth strategies to increase their market footprint.

Self-administered Drugs Market, By Route of Administration, 2015-2026 (USD Million)
By Formulation, 2015-2026 (USD Million)
By Application, 2015-2026 (USD Million)
Cardiovascular diseases
Diabetes
Osteoporosis
Pain Management
Others
By Distribution Channel, 2015-2026 (USD Million)
Pharmacies
E-commerce
Others
The above information is provided for the following regions and countries:
North America
Europe

Germany
UK
France
Italy
Spain
Russia

Asia Pacific

Japan
China
India
Australia

Latin America
Middle East and Africa

South Africa
Saudi Arabia
UAE
What Information does this report contain?
Historical data coverage: 2017 to 2021; Growth Projections: 2022 to 2028.
Expert analysis: industry, governing, innovation and technological trends; factors impacting development; drawbacks, SWOT.
6-7 year performance forecasts: major segments covering applications, top products and geographies.
Competitive landscape reporting: market leaders and important players, competencies and capacities of these companies in terms of production as well as sustainability and prospects.