North America Distributed Control Systems Market Size
North America Distributed Control Systems Market was valued at USD 4.4 billion in 2022 and is anticipated grow at CAGR of over 5.3% from 2023 to 2032. The increasing integration of renewable energy sources and the push for sustainable practices will drive the technology penetration across the region. For instance, as per Enerdata, the share of renewable energy in the electricity production increased from 8.8% in 2000 to 22.2% in 2022 owing to the growing energy demand and efforts to reduce reliance on conventional fuels.

To understand key trends &nbsp
Download Free Sample

The region's ongoing emphasis on industrial automation, driven by the need for improved operational efficiency and cost reduction, propels the demand for advanced DCS solutions. The growing adoption of digitalization and the Industrial Internet of Things (IIoT) technologies enhances DCS capabilities, offering real-time data analysis and remote monitoring, further boosting market growth. Stringent safety and regulatory standards in sectors like oil & gas and power generation create a strong demand for DCS systems to ensure safe and compliant operations.
North America Distributed Control Systems Market Report Attributes
Report Attribute
Details
Base Year:
2022
North America Distributed Control Systems Market Size in 2022:
USD 4.4 Billion
Forecast Period:
2023 to 2032
Forecast Period 2023 to 2032 CAGR:
5.3%
2032 Value Projection:
USD 7.3 Billion
Historical Data for:
2019 to 2022
No. of Pages:
125
Tables, Charts & Figures:
106
Segments covered:
Component, End Use
Growth Drivers:

Rising demand for 5G and IIOT technologies across industries
Increasing industry automation
Growing energy demand
Cybersecurity concerns

Pitfalls & Challenges:
To understand market opportunities &nbsp
Download Free Sample

COVID– 19 Impact
The COVID-19 pandemic initially caused disruptions in the North America distributed control systems market as industries grappled with lockdowns and supply chain interruptions. However, the crisis accelerated the adoption of remote monitoring and automation solutions, driving the DCS market's recovery. Businesses sought DCS technology to ensure operational continuity, enhance worker safety, and improve production efficiency. Furthermore, the pandemic highlighted the need for resilient and flexible manufacturing processes, fueling investments in DCS systems. While the initial impact was challenging, the long-term effect of COVID-19 has been an increased awareness of the value of DCS technology in ensuring business continuity and adapting to dynamic market conditions.

North America Distributed Control Systems Market Trends
The integration of advanced technologies like artificial intelligence (AI) and machine learning is enhancing the capabilities of DCS systems, enabling predictive maintenance, process optimization, and improved decision-making. There is a growing focus on cybersecurity as industries seek to protect critical infrastructure and data from cyber threats. Moreover, the adoption of edge and cloud computing is facilitating remote monitoring and real-time data analysis, making DCS more agile and responsive. Additionally, the push toward sustainable practices and renewable energy sources is driving DCS applications in the energy sector.

The increasing convergence of IT (Information Technology) and OT (Operational Technology) is streamlining data exchange, allowing for seamless communication between DCS and business systems. Furthermore, the demand for modular and scalable DCS solutions is on the rise, offering flexibility in system design and expansion to accommodate evolving industrial needs.

North America Distributed Control Systems Market Analysis:
To understand key market trends &nbsp
Download Free Sample

In 2022, the DCS hardware segment was valued at approximately USD 1.8 billion, and it is expected to exhibit a robust CAGR of over 4% through 2032. Industries are proactively modernizing their operations, necessitating the expansion and enhancement of DCS hardware infrastructure to accommodate cutting-edge technologies. Safety and reliability continue to be paramount, prompting investments in resilient hardware and robust cybersecurity measures. Furthermore, the burgeoning industrial sectors are bolstering the demand for DCS hardware, emphasizing the pivotal role of hardware in steering the growth trajectory of the DCS market.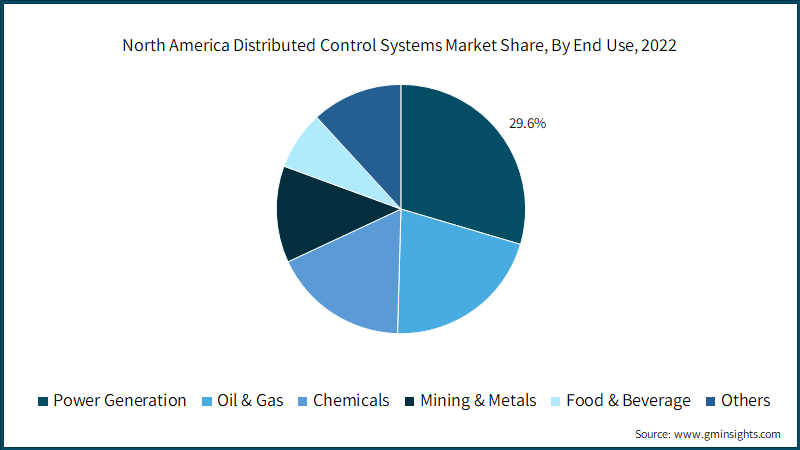 To understand key market trends &nbsp
Download Free Sample

North America distributed control systems market from power industries was worth USD 1.3 billion in 2022 and is anticipated to reach USD 2.2 billion by 2032. DCS solutions are instrumental in optimizing power plant operations, enhancing grid stability, and ensuring efficient electricity generation. With the increasing integration of renewable energy sources, the power industry is deploying DCS technology to manage complex grids and balance supply and demand. Additionally, DCS systems in the power industry support predictive maintenance, fault detection, and real-time data analysis, improving operational efficiency.

To understand regional trends &nbspDownload Free Sample

U.S distributed control system market revenue crossed USD 2.9 billion in 2022 and is set to exceed 4.6 billion by 2032. The country's diverse industrial landscape, spanning sectors such as energy, manufacturing, and chemical processing, creates a substantial demand for DCS technology. The pursuit of operational excellence and increased efficiency is driving investments in DCS systems, allowing for precise control and automation in complex processes. Additionally, the focus on enhancing cybersecurity and ensuring the safety and reliability of critical infrastructure bolsters the implementation of DCS technology.

North America Distributed Control Systems Market Share
ABB maintains a robust market share in the North America distributed control systems (DCS) market through a combination of factors. ABB is recognized for its innovative and reliable DCS solutions tailored to the region's diverse industrial needs. The company's commitment to sustainability and environmental responsibility aligns with North America's focus on eco-friendly and energy-efficient operations. ABB's extensive network and strong customer support services contribute to its customer satisfaction and loyalty. The company's adaptability and scalability in providing DCS systems for a wide range of industries further solidify its market position. Overall, ABB's dedication to quality, innovation, and customer service continues to bolster its stronghold in the North American DCS market.

The major contenders in the market include:
ABB
Honeywell International Inc.
Siemens
Schneider Electric
Mitsubishi Electric Corporation
Rockwell Automation
Emerson Electric Co.
Valmet
NovaTech, LLC.
Azbil Corporation
Toshiba Infrastructure Systems & Solutions Corporation
Yokogawa Electric Corporation
YASKAWA ELECTRIC (SINGAPORE) PTE LTD
Concept Systems Inc
Hitachi, Ltd.
Ingeteam
North America Distributed Control Systems Market News:
In February 2023, ABB has launched its latest product, the DCS system 'Ability Symphony Plus', with a specific emphasis on catering to the needs of the water and power generation industries. This cutting-edge solution acts as a secure and seamlessly integrated gateway to an extended digital ecosystem, enabling these sectors to enhance their plant performance and overall operational efficiency. A noteworthy aspect of this offering is its ability to provide valuable features like remote alarm data management and fleet asset management for end-users. This strategic move is expected to play a significant role in bolstering ABB's revenue generation within the realm of process automation, further solidifying the company's position in the global market.

This market research report on North America distributed control systems includes in-depth coverage of the industry with estimates & forecast in terms of "USD Million" from 2019 to 2032, for the following segments:


Click here to Buy Section of this Report
By Component
Hardware
Software
Services
By End Use
Power Generation
Oil & Gas
Chemicals
Mining & Metals
Food & Beverage
Others
The above information has been provided for the following countries: