Naval Destroyers and Submarines Market Size
Naval Destroyers and Submarines Market was valued at over USD 100 million in 2022 and is anticipated to grow at a CAGR of 5.5% between 2023 and 2032.

To understand key trends &nbsp
Download Free Sample

As nations allocate more resources for their defense budgets, they are investing in advanced naval capabilities including the construction & modernization of destroyers and submarines. These vessels are vital for protecting maritime interests, securing sea lanes, and projecting power. Geopolitical tensions and the evolving security threats in various regions prompt countries to bolster their naval fleets, thereby driving the demand for advanced & versatile naval platforms such as destroyers and submarines. Technological advancements and the incorporation of cutting-edge systems including stealth technology, advanced weaponry, and undersea warfare capabilities create lucrative opportunities for defense contractors and manufacturers, contributing to market growth as nations seek to maintain military superiority in the maritime domain. For instance, in August 2023, the Government of India cleared a Rs 20,000 crore deal to manufacture Fleet Support Vessels (FSVs) for the Indian Navy. Hindustan Shipyard Limited (HSL), a company based in Vizag, will manufacture five 45,000-tonne warships, the largest ship of its class being built at the yard owned by the defense ministry.

Naval Destroyers and Submarines Market Report Attributes
Report Attribute
Details
Base Year:
2022
Naval Destroyers and Submarines Market Size in 2022:
USD 107.1 Million
Forecast Period:
2022 to 2032
Forecast Period 2022 to 2032 CAGR:
5.5%
2032 Value Projection:
USD 180 Million
Historical Data for:
2018 - 2022
No. of Pages:
220
Tables, Charts & Figures:
278
Segments covered:
Type, system, application, and region
Growth Drivers:

Increasing global defense spending
Growing demand for Anti-Submarine Warfare (ASW) capabilities
Rising focus on maritime security
Growing demand for submarines from emerging economies
Development of new technologies

Pitfalls & Challenges:

High development & production costs
Long procurement cycles
Long procurement cycles are a pitfall in the na
To understand market opportunities &nbsp
Download Free Sample

Long procurement cycles are a pitfall in the naval destroyers and submarines industry due to the complex & time-consuming nature of acquiring these advanced vessels. The procurement process involves extensive evaluations, negotiations, and regulatory approvals, making it inherently lengthy. Additionally, the need for compliance with stringent safety, security, and environmental standards further extends these cycles. Geopolitical factors, budgetary constraints, and changing defense priorities can also delay procurement decisions. These prolonged cycles can result in cost overruns, technological obsolescence, and strategic vulnerabilities, impacting a nation's naval readiness and its ability to adapt to the rapidly evolving threats in the maritime domain.

COVID-19 Impact
The COVID-19 pandemic led to multifaceted impacts on the naval destroyers and submarines market. While defense spending remained robust in many countries, the disruptions in supply chains and production schedules due to lockdowns and restrictions affected the delivery of new vessels. The focus on healthcare and economic recovery also compelled some governments to temporarily divert resources from their defense budgets. The pandemic highlighted the vulnerability of military assets to global crises. It also reinforced the importance of naval capabilities in securing national interests and maintaining maritime security, potentially driving long-term investments in modernizing & expanding naval fleets.

Naval Destroyers and Submarines Market Trends
Many nations are focusing on modernizing their existing fleets of destroyers and submarines rather than building entirely new vessels. This includes the upgrading of sensors, weapon systems, and propulsion technologies. Submarines, especially advanced nuclear-powered ones, were in high demand due to their strategic importance in intelligence gathering, deterrence, and stealth operations. Several nations are expanding their submarine fleets.

The advancements in stealth technology, such as quieter propulsion systems and advanced hull designs, are a priority for both destroyers and submarines to reduce detection and enhance their effectiveness. The ongoing research & development in next-generation weapons systems including electromagnetic railguns and directed energy weapons will enhance the offensive & defensive capabilities of naval vessels. While defense spending is increasing in some regions, budget constraints and economic challenges are influencing procurement decisions, leading to a focus on cost-effective solutions.

Naval Destroyers and Submarines Market Analysis
To understand key market trends &nbsp
Download Free Sample

Based on system, the market is divided into marine engine systems, weapon launch systems, control systems, electrical systems, and communication systems. The electrical systems segment the market in 2022, accounting for a share of over 8%.

Electrical systems offer significant advantages in terms of energy efficiency, reduced acoustic signatures, and improved stealth. Advanced electric propulsion systems such as Integrated Electric Drive (IED) allow for quieter operations, enhancing the ability of submarines to remain undetected.

Electrical systems enable the integration of high-power sensors, communication systems, and advanced weaponry, thereby enhancing the situational awareness and combat capabilities of vessels. The versatility of electrical systems also accommodates future technology upgrades, making it a strategic choice for the navies looking to maintain a competitive edge in modern naval warfare while reducing the reliance on traditional mechanical systems, which may be noisy and less efficient.

To understand key market trends &nbsp
Download Free Sample

Based on the type, the market is segmented into destroyers and submarines. The destroyers segment is estimated to register a CAGR of over 5% through 2032.

Modern destroyers are versatile assets that can perform multiple roles within a naval force. Equipped with advanced radar systems, they can defend against air threats, engage with surface vessels, and conduct anti-submarine operations. Such multi-mission capabilities reduce the need for specialized vessels and offer cost-efficiency, making destroyers a preferred choice for nations seeking flexibility in naval operations.

The integration of cutting-edge technologies such as the Aegis combat system, which provides advanced command & control capabilities, enhances situational awareness and missile defense. The advanced sensors and missile systems also enable destroyers to counter threats at longer ranges with higher accuracy, thereby improving the overall effectiveness.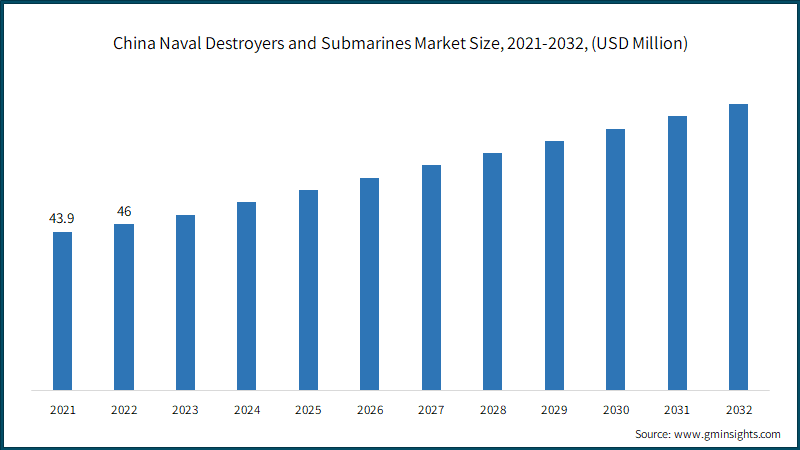 To understand regional trends &nbspDownload Free Sample

Asia Pacific dominated the global naval destroyers and submarines market in 2022, accounting for a share of over 40%. Asia Pacific witnessed increasing geopolitical tensions, particularly in the South China Sea, driving countries to bolster their naval capabilities. This has also led to a higher demand for modern destroyers & submarines to secure maritime interests and maintain a strategic edge. The growing defense budgets in countries including China, India, Japan, and South Korea provide the financial means to invest in advanced naval assets. The expansive coastline and vital sea lanes of Asia Pacific necessitate a robust naval presence. As a result, defense contractors and manufacturers are actively engaged in fulfilling the demand for these vessels, thereby contributing to regional market expansion.

Naval Destroyers and Submarines Market Share
The players in the industry focus on implementing different growth strategies to strengthen their offerings and expand their market reach. These strategies involve new product developments & launches, partnerships & collaborations, mergers & acquisitions, as well as customer retention. These players also heavily invest in research & development initiatives to introduce innovative and technologically advanced solutions in the market. Some of the major players operating in the naval destroyers and submarines industry are mentioned below:
BAE Systems
Daewoo Shipbuilding & Marine Engineering
General Dynamics Electric Boat
Huntington Ingalls Industries
Mitsubishi Heavy Industries
Naval Group
ThyssenKrupp Marine Systems
Naval Destroyers and Submarines Industry News:
In September 2023, General Dynamics Electric Boat was awarded a delivery order worth USD 517.2 million against the formerly issued basic ordering agreement for procurement & delivery of the initial Virginia-class attack submarine spare parts to support maintenance availabilities. Work will be performed in Groton and Pawcatuck, Connecticut.

In August 2021, the Ukrainian government announced a three-phase plan to build a new naval fleet by 2035. The first stage is expected to be completed by 2024, the second phase by 2030, and the final stage by 2035. The modernization plan includes the construction of the naval base in Berdyansk and the development, construction, and induction of indigenously manufactured corvettes, military boats, and small submarines.

The naval destroyers and submarines market research report includes in-depth coverage of the industry, with estimates & forecast in terms of revenue (USD million) from 2018 to 2032, for the following segments:


Click here to Buy Section of this Report
Market, by type
Market, by system
Marine engine systems
Weapon launch systems
Control systems
Electrical systems
Communication systems
Market, by application
Search & rescue
Combat operations
MCM operations
Coastal operations
The above information is provided for the following regions and countries:
North America
Europe

Germany
UK
France
Italy
Spain
Rest of Europe

Asia Pacific

China
Japan
India
South Korea
ANZ
Rest of Asia Pacific

Latin America

Brazil
Mexico
Rest of Latin America

MEA

UAE
Saudi Arabia
South Africa
Rest of MEA