Industry Trends
Global Nano Zinc Oxide Market size was valued at over USD 300 million in 2018 and will witness 13.1% CAGR during the forecast timespan.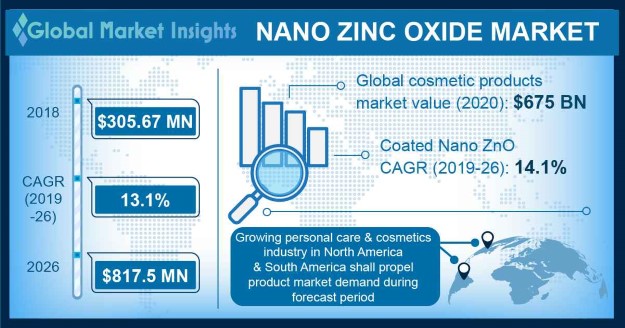 To get more details on this report: Request Free Sample PDF

Nano zinc oxide dispersions & powders are inorganic zinc oxide nanoparticles that possess antibacterial, antifungal, anticorrosive, catalytic, and UV filtering properties. They are nanoparticles of zinc oxide which have diameters less than 100 nanometers and have a large surface area in correspondence with their size and high catalytic activity. Possible ways to produce zinc oxide nanoparticles include electrochemical depositions, hydrothermal methods, sol–gel method, thermal decomposition, chemical vapor deposition etc.

Nano Zinc Oxide Market Report Coverage
Report Coverage
Details
Base Year:
2018
Market Size in 2018:
300 Million (USD)
Forecast Period:
2019 to 2026
Forecast Period 2019 to 2026 CAGR:
13.1%
2026 Value Projection:
800 Million (USD)
Historical Data for:
2014 to 2018
No. of Pages:
226
Tables, Charts & Figures:
383
Segments covered:
Coated Nano ZNO, Un-coated Nano ZNO, Personal care & cosmetics, Paints & coatings, Textiles, Electronics
Growth Drivers:

Rising adoption in biomedical fields
Proliferating cosmetics industry
Opportunities:
Increasing implementation in animal feeding/grazing

Pitfalls & Challenges:

Increasing environmental & health issues
To get more details on this report: Request Free Sample PDF

Cosmetics segment appears to be the most attractive market for the industry players owing to increased purchasing power in the emerging economies and growth in awareness among the consumers regarding adverse effects of UV rays. Factors such as age, location or socioeconomic background plays a vital role in cosmetic industry. Functionality of nano zinc oxide in the cosmetic and personal care is highest due to their exceptional physio-chemical properties. Rising inclination of manufacturers to use soluble and biodegradable nano emulsions in cosmetics will positively influence the nano zinc oxide market growth. Nanoparticles are now popularly used in every personal care product available in market, including shampoo, deodorant, sunscreens, soaps, toothpaste, hair conditioner, perfume, foundation, lipstick, and after-shave lotion owing to increasing demand for sun protection cosmetics. Minimal regulatory constraints and limited health impacts is increasing its implementation in skincare and medical products. Huge expenditure in research & innovation and highly formulated industrial chemicals produced in developed nation will escalate the product demand.

Paints and coatings cross-apply to numerous consumer markets from aerospace & automotive to construction and hygiene. They offer a range of functionalities such as thermal barrier, anti-bacterial, easy-clean, anti-corrosion, protective and UV-absorbent etc. Increase in inflow of investment for R&D, growth in utility of nano zinc oxides in various end-use industries, coupled with exceptional physiochemical properties will adoption of nano zinc oxide in various applications. In addition, the fabrics manufactured by using ZnO NPs possess unique function of UV and visible light resistance. Apart from these, the product is also used in various other industries such as electronics, plastics & films, rubber etc.

The rising product developments in nanomaterials is providing a positive outlook for utility of metal oxide nanoparticles in the biomedical fields. The increasing applications of nano zinc oxide including antibacterial, anticancer drug, antimicrobial, cell imaging, gene delivery and biosensing will drive the industry share. Additionally, water solubility, biocompatibility and non-toxic synthesis route of nano zinc oxide particle appears to be a lucrative opportunity in biomedical field. However, rising concerns of environmental hazards caused by increasing toxicity of metal-based nanomaterials will restrict nano zinc oxide market share. Zinc oxide nano materials released through the domestic and industrial wastewaters into the aquatic ecosystem will limit the product growth over the projected timeframe.

Un-coated Nano ZnO highly popular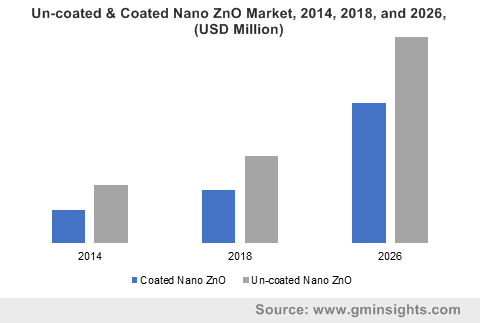 To get more details on this report: Request Free Sample PDF

Un-coated Nano ZNO do not contain any inert coatings and are directly used in finished products. Both coated and uncoated particles are used in the sunscreen products. The size range of ZnO particles used in sunscreens are from 20 to 60 nm. Uncoated zinc is considered more photo-reactive, or UV rays can cause free radical change on the skin. Skincare industry participant Badger uses un-coated zinc oxide in topical skin care products such as creams, lotions and diaper rash cream.

On the other hand, coated nano zinc oxide have a higher potentiality towards preparation of electrical and optical devices, solar cell, gas sensors, chemical absorbent varistors, electrostatic dissipative coating, and catalysts for liquid phase hydrogenation. The coated nano zinc oxide market share will witness significant growth of 14.1% CAGR during forecast time spell. Coatings play varied roles such as surface stabilizer, growth modifier, and reducing agent. It enhances the performance characteristics of nano zinc oxide. Materials such as polyvinylpyrrolidone (PVP), silicon oil, oleic acid, amino acid, stearic acid, mineral oil, polyacrylic acid, alumina, copper, silane etc are commonly used as coupling agents, to coat nano zinc oxide particles.

Superior Characteristics of Nano Zinc Oxide
Zinc oxide is a multifunctional material with unique chemical and physical attributes, such as paramagnetic nature, chemical stability, broad range of radiation absorption, and high photostability. Nano zinc oxide particles are used in personal care products, paints & coatings, electronics and textiles, in substantial quantities. Personal care products made up for almost half the total demand share owing to the superior properties of the product including reactivity, persistence or bioavailability. The global cosmetic products market was valued at USD 460 billion in 2014 and is estimated to reach USD 675 billion in 2020. ZnO is used in many applications including photo catalysts electronics, optoelectronics, pharmaceutical, sensors, lasers etc. Superior mechanical properties including high surface to volume ratio along with quantum size effect will proliferate the nano zinc oxide market demand in the projected timeframe.

Nano zinc oxide is an ideal material for many optoelectronic applications such as ultraviolet lasers, thin film transistors, light emitting diode etc. Its characteristics can also be improved by doping, changing the chemical composition, size, shape, as well as surface area. Rebound in U.S. automotive industry and growth in North American construction industry likely to drive paints and coatings market in the years to come. Nano zinc oxides which is used in paints and coatings shall have strong growth during forecast period.

Growing Investments In American Cosmetics & Personal Care Sectors
To get more details on this report: Request Free Sample PDF

Growing personal care and cosmetics industry in North America and South America shall propel product market demand during forecast period. Growing demand of body care and skin care products from Mexico shall drive the product demand in the region. In the U.S. strong presence of cosmetics and personal care product manufactures coupled with steadily growing textile and electronics industry shall drive product demand.

In 2014, the U.S. invested around USD 6 billion in nanotechnology among governments, private investors and corporations. Furthermore, revenue from nano-related products rose around 90% from 2012 to 2014, which depicts great potential of this technology.

Adoption of New Product Development By Industry Players
Green synthesis is an innovative method for manufacturing zinc oxide nano particles as compared to conventional chemical and physical methods. Cost-effectiveness, extensive antimicrobial activity and reduced usage of toxic chemicals in green synthesis will propel the product share. Key participants operating in the nano zinc oxide market share include, Elementis Plc, Grillo Zinkoxid, HakusuiTech, Nanophase Technologies Corporation, Sakai Chemical Industry Co., Showa Denko, Advance NanoTek BASF SE etc. Nano zinc oxide has multiple applications in various industrial sectors.

The nano zinc oxide market research report includes in-depth coverage of the industry, with estimates & forecast in terms of revenue in USD million from 2016 to 2026, for the following segments:


Click here to Buy Section of this Report
Nano Zinc Oxide Market by Product

Coated nano ZnO
Un-coated Nano ZnO

Nano Zinc Oxide Market by Application

Personal Care & Cosmetics
Paints & Coatings
Textiles
Electronics
Other applications

Zinc Oxide Nanoparticles Market by Region
North America
Europe

Germany
France
UK
Italy
Spain
Belgium
Netherlands
Austria
Poland
Russia

Asia pacific

China
India
Japan
Australia
South Korea

Latin America
Middle East & Africa

South Africa
Saudi Arabia
UAE