Meningococcal Vaccines Analysis
Meningococcal Vaccines Market size was valued to be USD 3.8 billion in 2022 and is expected to register over 7% CAGR from 2023 to 2032. The market's significant growth is primarily driven by the rising prevalence of meningitis worldwide. For instance, according to the Centres for Disease Control and Prevention (CDC), there are approximately 1.2 million cases of bacterial meningitis worldwide each year.

To get more details on this report: Request Free Sample PDF

The high morbidity and mortality associated with meningitis is different parts of the globe highlights the importance of vaccination as a preventive measure. In addition, areas with higher risk of disease transmission, such as healthcare facilities require mandatory meningococcal vaccination for individuals as it can lead to outbreaks in these specific demographics. Moreover, rising immunization programs, growing awareness about the disease, and increasing R&D activities concerning to meningococcal vaccines are expected to fuel the market growth during the forecast period.

Meningococcal Vaccines Market Report Coverage
Report Coverage
Details
Base Year:
2022
Market Size in 2022:
USD 3.8 Billion
Forecast Period:
2023 to 2032
Forecast Period 2023 to 2032 CAGR:
7%
2032 Value Projection:
USD 7.8 Billion
Historical Data for:
2018 to 2022
No. of Pages:
210
Tables, Charts & Figures:
328
Segments covered:
Vaccine Type, Brand, Serotype, Age Group, Distribution Channel, and Region
Growth Drivers:

Rising prevalence of meningitis
Increasing government initiatives
Mandatory vaccination requirements
Limited supply of the vaccine

Pitfalls & Challenges:
To get more details on this report: Request Free Sample PDF

Meningococcal vaccines are vaccines designed to protect individuals from infections caused by the bacterium Neisseria meningitidis, commonly referred to as meningococcus. Neisseria meningitidis is a leading cause of bacterial meningitis, which is a serious inflammation of the protective membranes covering the brain and spinal cord. Meningococcal vaccines stimulate the immune system to produce an immune response against the bacterium, preventing infection and its potentially severe and life-threatening consequences.
COVID-19 Impact
The COVID-19 pandemic had a negative impact on meningococcal vaccines market. During the height of the COVID-19 pandemic, healthcare systems worldwide were strained by the need to respond to the new virus. Many routine healthcare services, including vaccination programs were disrupted or deprioritized to allocate resources to COVID-19-related activities. According to Elsevier B.V., the number of meningococcal C conjugate vaccine doses administered was found to be significantly declined. For instance, a total of 14,832,054 meningococcal C conjugate vaccine doses administered between March 2019 to December 2020: 66.3% of them from March 2019 to February 2020, and only 33.7% from March 2020 to December 2020. In a nutshell, the intense focus on COVID-19 disrupted and changed the distribution of meningococcal vaccines to various regions. However, as countries recover from the pandemic and healthcare services return to normal, efforts to promote routine vaccinations has intensified. Various campaigns and awareness programs are being organized by government & non-government organizations, such as the National Meningitis Association (NMA), Meningitis Research Foundation of Canada, Meningitis B Action Project, and others. Hence, these factors are anticipated to fuel the meningococcal vaccine industry growth in the projected years.

Meningococcal Vaccines Market Driving Factors
A rise in the number of cases of meningitis is anticipated to increase the demand for meningitis vaccines, therefore pushing the growth of the meningococcal vaccines industry. Meningitis is a serious disease and can cause several life-threatening complications. For instance, according to WHO, 1 in every 6 people who get infected by meningitis die and 1 in 5 have severe complications. It causes inflammation of the meninges, which are the protective membranes that surround the brain and spinal cord. The symptoms of meningitis can vary depending on the age of the affected individual, and other factors and include fever, severe headache, nausea, and vomiting. Thus, usage of meningococcal vaccines to prevent the disease and alleviate these symptoms will augment the market statistics.

Meningococcal Vaccines Market Restraint
While vaccines play a crucial role in preventing meningococcal disease, the high cost of vaccine can impact its uptake and market dynamics. As meningitis may require multiple doses or booster shots, it can be a financial burden for individuals, families, and even healthcare systems. Higher costs might discourage people from seeking vaccination, especially in regions with limited resources. This can lead to suboptimal vaccine coverage. Additionally, lower-income individuals may find it difficult to afford meningococcal vaccines, leading to disparities in vaccine coverage and leaving certain populations vulnerable to the disease. Thus, such factor may hamper the market growth.

Meningococcal Vaccines Vaccine Type Segmentation
To get more details on this report: Request Free Sample PDF

Based on the vaccines type, the meningococcal vaccines market is segmented into polysaccharide, conjugate, combination, and other vaccine types. The conjugate vaccines segment held largest market share of 51.1% in 2022. These vaccines offer advantages in terms of efficacy, and the breadth of protection they provide against multiple serogroups of Neisseria meningitidis. By addressing multiple serogroups in a single vaccine formulation, conjugate vaccines offer comprehensive protection and eliminate the need for separate vaccinations against individual serogroups. They utilize a carrier protein to link the polysaccharide antigen of the bacterial capsule to a component that stimulates a robust immune response. This innovative approach enhances the immune system's recognition of the antigen, resulting in higher levels of protective antibodies. Moreover, they are effective in preventing disease both at the individual level and in outbreak situations. During outbreaks, their ability to interrupt disease transmission can be critical in controlling the spread of the infection. Therefore, the intricate and specialized demands of conjugate vaccines contribute to expand the global market growth.

Meningococcal Vaccines Brand Segmentation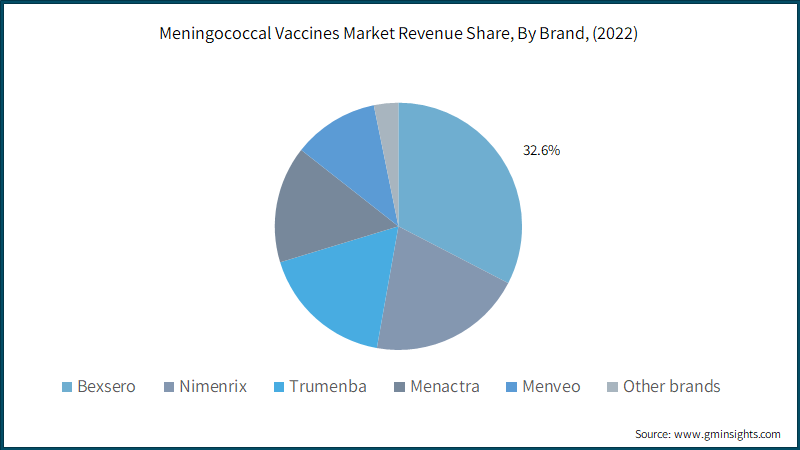 To get more details on this report: Request Free Sample PDF

Based on the brand, the global meningococcal vaccines market is classified into bexsero nimenrix, trumenba, menactra, Menveo, and other brands. The bexsero segment led the global market in 2022, with a market size of USD 1.2 billion. It is specifically developed to target meningococcal serotype B, which accounts for a significant proportion of meningococcal disease cases in certain regions. Serotype B is known for its antigenic diversity and its similarity to human tissues, making vaccine development complex. Bexsero's ability to target this challenging serotype has positioned it as a unique and valuable option for preventing serotype B-related disease. Moreover, it is often recommended for high-risk populations, such as adolescents and young adults, who are at increased risk of serogroup B meningococcal disease.

Meningococcal Vaccines Serotype Segmentation
Based on the serotype, the meningococcal vaccines market is fragmented into serotype A, serotype B, serotype C, serotype W-135, and serotype Y. The serotype B segment is expected to reach USD 2.9 billion by 2032 growing at a CAGR of 7.2%. Serotype B has been associated with both sporadic cases and outbreaks, including those occurring in educational institutes such as colleges and universities. For instance, according to Centers for Disease Control and Prevention, Serotype B currently accounts for about 40% of cases in the U.S., with serogroups C, W and Y, as well as infections due to nongroupable (non-encapsulate) meningococci each causing a smaller proportion of cases overall. Such high number of cases due to serotype B, thus aids in high segmental growth.

Meningococcal Vaccines Age Group Segmentation
Based on the age group, the meningococcal vaccines market is divided into infant (0 to 2 years), children and teen (2 to 18 years), and adult (18 years and above). The children and teen segment held high market share of 57.9% in 2022 and is expected to show significant growth at a CAGR of 6.8% during the analysis period. As children and teenagers are more susceptible to meningococcal disease as their developing immune systems and increased social interactions in school and community contributes to higher disease transmission rates. Close contact and shared living spaces in these environments can lead to outbreaks, making vaccination a priority. Furthermore, many meningococcal vaccines are administered as part of routine childhood immunization visits, making it convenient for parents to have their children vaccinated during scheduled healthcare appointments. Also, in some regions, certain meningococcal vaccines may be required for school entry. This requirement ensures that a large proportion of children and teenagers receive the vaccine, further driving demand within this age segment.

Meningococcal Vaccines Distribution Channel Segmentation
Based on the distribution channel, the meningococcal vaccines market is segmented into hospital pharmacy, retail pharmacy, and online pharmacy. The hospital pharmacy segment led the global market in 2022, with a market size of USD 1.7 billion. Hospital pharmacies play a key role in the global market, as they are integral to the distribution, organisation, and administration of the vaccine within the healthcare ecosystem. The diverse patient base in hospital settings increases the likelihood of meningococcal vaccination being offered to various age groups. In addition, many hospitals offer vaccination services, including routine childhood and adolescent immunizations. This availability of vaccines as part of routine healthcare services contributes to hospital pharmacies being primary distribution channels for meningococcal vaccines.

Meningococcal Vaccines Regional Analysis
In 2022, the North American meningococcal vaccines market held the largest share of 57% and is anticipated to show considerable growth during the analysis period. The market is being driven by favourable initiatives and aids from governments as well as significant research & development expenditures in the region. A strong healthcare system and an increase in awareness campaigns in the area has fuelled market expansion. In addition, market players are also actively engaged in a public awareness drive to improve the region's uptake of the meningococcal vaccination. For instance, in August 2021, GSK plc. Launched the ASK2Bsure campaign to entice parents to consult physicians about vaccinating their kids against meningitis B. This heightened disease awareness encourages individuals and healthcare providers to prioritize vaccination. Additionally, the region's prominence on patient-focused care, along with the availability of vaccines, specialized medical centers and awareness, further drives the demand for meningococcal vaccines industry in the region.

Meningococcal Vaccines Industry Leaders
The prominent players in the global meningococcal vaccines market are Sanofi SA, GlaxoSmithKline plc, Pfizer Inc., Novartis AG, Nuron Biotech, Hualan Biological Engineering Inc, Serum Institute of India Ltd., JN International Merck & Co., Inc, Walwax Biotechnology Co., and others. These companies are implementing several strategies such as collaborations, acquisitions, partnerships, mergers, and product launches to maintain a competitive edge in the industry.

Meningococcal Vaccines Industry News:
In August 2020, GlaxoSmithKline plc launched patient dosing in clinical study phase III comparing its 5-in-1 meningitis vaccine against licensed vaccines such as Bexsero and Menveo. This enhanced the product portfolio and generated maximum revenue from its sales.

In April 2020, the U.S. approved the Sanofi's MenQuadfi conjugate vaccine for the prevention of meningitis in children aged 2 years and above. This approval helped the company to expand its product portfolio and in the growth of the market.

The global meningococcal vaccines market report includes an in-depth coverage of the industry with estimates & forecast in terms of revenue in USD Million from 2018 to 2032 for the following segments:


Click here to Buy Section of this Report
By Vaccine Type
Conjugate
Polysaccharide
Combination
Other vaccine types
By Brand
Bexsero
Nimenrix
Trumenba
Menactra
Menveo
Other brands
By Serotype
Serotype A
Serotype B
Serotype C
Serotype W-135
Serotype Y
By Age Group
Infant (0 to 2 years)
Children & teen (2 to 18 years)
Adult (18 years and above)
By Distribution Channel
Hospital pharmacy
Retail pharmacy
Online pharmacy
The above information is provided for the following regions and countries:
North America
Europe

Germany
UK
France
Spain
Italy
Rest of Europe

Asia Pacific

China
Japan
India
Australia
Rest of Asia Pacific

Latin America

Brazil
Mexico
Rest of Latin America

Middle East & Africa

South Africa
Saudi Arabia
Rest of Middle East & Africa