Levant Power Cable Market Size
Levant Power Cable Market size was valued at over USD 4.9 Billion in 2022 and is set to grow at a rate of over 7.6% by 2032. Rising investments from public and private institutions coupled with regulatory provisions that cater to the rapid expansion of smart grid networks will positively influence the cable business outlook.

To understand key trends &nbsp
Download Free Sample

Favorable reforms in-line with large-scale renewable integration favored by the upgrading of the existing grid networks to sustain the emerging electricity demand will comprehensively enhance product penetration.

Levant Power Cable Market Report Attributes
Report Attribute
Details
Base Year:
2022
Levant Power Cable Market Size in 2022:
4.9 Billion USD
Forecast Period:
2023 to 2032
Forecast Period 2023 to 2032 CAGR:
7.6%
2032 Value Projection:
9 Billion USD
Historical Data for:
2019 to 2022
No. of Pages:
180
Tables, Charts & Figures:
189
Segments covered:
Voltage, Product, Application, & Country
Growth Drivers:

Growing infrastructural investments
Rising electricity consumption
Increasing demand for sustainable energy

Pitfalls & Challenges:

Geopolitical uncertainties
To understand market opportunities &nbsp
Download Free Sample

Owing to the favorable economic & political scenario, smart grid deployment projects mark significant growth potential in the near future, which will have a subsequent impact in the cables industry. The growing construction spending has a direct impact on electricity demand. Over the years, acceleration in infrastructure developmental activities has significantly affected the electricity consumption pattern. A continuous & reliable power supply is considered a fundamental factor required to boost investments in the infrastructure sector, thereby impelling the market progress.

The region's continuous & consistent efforts to generate income from other sources apart from oil & gas have benefitted the expansion of other sectors including tourism & trade, which are positively proliferating the increasing demand for electricity across the region. In addition, various private & public investments favoring the expansion & development of electrical networks owing to the rising energy demand will sway the industry landscape.

For instance, in March 2022, the Asian Infrastructure Investment Bank (AIIB), in association with Osmangazi Elektrik Da??t?m A? (OEDA?), an electricity distribution company, offered the first Turkish-lira-denominated non-sovereign loan of USD 75 million for the rehabilitation, expansion & efficiency improvement of electricity distribution networks across Osmangazi, a landlocked area in the western part of Turkey. The favorable industry outlook toward the revamping & upgrading of existing electrical networks through the integration of smart technologies coupled with the adoption of new establishments will foster industry landscape.

COVID- 19 Impact
The Levant Power cable market, which encompasses countries such as Lebanon, Jordan, Syria, and Palestine, experienced significant disruptions and challenges due to the COVID-19 pandemic. The pandemic brought about a range of adverse effects on the industry. First and foremost, supply chain disruptions impacted the availability of raw materials and components required for power cable manufacturing. This led to delays in production and increased costs. Moreover, lockdowns and restrictions on movement hampered construction and infrastructure projects, which are major consumers of power cables. However, as the region gradually recovers from the pandemic and infrastructure projects resume, there is potential for a resurgence in the market, driven by the need to upgrade and expand electrical grids and infrastructure.

Levant Power Cable Market Trends
The market is witnessing several notable trends that are shaping its trajectory. Growing emphasis on modernizing and expanding the electrical infrastructure across the region is stimulating the industry growth. This is driven by the increasing demand for electricity due to urbanization and industrialization, leading to a rising need for high-quality power cables. In addition, there is a clear shift towards sustainable energy sources, including renewables. This shift necessitates the development of transmission and distribution networks that can efficiently carry and deliver renewable energy, thus driving demand for advanced power cables.

Furthermore, the Levant region is focusing on enhancing the reliability and resilience of its power grids. This involves the adoption of smart grid technologies and the replacement of aging infrastructure, both of which require state-of-the-art power cables to ensure seamless energy transmission. Moreover, the market is witnessing innovations in materials and designs, with an emphasis on improving energy efficiency and reducing losses during transmission.

Levant Power Cable Market Analysis
To understand key market trends &nbsp
Download Free Sample

Levant power cable market from medium voltage cable segment is anticipated to grow at a rate of over 8.7% by 2032. Aging electric transmission network along with increasing energy demand across the region will stimulate the product adoption. In addition, rapid adoption of smart grid infrastructure along with IT integration across electricity network is said to increase the product deployment across the region. The increasing demand for electricity owing to rapid urbanization and commercialization has further created a favorable business scenario for medium- & high-voltage cables.

The regional power industry owing to its ongoing commercial & industrial expansion is set to witness significant escalation during the forecast timeline, which in turn, will drive the cable market growth. Frequent power failures and high-end accumulated line losses have gained the utmost regulatory attention. As a result, governments across the region have been positively working toward the expansion of transmission networks to sustain the increasing energy demand along with the consequent integration of smart grid systems to further enhance the security & reliability of electricity supply.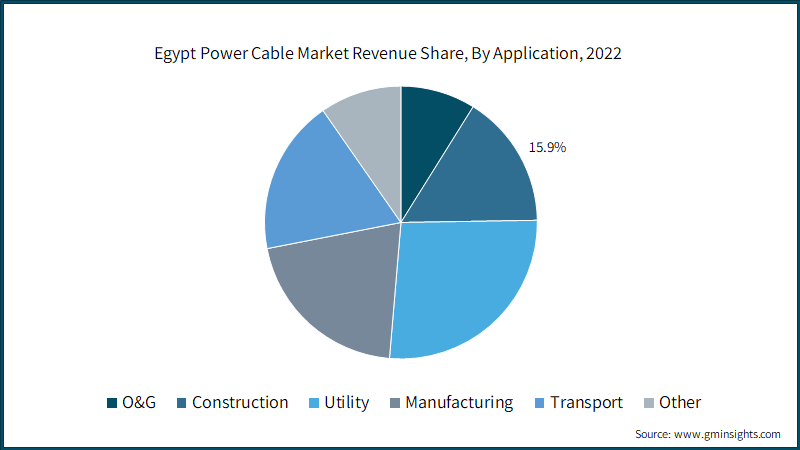 To understand key market trends &nbsp
Download Free Sample

Power cables for construction application is projected to grow at a rate of over 7.6% by the year 2032. Paradigm shift toward adoption of renewable power sources along with rapid infrastructural development will complement the industry scenario. Moreover, ongoing building construction activities across residential and commercial establishments have infused the wire demand across countries including Turkey, Cyprus, & Egypt. In addition, robust investments to transform such country both socially & economically will further propel the penetration of electric wires across the new establishments.

Growing government investments for the development of large-scale projects and construction activities will further propel the product penetration. Increasing electricity demand on account of rising population and industrialization will upsurge the growth of power industry in the region. In addition, increasing private & public investments favoring the expansion of country's transportation is further anticipated to fuel the business scenario over the forecast timeframe.
To understand regional trends &nbspDownload Free Sample

Turkey levant power cable market is anticipated to grow at a rate of over 8% by the year 2032. The Turkey power cable market is undergoing significant transformations driven by several key trends including focus on infrastructure development and expansion. Turkey's growing population and increasing industrialization necessitate the enhancement of its electrical grids, which, in turn, fuels the demand for power cables. This trend is particularly evident as the country invests in renewable energy projects, requiring robust transmission and distribution networks supported by modern power cable solutions. In addition, sustainability and energy efficiency are gaining prominence in the region. As Turkey strives to meet its renewable energy targets and reduce its carbon footprint, there's a growing need for eco-friendly power cables that can efficiently transmit energy from renewable sources. Manufacturers are responding by developing cables that minimize energy loss during transmission and distribution.

Another notable trend is the digitalization of power cable systems where mart grid technologies and remote monitoring are becoming integral to the Turkish power infrastructure, driving the adoption of advanced power cables equipped with data communication capabilities. This facilitates real-time monitoring, fault detection, and improved grid management. However, the market faces challenges such as economic fluctuations and fluctuating raw material prices. Additionally, the political and regulatory landscape can impact market dynamics. Nevertheless, the overarching trend in the Turkey Power Cable market points toward growth, driven by the country's commitment to modernize its energy infrastructure, promote sustainability, and embrace digital technologies for a more efficient and resilient power grid.

Levant Power Cable Market Share
Leaders in the levant power cable market are navigating through a dynamic landscape marked by several notable business trends including product innovation, mergers, agreements, among others to remain competitive in the market. However, geopolitical challenges and regulatory uncertainties in the Levant region remain a concern for industry leaders. Navigating these complexities while staying resilient in the face of economic fluctuations will continue to be a key aspect of their business strategies. Key manufacturers operating in the electric capacitor market includes
Liban Cables
Elsewedy Electric
MESC
Prysmian Group
Belden Incorporated
KEI Limited
Southwire Company,LLC
Sumitomo Electric Industries
Oman Cables Industry SAOG
Riyadh Cables
Saudi Cables
DUCAB
Bahra Advanced Cable Manufacture
Midal Cables Ltd.
Ozguven Kablo

Levant Power Cable Industry News
In January 2023, under its National Energy Plan for 2035, Turkey revealed its plans to enhance its solar capacity by five times and its wind power plants by three times, thereby increasing the total electricity generation capacity to 189.7 GW by 2035.

In April 2022, the ministry of transport & infrastructure of Turkey introduced plans and investments to further develop & enhance transport connectivity across the region. The government under its 30 years development strategy decided to invest around USD 197 billion in rail, maritime, road, communication and air.

Levant Power Cable market research report includes in-depth coverage of the industry with estimates & forecast in terms of 'USD Million' from 2019 to 2032, for the following segments:


Click here to Buy Section of this Report
By Voltage, 2019 – 2032 (USD Million)
By Product, 2019 – 2032 (USD Million)
By Application, 2019 – 2032 (USD Million)
O&G
Construction
Utility
Manifacturing
Transport
Other
The above information has been provided for the following countries:
Cyprus
Egypt
Iraq
Israel
Jordan
Lebanon
Palestine
Turkey