Gastric Electrical Stimulators Market size is projected to experience significant growth from 2020 to 2026. Gastric electrical stimulators are also known as gastric pacemakers that are majorly designed to treat gastroparesis and post-surgery etiology. These devices are also used for the treatment of obesity. Gastroparesis is a chronic disorder characterized by a delay in the emptying of a solid meal. Some of the symptoms related to such disorder include nausea and vomiting, bloating, and distension among others.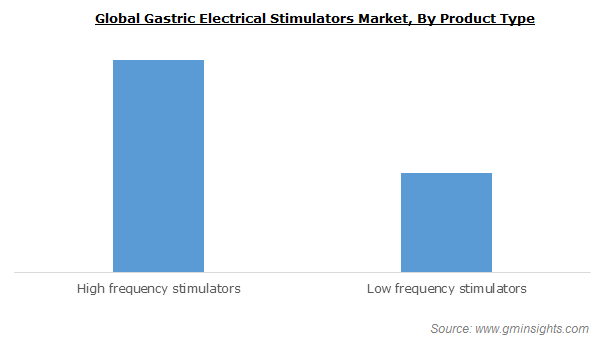 Get more details on this report - Request Free Sample PDF

Increasing prevalence of gastroparesis will pose to be a major factor impacting gastric electrical stimulators market growth. Gastroparesis majorly occurs when a person has diabetes, or surgery on esophagus, small intestine, and stomach, that may injure vagus nerve. As per the Canadian Digestive Foundation, it was estimated that, two-third of the people were affected by gastroparesis in 2017. Additionally, rising prevalence of diabetes and other related disorders will subsequently drive the demand for gastric electric stimulators devices over the coming years.

Growing cases of obesity will further boost the gastric electrical stimulators market size in the upcoming years. Obesity is a growing health problem worldwide and is associated with many co-morbidities, including hypertension, diabetes, dyslipidemia, obstructive sleep apnea, weight-related arthropathies, and urinary incontinence. As per the World Health Organization, in 2016, about 1.9 billion adults were overweight and among them 650 million were obese. Thus, rising prevalence of obesity directly leads to the adoption of dermatology diagnostic devices. However, complications associated with gastric electrical stimulators such as bleeding, bowel obstruction, and bleeding gastric perforation may impede the industry growth over the upcoming years.

Based on product type, the market is segmented into high-frequency stimulators and low-frequency stimulators. Amongst them, high-frequency segment will witness substantial growth during the forecast years owing to its increased advantages over low-frequency stimulators. Furthermore, factors such as the preference for minimally invasive procedures, long battery life as compared to low-frequency stimulators aid patients to opt for high-frequency stimulators. Thus, several benefits associated with high-frequency stimulators will further augment the segmental growth over the forecast period.

Based on application, the market is bifurcated into gastroparesis, obesity, and others. Gastroparesis segment will witness rapid growth owing to rising occurrence of nausea, prolonged fullness, bloating, vomiting and upper abdominal pain across the globe. Gastroparesis is one of the leading disorders leading to dehydration due to repeated vomiting, low-calorie intake, and low quality of life. Furthermore, diabetes is considered one of the major causes of gastroparesis. As per the Diabetes Research Institute Foundation, in 2018, about 1.5 million cases of diabetes were diagnosed in the U.S. Thus, increasing cases of diabetes will lead to increase in number of diabetic patients, thereby driving the demand for gastric electrical stimulators in the future.

On the basis of end-use, the market is segmented into ambulatory surgical centers, hospitals, and others. Among them, hospitals will witness lucrative growth in the upcoming years. Availability of healthcare professionals with growing adoption of latest gastric stimulators devices in the hospitals will drive the segmental growth. Thus, rising cases of hospitalization due to hydration, parenteral nutrition, and correction of abnormal blood glucose electrolyte level, will provide significant growth opportunities.

U.S. gastric electrical stimulators industry is estimated to grow significantly during the forecast period owing to rising awareness among healthcare professionals regarding gastroparesis. Also, presence of established healthcare infrastructure with latest technology will further drive the market growth.

Asia Pacific gastric electrical stimulators market is anticipated to show momentous growth during the forecast years. Rising technological advancements in countries such as China and India will drive the demand for gastric stimulators devices. Additionally, growing awareness regarding gastroparesis will further drive the market growth.

Medtronic, MetaCure, Intrapace, EnteroMedics, and Rishena Co., Ltd are some of the major market players operating in the global gastric electrical stimulators market. These players are undertaking various activities in order to gain market share. For instance, in January 2015, Medtronic announced the FDA approval of Enterra II neurostimulator under the humanitarian device exemption (HDE) provision. The company aimed to provide the best possible support to the hospitals and clinics with the new product approval, thereby strengthening its product portfolio.

Gastric Electrical Stimulators Market, By Product Type, 2015-2026 (USD Million)
High-frequency stimulators
Low-frequency stimulators
Gastric Electrical Stimulators Market, By Application, 2015-2026 (USD Million)
Gastroparesis
Obesity
Others
Gastric Electrical Stimulators Market, By End-use, 2015-2026 (USD Million)
Hospitals
Ambulatory surgical centers
Others
The above information is provided for the following regions and countries:
North America
Europe

Germany
UK
France
Italy
Spain
Russia

Asia Pacific

Japan
China
India
Australia

Latin America
Middle East and Africa

South Africa
Saudi Arabia
UAE
What Information does this report contain?
Historical data coverage: 2017 to 2021; Growth Projections: 2022 to 2028.
Expert analysis: industry, governing, innovation and technological trends; factors impacting development; drawbacks, SWOT.
6-7 year performance forecasts: major segments covering applications, top products and geographies.
Competitive landscape reporting: market leaders and important players, competencies and capacities of these companies in terms of production as well as sustainability and prospects.