Fried Onion Market Size
Fried Onion Market size was valued at USD 5.23 billion in 2022 and is estimated to grow at over 4.9% CAGR from 2023 to 2032. The market has emerged as a dynamic and thriving sector in the culinary industry, driven by the escalating demand for convenience foods and the growing trend of ready-to-eat snacks. A staple in many cuisines globally, fried onions have transcended their traditional usage as a garnish, evolving into a standalone snack and an essential ingredient in various dishes.

To understand key trends &nbsp
Download Free Sample

With the rise of quick-service restaurants and street food vendors, the demand for pre-prepared fried onions has witnessed a significant upsurge. This surge has led to an expansion in the fried onion market, prompting manufacturers to explore innovative production techniques and flavors to cater to the diverse palate preferences of consumers.

Fried Onion Market Report Attributes
Report Attribute
Details
Base Year:
2022
Fried Onion Market Size in 2022:
USD 5.23 Billion
Forecast Period:
2023 to 2032
Forecast Period 2023 to 2032 CAGR:
4.9%
2032 Value Projection:
USD 8.47 Billion
Historical Data for:
2018 - 2022
No. of Pages:
210
Tables, Charts & Figures:
191
Segments covered:
Form, Distribution Channel, Application
Growth Drivers:

Rising demand for convenience foods
Increasing popularity fried onions as meal toppings
Growing popularity of global cuisines

Pitfalls & Challenges:

Fluctuating cost of raw materials
Competition from substitutes
To understand market opportunities &nbsp
Download Free Sample

The fried onion market faces a series of formidable challenges that pose significant obstacles to its sustained growth and stability. Foremost among these is the persistent volatility in the prices of raw onions, which directly impacts production costs and can lead to pricing fluctuations, consequently affecting profit margins. Moreover, complying with stringent food safety regulations across various regions and countries presents a complex hurdle for manufacturers and exporters, requiring substantial investments in quality control measures and certifications.

Additionally, the persistent competition from alternative snack options and substitutes can undermine the market's expansion, compelling industry players to continually innovate and differentiate their products. Despite efforts to introduce healthier variants, concerns about the potential health implications of fried foods, particularly with regard to their high oil content and associated cardiovascular risks, continue to challenge the market's growth trajectory.

COVID-19 Impact
Initially, the global disruption in supply chains and logistical operations significantly affected the production and distribution of fried onions, leading to shortages and delayed deliveries. The stringent lockdown measures and restrictions imposed by various countries dampened the demand for non-essential food items, including fried onions, particularly in the foodservice sector, which faced substantial closures and reduced operations. The shift in consumer behavior towards more essential and shelf-stable products further contributed to a temporary decline in the consumption of fried onions. However, the increased inclination towards home cooking and the demand for easy-to-use, pre-prepared ingredients during the lockdown period provided a partial offset to the overall downturn.

Fried Onion Market Trends
The prominent trend is the growing consumer inclination towards healthier snacking options, which has prompted manufacturers to introduce baked or air-fried variants of fried onions, catering to the health-conscious segment without compromising on taste. Additionally, the increasing popularity of international cuisines and the incorporation of fried onions as a key ingredient in various global dishes have bolstered the market's expansion, driving the demand for diverse flavors and variants. Moreover, the surge in online retail platforms and e-commerce channels has facilitated greater market accessibility, enabling manufacturers to reach a wider consumer base and streamline their distribution networks.

Fried Onion Market Analysis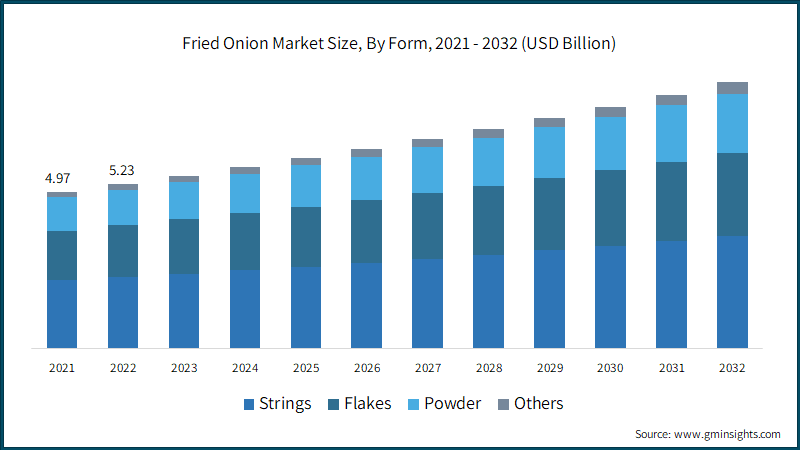 To understand key market trends &nbsp
Download Free Sample

Based on form, the strings form segment dominated around USD 2.07 billion revenue in 2022. Strings, characterized by their elongated, slender structure, have garnered a substantial portion of the market share owing to their versatility in garnishing various delicacies, particularly in Asian and Middle Eastern cuisines. Additionally, their appeal as a standalone snack has significantly contributed to their widespread popularity, securing them a dominant position in the market.

To understand key market trends &nbsp
Download Free Sample

Based on application, the toppings & garnishes segment accounted for 46% of the fried onion market in 2022, with fried onions serving as a popular choice for adding a flavorful and crunchy touch to an assortment of dishes, ranging from pizzas and burgers to traditional rice and noodle-based meals, thus solidifying their position as an essential ingredient in the global food industry.

The domain of snacks and ready meals also accounts for a significant share, owing to the convenience and instant gratification they offer. Fried onions, often seasoned with an array of spices, serve as a delectable standalone snack, catering to the evolving snacking habits and preferences of consumers, particularly in the realm of on-the-go consumption and leisure time indulgence.

Based on distribution channel, the market is segmented as Supermarkets / Hypermarkets, Convenience Stores, Online Retail, Foodservice. Supermarkets and hypermarkets emerge as a dominant force, capturing a significant portion of the market share. With their extensive product offerings and broad consumer reach, these retail giants serve as primary hubs for consumers to procure fried onions, capitalizing on the convenience and variety they offer to shoppers seeking culinary essentials alongside their routine grocery purchases.

To understand regional trends &nbspDownload Free Sample

North American fried onion market size held over USD 1.97 billion in 2022. North America's market for fried onions is primarily characterized by a robust presence in the supermarket and hypermarket chains, which serve as primary distribution hubs for these products. The convenience, extensive product range, and the ability to cater to a diverse consumer base contribute to the dominance of this segment within the region, securing a significant portion of the market share.

Furthermore, the rise of online retail platforms has facilitated increased accessibility to a broader selection of fried onion products, catering to the convenience-oriented shopping habits of consumers in this region. The ease of online shopping and the availability of various product variants contribute to the steady growth of this segment, reflecting the evolving retail landscape in North America.

Fried Onion Market Share
Some of the major companies operating in the fried onion industry are:
Olam International
Mccormick & Company
Ajinomoto Co. Inc
B&G Foods Inc.
Roland Foods
Kissan International
Lion Foods B.V.
Fresh Gourmet Company
Pereg Gourmet Spices
Verstegen Spices & Sauces Uk Ltd.
The Onion Group
Sadaf
Beevis
Kings Crispy Onion
Pik-Nik Foods
McCormick & Company and Roland Foods are both major companies in the global fried onion industry. They offer a variety of fried onion products, including flakes, strings, and powder, which are used in a wide range of food applications, such as soups, stews, salads, sandwiches, instant noodles, ramen, meal toppings, and flavoring powders and stocks.

These players focus on strategic partnerships, new product launch & commercialization for market expansion. Furthermore, these players are heavily investing in research that allows them to introduce innovative products and garner maximum revenue in the market.

Fried Onion Industry News
In September of 2022, McCain Foods completed the acquisition of Scelta Products in Kruiningen, Netherlands. The purchase price remains undisclosed. This transaction marked the culmination of a 13-year-long partnership between the two companies. As a result of the acquisition, their product lines have been fully integrated, and production capacity has been expanded to support growth in both European and international markets.

The fried onion market research report includes an in-depth coverage of the industry with estimates & forecast in terms of revenue in USD Million & Units from 2018 to 2032, for the following segments:


Click here to Buy Section of this Report
Market, By Form
String
Flakes
Powder
Other
Market, By Application
Toppings & Garnishes
Snacks & Ready Meals
Salad & Sandwiches
Soups / Stews
Other
Market, By Distribution Channel
Supermarkets / Hypermarkets
Convenience Stores
Online Retail
Foodservice
The above information has been provided for the following regions and countries:
North America
Europe

Germany
UK
France
Spain
Italy

Asia Pacific

China
Japan
India
Australia
South Korea
Indonesia
Malaysia

Latin America
Middle East & Africa

South Africa
Saudi Arabia
UAE
Egypt