Europe HV Gas Insulated Switchgear Market Size
Europe HV Gas Insulated Switchgear Market was valued at USD 4.1 billion in 2022 and is estimated to register at a CAGR of over 8.9% from 2023 to 2032. The deployment of smart grid technologies across Europe has been a state-driven phenomenon. Nations having sustainable population, higher income, and elevated electricity consumption will drive the smart grid network expansion. The rapid adoption of smart meters will favor the evolving smart transmission & distribution technologies across the region. Countries prone to frequent electricity deficit are anticipated to witness a high demand for smart monitoring and control technologies.

To understand key trends &nbsp
Download Free Sample

Gas insulated switchgear are metal encapsulated compact products consisting of circuit-breakers and disconnector which is used to control, isolate and protect electrical equipment. It is suitable for congested areas including extensions, on roofs, in city buildings, on offshore platforms, hydro power plants and industrial plants. Ongoing programs related to modernizing the power grid including grid energy storage, smart grid development & research, and advanced technologies will provide a competitive industrial scenario. Power flow controllers, network management systems, and solid-state components that can optimize the power delivery and further enhance resilience; interactive capabilities, including adaptive networks; intelligent control and communication systems will positively influence the product demand.

Europe HV Gas Insulated Switchgear (GIS) Market Report Attributes
Report Attribute
Details
Base Year:
2022
Europe HV Gas Insulated Switchgear (GIS) Market Size in 2022:
USD 4.1 Billion
Forecast Period:
2023 to 2032
Forecast Period 2023 to 2032 CAGR:
8.9%
2032 Value Projection:
USD 9.8 Billion
Historical Data for:
2019 to 2022
No. of Pages:
120
Tables, Charts & Figures:
217
Segments covered:
Capacity, Application
Growth Drivers:

Ongoing development of smart grid networks
Retrofit & refurbishment of prevailing energy grid infrastructure
Rising demand for electricity

Pitfalls & Challenges:

Heavy reliability on imports
To understand market opportunities &nbsp
Download Free Sample

The power supply management industry has been a focal point globally, yet it faces ongoing limitations due to regional regulatory and geopolitical constraints. Disturbances in various countries can have a profound impact on energy markets, disrupting the equilibrium of the industry. Political instability and associated risks can undermine the stability of local, regional, and even worldwide energy markets by deterring investments and causing interruptions in the energy supply.

COVID-19 Impact
The global supply chains were greatly affected by the COVID-19 pandemic, leading to challenges in the manufacturing and distribution of Gas Insulated Switchgear equipment. These challenges stemmed from the temporary shutdown of factories, limitations on transportation, and workforce shortages, which hindered the production processes.

Europe HV Gas Insulated Switchgear Market Trends
The growing utilization of renewable energy sources, coupled with advancements in distributed generation technologies, offers substantial potential for the expansion of micro-grid networks. The broad adoption of micro-grid technologies is anticipated to have a beneficial impact on the industry's growth. Moreover, diversification in technology, in line with the ongoing development of decentralized power generation, and increasing concerns regarding energy security, will further enhance the industry's prospects. Furthermore, the proliferation of the renewable energy sector, supported by favorable regulatory measures aimed at segmenting and upgrading existing grid technologies, is poised to positively influence the industry's overall dynamics.

Europe HV Gas Insulated Switchgear Market Analysis
To understand key market trends &nbsp
Download Free Sample

Based on capacity, the 300 kV segment was worth USD 150 million in 2022. The demand for electricity is continuously on the rise, primarily fueled by factors like urbanization, industrialization, and the widespread adoption of electricity in various sectors, including transportation. This escalating demand underscores the critical necessity for dependable and efficient Gas Insulated Switchgear systems, especially those rated at 300 kV, to ensure the stability of power distribution networks.

Many countries are strategically placing a high priority on upgrading their electrical grids to enhance reliability, minimize transmission losses, and facilitate the integration of renewable energy sources. GIS systems, known for their compact design and high voltage capabilities, play a central role in modernizing grid infrastructure. Given the increasing prevalence of renewable energy sources such as wind and solar power, GIS systems are essential for effectively connecting these intermittent energy sources to the grid, thanks to their ability to manage the high voltages associated with the transmission of renewable energy.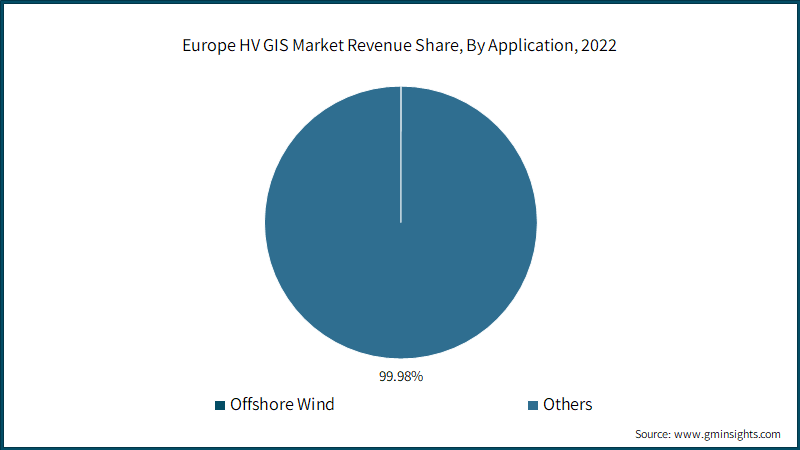 To understand key market trends &nbsp
Download Free Sample

Based on application, the offshore wind segment is set to grow at a CAGR of more than 18.4% through 2032. Offshore wind farms are undergoing rapid expansion, both in terms of their scale and numbers, owing to technological progress and the advantages of economies of scale. Numerous countries are now actively pursuing ambitious initiatives to substantially increase their offshore wind energy capacity, which has resulted in a growing utilization of high voltage gas insulated switchgears (GIS). The shift towards larger and more powerful wind turbines persists, as these larger turbines can harness more wind energy and enhance the overall efficiency of offshore wind farms.

To understand regional trends &nbspDownload Free Sample

The HV gas insulated switchgear market across Germany held a revenue share of over 11.9% in 2022. Germany has been a leader in renewable energy adoption, particularly wind and solar power. The need to efficiently integrate these intermittent energy sources into the grid has driven demand for high voltage GIS systems. Germany was actively modernizing its electrical grid to enhance reliability and accommodate the increasing share of renewable energy. High voltage GIS plays a crucial role in this grid modernization effort. Germany's commitment to reducing greenhouse gas emissions and transitioning to sustainable energy sources, as outlined in its "Energiewende" policy, has spurred investments in energy infrastructure, including GIS.

The growth of electric vehicles (EVs) and electrification of various industries has increased electricity demand, necessitating more advanced and reliable high voltage GIS systems. The GIS industry, including manufacturers in Germany, has been focusing on developing more compact, efficient, and environmentally friendly solutions, which align with global trends in the switchgear market.

Europe HV Gas Insulated Switchgear Market Share
Siemens Energy maintains a significant presence in the Europe high voltage gas insulated switchgear businesst. With a well-established reputation for its extensive experience in designing and producing a diverse array of switchgear solutions, such as air insulated switchgear (AIS) and gas insulated switchgear, the company boasts a rich history in the realm of transmission and distribution. Throughout its historical journey, Siemens Energy has consistently acted as a trusted provider of switchgear solutions, catering to the needs of commercial, industrial, and utility sectors.

Some of the key market players operating across the Europe HV gas insulated switchgear (GIS) industry are:
Siemens Energy
LS ELECTRIC Co., Ltd.
Toshiba Energy Systems & Solutions Corporation
CG Power & Industrial Solutions Ltd.
GE
Mitsubishi Electric Corporation
Hitachi Energy Ltd.
Fuji Electric Co., Ltd.
NISSIN ELECTRIC Co., Ltd.
ILJIN ELECTRIC
CHINT Group
HD HYUNDAI ELECTRIC CO., LTD.
MEIDENSHA CORPORATION
Europe HV Gas Insulated Switchgear Market News
In November 2021, Siemens Energy invested over USD 60 million in its new manufacturing facility in Berlin. The company plans to manufacture vacuum interrupters in the new switchgear plant spread across an area of 6,200 m2. Vacuum interrupters are the core of the Blue Portfolio that contains high-voltage climate-neutral power transmission products. This strategy will also lay the foundation for achieving the increasing requirements for climate-neutral switchgears, enhancing the company's product offerings by retracting several customers across the globe.

This Europe HV gas insulated switchgear market research report includes an in-depth coverage of the industry with estimates & forecast in terms of volume and revenue in Units & USD Million from 2019 to 2032, for the following segments:


Click here to Buy Section of this Report
Market, By Capacity
72.5 kV
145 kV
245 kV
275 kV
300 kV
400 kV
500 kV
765 kV
Market, By Application
The above information is provided for the following countries:
Germany
France
Russia
UK
Italy
Spain
Netherlands