Asia Pacific Gas Insulated Ring Main Unit Market Size
Asia Pacific Gas Insulated Ring Main Unit Market was valued at over USD 790 million in 2022 and is estimated to grow at a CAGR of over 6% during 2023 and 2032. Rising demand for electricity, which is propelled by factors like population growth, industrial expansion, and technological progress. These units provide a robust and dependable solution for medium voltage power distribution, ensuring a continuous power supply. The phenomenon of rapid urbanization in various countries has led to the expansion of urban infrastructure and increased electricity consumption.

To understand key trends &nbsp
Download Free Sample

The regional transition towards renewable energy sources such as solar and wind power necessitates seamless integration with the existing power grid. For instance, as per REN21 Renewables 2022 Global Status Report, as of May 2022, India had around 160 GW of installed renewable energy capacity, which constitutes to 40% of the total installed electric capacity of the country, making the nation 4th largest player of solar and wind energy. Gas-insulated RMUs offer reliable connections and efficient power distribution which in turn will allow smooth integration of renewable sources in the power grid.

Asia Pacific Gas Insulated Ring Main Unit Market Report Attributes
Report Attribute
Details
Base Year:
2022
Asia Pacific Gas Insulated Ring Main Unit Market Size in 2022:
USD 792.6 Million
Forecast Period:
2023 to 2032
Forecast Period 2023 to 2032 CAGR:
6.4%
2032 Value Projection:
USD 1.4 Billion
Historical Data for:
2019 to 2022
No. of Pages:
220
Tables, Charts & Figures:
254
Segments covered:
Position, Installation, Component, Application
Growth Drivers:

Ongoing integration of renewables on a large-scale
Elevating demand for electricity

Pitfalls & Challenges:

Substantial initial deployment cost
To understand market opportunities &nbsp
Download Free Sample

COVID-19 Impact
Asia Pacific gas insulated ring main unit market experienced the effects of COVID-19 with disruptions in the supply chain, labour shortages, and delays in construction projects. Lockdowns and social distancing measures hampered manufacturing and delivery of RMUs, leading to project delays. The economic uncertainty caused by the pandemic prompted reduced capital expenditure on infrastructure projects, affecting the demand for RMUs. However, the increasing need for reliable electricity supply in data centers, utilities, and other critical sectors sustained the market to some extent. RMUs' role in ensuring uninterrupted power supply in critical applications mitigated the pandemic's impact, and the market is expected to recover as economic conditions improve.

Asia Pacific Gas Insulated Ring Main Unit Market Trends
The shift towards environmentally friendly alternatives to sulfur hexafluoride (SF6) gas, commonly used for insulation in RMUs, is on the rise to combat environmental concerns and lower greenhouse gas emissions. Manufacturers are exploring substitutes like dry air, nitrogen, and fluoronitrile-based gases, which have lower global warming potential and meet regulatory requirements. The incorporation of digital technologies, such as IoT, sensors, and data analytics, is increasingly prevalent in gas-insulated RMUs. These technologies enable remote monitoring, condition-based maintenance, and real-time data analysis, improving operational efficiency, predictive maintenance, and asset management.

Asia Pacific Gas Insulated Ring Main Unit Market Analysis
To understand key market trends &nbsp
Download Free Sample

Based on position, the RMUs with 3-position held the majority market share of over 47% in 2022 and is anticipated to witness 5.5% growth rate through 2032. The rapid urbanization and economic development in many Asia-Pacific nations is leading to a surge in commercial and residential establishments. As these countries experience growth, there is an increasing demand for reliable and efficient power distribution solutions. The advanced features and capabilities of 3-position RMUs make them well-suited to meet these demands, enhancing the electricity supply in the region.

To understand key market trends &nbsp
Download Free Sample

The Indoor installations segment accounted for a market value of USD 450 million in 2022 and are projected to reach over USD 860 million by 2032. Driven by ongoing investments in research and development (R&D) aimed at creating compact and intelligent control equipment. The industry's emphasis on innovation is leading to the development of advanced indoor RMUs, which are not only space-efficient but also feature intelligent control capabilities, addressing the increasing constraints on available space in various applications.

The market for gas insulated RMUs equipped with self-powered electronic relays is set to register gains at nearly 7% till 2032. The integration of electronic relays enables the accurate monitoring of diverse parameters, facilitating real-time assessment of the power distribution system. This precision in monitoring significantly enhances the overall performance and reliability of the RMUs. Furthermore, the effectiveness of fault response techniques associated with self-powered electronic relay-based RMUs is propelling their popularity. The ability to promptly identify and isolate faults contributes significantly to the enhanced reliability and efficiency of the power distribution system, making these RMUs a preferred choice in the market.

The distribution utilities sector significantly dominates the Asia Pacific gas insulated ring main unit market. This dominance is propelled by the proliferation of utility-based facilities aimed at meeting the escalating electricity requirements in both urban and rural regions. The market share of distribution utilities is further bolstered by supportive government initiatives and strategic actions geared towards deregulation and the enhancement of demand-supply networks. These combined factors play a pivotal role in driving the dynamic expansion of the RMU industry in the Asia-Pacific region.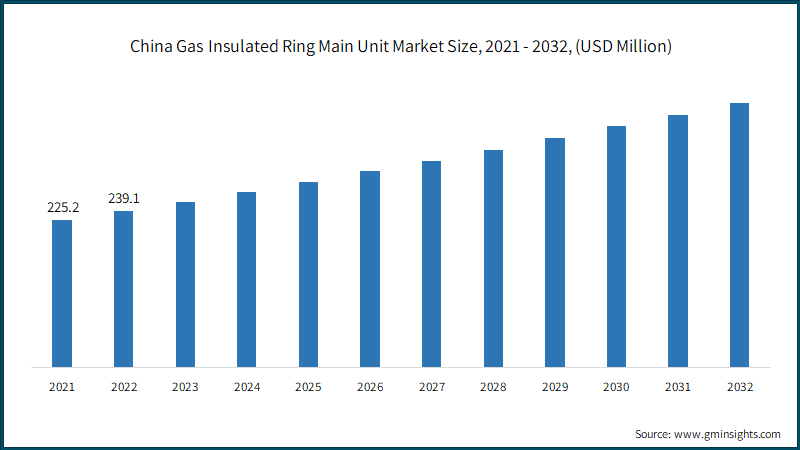 To understand regional trends &nbspDownload Free Sample

The China gas insulated ring main unit market is likely to showcase 5% CAGR from 2023 to 2032. China's ever-increasing urbanization and industrialization plays a major role in augmenting the product deployment, through driving the demand for reliable and efficient power distribution solutions. With rapid economic development, urban expansion, and the establishment of industrial hubs, there is a substantial need for robust electricity distribution networks, where RMUs play a vital role. Moreover, China's commitment to enhancing its power infrastructure and grid modernization initiatives, along with a focus on integrating renewable energy sources into the grid, amplifies the demand for advanced RMUs.

Asia Pacific Gas Insulated Ring Main Unit Market Share
ABB has secured a major market share in the Asia-Pacific gas insulated ring main unit industtry due to its comprehensive technological expertise and innovative solutions. The company's commitment to research and development has led to the creation of cutting-edge RMUs that meet the region's growing demand for reliable and efficient power distribution solutions. ABB's reputation for quality and performance, coupled with its expansive network and strong customer relationships, further solidify its dominance. Its ability to tailor solutions to the diverse needs of Asia-Pacific markets, alongside its focus on sustainability and environmentally friendly alternatives, positions ABB as a market leader, driving its substantial market share in the region.

Some of the key market players operating across the Asia Pacific gas insulated ring main unit industry are:
ABB
Siemens
LS ELECTRIC Co., Ltd.
alfanar Group
Schneider Electric
Ormazabal
ELECTRIC&ELECTRONIC CO.,LTD.
CG Power & Industrial Solutions Ltd.
Orecco
Eaton
Lucy Group Ltd.
HD Hyundai Electric Co., Ltd.
TGOOD Global Ltd.
Toshiba Energy Systems & Solutions Corporation
Asia Pacific Gas Insulated Ring Main Unit Market News:
In August 2022, ABB unveiled a state-of-the-art manufacturing facility in Nashik, India, representing a significant milestone. This cutting-edge production unit is equipped with advanced technology, including a web-integrated traceability system that enables real-time data transmission for planning and evaluation purposes. The facility is dedicated to the production of substation products, encompassing a range of critical components like auto reclosers, gas-insulated switchgear, live tank vacuum-circuit breakers, and ring main units. ABB's investment in this manufacturing facility is set to enhance its capacity to provide customers across the region with improved and leading-edge products, underlining the company's commitment to technological innovation and customer satisfaction.

This Asia Pacific gas insulated ring main unit market research report includes an in-depth coverage of the industry with estimates & forecast in terms of units and revenue in '000 Units and USD Million from 2019 to 2032, for the following segments:


Click here to Buy Section of this Report
Position
3-position
6-position
10-position
Others
By Installation
By Component
Switch & Fuses
Self Powered Electronic Relay
By Application
Distribution Utilities
Industries
Infrastructure
Transportation
Others
The above information is provided for the following countries:
China
India
Japan
South Korea
Australia