Aromatherapy Market size is projected to experience significant growth from 2020 to 2026. Aromatherapy is an alternative or complimentary therapy for holistic healing that includes the use of aromatic substances such as essential oils extracted from plants. Essential oils are the main component of the aromatherapy and may possess antimicrobial or antioxidant properties. These essential oils are obtained from either epicarp of citrus fruits or from vegetable raw material by the process of dry distillation or distillation with water or steam.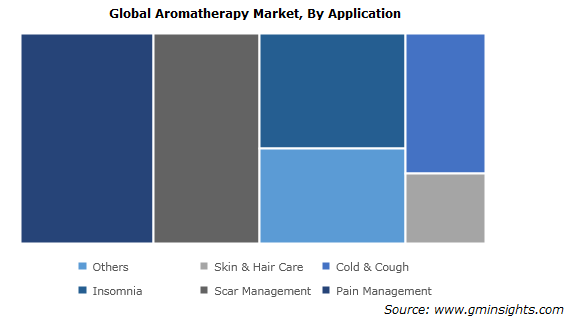 Get more details on this report - Request Free Sample PDF

Aromatherapy market will show significant growth in the future owing to wide array of applications and minimum side effects. Increasing awareness pertaining to the benefits of essential oils among patients suffering from skin disorders and acne problems will drive the market growth. Moreover, the side effects of aromatherapy are negligible as compared to certain medications. This will lead to increasing adoption of aromatherapy as an alternative to traditional medicine, thus fueling market growth in the future.

Growing inclination of healthcare professionals towards aromatherapy will act as a major driver fostering industry growth. Various professionals such as aroma therapist, spa therapist, and massage therapist are using blended and single essential oils for their customers. Increasing usage of essential oils for treatment of anxiety, insomnia, stress, and pain will spur the aromatherapy market growth. Also, as essential oils are easily and widely available and readily recommended by healthcare professionals, the market is poised to show considerable growth in the future.

Based on product, aromatherapy market size is bifurcated into essential oils and diffusers. The essential oils segment accounted for significant market share in 2019. Various therapeutic properties of essential oils such as antifungal, nematicidal, insecticidal and antiviral among others will drive the adoption rate of essential oils. Also, as these essential oils are sourced from natural sources, they have very few side effects. Aforementioned factors will drive the segmental growth.

Aromatherapy is given through various routes of administration such as topical, inhalation and aerial diffusion. Topical segment is forecasted to dominate the overall aromatherapy market revenue owing to ease of administration along with increasing usage by massage therapist and spa centers. With increasing number of people suffering from chronic pain, the demand for topical application of essential oils for treatment of chronic pain will increase, thereby propelling segmental growth.

There are wide array of applications of aromatherapy that include pain management, scar management, insomnia, cold & cough, skin & hair care and others. Pain management segment is expected to capture large market share owing to large patient base. For instance, in 2016, about 20% of the American adults were diagnosed with chronic pain and the number is expected to increase. Thus, growing patient population along with increasing awareness pertaining to the healing benefits of aromatherapy will drive segmental growth.

Aromatherapy products are distributed through retail shops, e-commerce, B2B and other channels. E-commerce is poised to show considerable growth in the future. High growth is attributed to greater outreach to of e-commerce websites to customers. Also, various manufacturers are investing huge amounts in marketing aromatherapy products through e-commerce websites that will impel segmental growth.

Aromatherapy products are used in various settings such as spa & wellness centers, hospitals & clinics, yoga & meditation centers and home use. Spas & wellness centers will hold significant share in the future. Increasing number of visits in spas & wellness centers for relaxation and stress relieving will be the major growth rendering factor. Furthermore, growing demand for aromatherapy and rising adoption of essential oils among wellness centers will spur segmental growth.

U.S. aromatherapy industry accounted for significant revenue of the global market. Increasing number of people suffering from chronic pain and stress coupled with growing adoption of aromatherapy will drive the country growth. Also, presence of major players in the country to meet the growing demand of essential oils and diffusers will stimulate the U.S. aromatherapy market demand during the analysis timeframe.

Key players operating in the aromatherapy market share are d?TERRA, Young Living Essential Oils, Mountain Rose Herbs, Edens Garden, Frontier Co-op, Rocky Mountain Oils, LLC, Plant Therapy Essential Oils, FLORIHANA, Biolandes and Falcon Essential Oils. These players are adopting various strategies such as mergers, acquisition, and product innovation to increase the market share.

Aromatherapy Market, By Product, 2015-2026 (USD Million)
Essential Oils

Singles

Floral
Citrus
Herbaceous
Spicy
Woodsy
Earthy
Camphorous
Others

Blends

Diffusers

Nebulizing diffuser
Ultrasonic diffuser
Evaporative diffuser
Heat diffuser
By Route of Administration, 2015-2026 (USD Million)
Topical
Inhalation
Aerial Diffusion
By Application, 2015-2026 (USD Million)
Pain Management
Scar Management
Insomnia
Cold & Cough
Skin & Hair Care
Others
By Distribution Channel, 2015-2026 (USD Million)
Retail Shops
E-commerce
B2B
Others
By End-use, 2015-2026 (USD Million)
Home Use
Spa & Wellness Centers
Hospitals & Clinics
Yoga & Meditation Centers
Others
The above information is provided for the following regions and countries:
North America
Europe

Germany
UK
France
Italy
Spain
Russia

Asia Pacific

Japan
China
India
Australia
South Korea

Latin America
Middle East and Africa

South Africa
Saudi Arabia
UAE
What Information does this report contain?
Historical data coverage: 2017 to 2021; Growth Projections: 2022 to 2028.
Expert analysis: industry, governing, innovation and technological trends; factors impacting development; drawbacks, SWOT.
6-7 year performance forecasts: major segments covering applications, top products and geographies.
Competitive landscape reporting: market leaders and important players, competencies and capacities of these companies in terms of production as well as sustainability and prospects.