Antiviral Therapeutics Market size is projected to witness significant growth from 2020 to 2026. Antiviral Therapeutics or antiviral drugs are prescription medicines that are available in the form of pills, intravenous solution & liquids and in inhaled powder form. These drugs are used for the treatment of viral infection. Antiviral drugs assist in reducing the risk of problems such as respiratory complications, ear infections in children and hospitalization of adults. These drugs work best after the onset of flu. Depending on the drug prescribed, duration of treatment differs from patient to patient.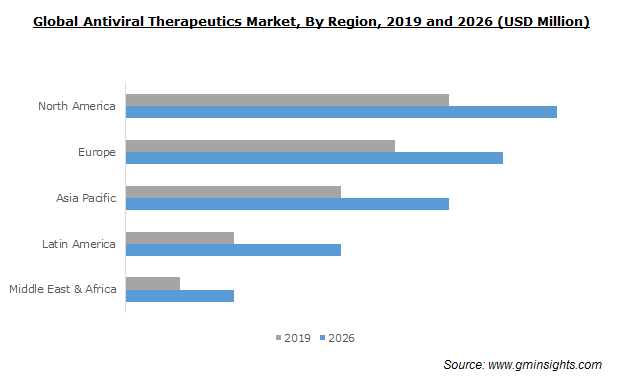 Get more details on this report - Request Free Sample PDF

Rising number of patients suffering from viral infections and increasing prevalence of HIV infections has triggered the adoption of antiviral therapeutics across the globe. According to the recent data by Centers for Disease Control and Prevention (CDC), in 2016, more than 38,700 new HIV infections were found in the U.S. Majority of these HIV infected patients were between the age group of 25-34. Hence, owing to this the growing usage of antiviral drugs will help in enhancing the market growth in the near future.

Growing number of products in the pipeline for treatment of viral infections will positively contribute to the market growth. For instance, as per the recent data by the government of U.S., more than 5,000 drugs for the treatment of viral infections are in the pipeline. Moreover, several market players are focusing on manufacturing of drugs. However, increasing awareness of preventive procedures for viral infections will be one of the major factors restraining the market growth across the globe.

Based on drug class, the antiviral therapeutics market is categorized into neuraminidase inhibitor, DNA polymerase inhibitor, reverse transcriptase inhibitor and protease inhibitor. The reverse transcriptase inhibitor segment is expected to show lucrative growth over the forecast years owing to its effectivity in reducing viral infections. Therefore, the demand and use of reverse transcriptase inhibitor is projected to be high thereby, augmenting the market growth across the globe.

On the basis of application, the market is segmented as influenza, hepatitis, sexually transmitted diseases (STDs), respiratory tract infections and other applications. The hepatitis segment is expected to witness substantial growth over the forecast years. The rapid growth of this segment is owing to the factors such as increasing prevalence of hepatitis C in the U.S. and increasing focus on second generation direct acting antiviral agents. The sexually transmitted diseases segment is also one of the profitable segments as there is an increase in the prevalence of both Herpes Simplex Virus 1 (HSV-1) and Herpes Simplex Virus 2 (HSV-2) in the U.S.

Based on distribution channel, the antiviral therapeutics market is bifurcated into brick and mortar, hospital pharmacy and e-pharmacy. The e-pharmacy segment is anticipated to witness the highest growth in the projected years owing to the rapid growth in the number of internet users and increased access to online services across the globe. Hence, aforementioned factors will play vital role in boosting the market growth.

Asia Pacific antiviral therapeutics market is estimated to hold majority market share in the forecast timeframe owing to the factors such as rapid internet penetration and increasing spending on medicines. Moreover, increase in the number of non-communicable diseases and emerging viral infections will further fuel the market demand.

Some of the major market players involved in the global antiviral therapeutics market share are GlaxoSmithKline plc., Cipla, Gilead Sciences F. Hoffmann-La Roche Ltd, Bristol Myers Squibb, Aurobindo Pharma, Merck & Co., Johnson & Johnson Services, AbbVie, Schering-Plough Corporation among others. These players are constantly focusing on major strategies such as new product approvals, geographic expansion, mergers and acquisitions in order to strengthen their market position. For instance, in October 2019, Roche received the Food and Drug Administration (FDA) approval for its new drug application XofluzaTM (baloxavir marboxil) that is used for the treatment of acute influenza.

Antiviral Therapeutics Market, By Drug Class, 2015-2026 (USD Million)
Neuraminidase inhibitors
DNA polymerase inhibitors

Purine Nucleoside Analogues
Pyrimidine Nucleoside Analogues
Non-nucleosides

Reverse transcriptase inhibitors

Nucleoside RTIs
Nonnucleoside RTIs
Nucleotide RTIs

Protease inhibitors
By Application, 2015-2026 (USD Million)
Influenza
Hepatitis
Sexually Transmitted Diseases (STDs)
Respiratory tract infection
Others
By Distribution Channel, 2015-2026 (USD Million)
Brick and mortar
Hospital pharmacy
E-pharmacy
The above information is provided for the following regions and countries:
North America
Europe

Germany
UK
France
Spain
Italy
Russia
Netherlands
Belgium
Sweden
Poland
Switzerland
Denmark

Asia Pacific

China
Japan
India
Australia
South Korea
New Zealand
Indonesia
Singapore
Thailand
Taiwan
Sri Lanka
Bangladesh
Malaysia
Pakistan

Latin America

Argentina
Mexico
Brazil
Chile
Colombia

Middle East and Africa

South Africa
Saudi Arabia
UAE
Israel
Egypt
Nigeria
Company Profiles:
Gilead Sciences
F. Hoffmann-La Roche Ltd
Bristol Myers Squibb
GlaxoSmithKline plc.
Aurobindo Pharma
Merck & Co.
Johnson & Johnson Services
AbbVie
Cipla
Schering-Plough Corporation
What Information does this report contain?
Historical data coverage: 2017 to 2021; Growth Projections: 2022 to 2028.
Expert analysis: industry, governing, innovation and technological trends; factors impacting development; drawbacks, SWOT.
6-7 year performance forecasts: major segments covering applications, top products and geographies.
Competitive landscape reporting: market leaders and important players, competencies and capacities of these companies in terms of production as well as sustainability and prospects.