Home > Pressrelease > Cheese Powder Market size to exceed $775mn by 2025
Cheese Powder Market size to exceed $775mn by 2025
Published Date: November 11, 2019
Cheese powder Market size is set to surpass USD 775 million by 2025; according to a new research report by Global Market Insights Inc.

Cheese powder is a convenient ingredient which can be added as a flavoring ingredient in food products. It is produced by spray drying technique where an emulsion is created with addition of water and emulsifying salts. Rapid expansion of the flavor industry size and the increasing demand for low-fat and low-salt ingredients among health-conscious consumer are the major factors boosting the product demand. This can be reflected through the rising preference for reduced-fat or reduced-sodium in savory and continental snacks.

Owing to the shifts in consumer lifestyles, snacking habits have undergone a drastic change in last few years. This is reflected through the number of snacks launches globally, which has increased a whopping 47% in the historical timeframe 2012 and 2017. Countries like China and India are leading the way in this space due to their rising disposable incomes, booming populations and an increase in continental food consumption. Growing consumption of pizzas, nachos and various other food which have flavor powders incorporated in it to enhance taste experience is fueling cheese powder demand.

Enhancement of nutritional profile in bakery products will drive cheese powder industry size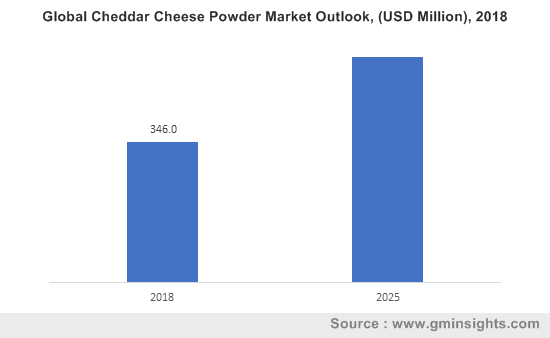 Get more details on this report - Request Free Sample PDF

Increasing preference for products with premium and indulgent eating experience along with clean label dynamics is driving cheese powder market growth. Consumers in North America and Europe are expected to meat content in their diets and relying more on dairy and vegetarian food owing to obesity concerns. The U.S. preteens and teenage girls from nine to eighteen years of age are at a risk of inadequate calcium consumption. As the product is an excellent meat substitute, it is also expected to feel the gap protein and calcium supply in a vegetarian diet.

The cheese powder in a concentrated form, is rich in nutrients, fats and other essential components required to make a healthy diet. This has enabled it to gain entry into the health snacks space. With a protein-rich composition, the product is likely to witness high demand in the bakery sector where it is incorporated with the dough. In addition, they also been used to boost the shelf-life of the bakery products. The consumption is approved safe by the regulatory bodies is also expected to boost the industry development over the projected timeframe.

Browse key industry insights spread across 250 pages with 571 market data tables and 9 figures & charts from the report, "Cheese Powder Market Share By Product (Cheddar, Blends, Mozzarella, Swiss, Blue, Asiago, Parmesan, Gouda, Feta, Romano and Others), By Application (Flavour Industry, Savoury Snacks, Dips/Dressings/Dry Mix/Sauces, Biscuits & Other Baked Products, Ready-to-Eat, Confectionery, Imitation and Processed Cheese, Cream and Pet and Baby Food), Industry Analysis Report, Regional Outlook, Growth Potential, Competitive Market Share & Forecast, 2019 – 2025" in detail along with the table of contents:
https://www.gminsights.com/industry-analysis/cheese-powder-market

Growing consumer indulgence for exotic savory to propel cheese powder industry growth
As the millennial demo graph continues to demand exotic and savory flavors, the cheese powder market statistics is expected to witness unprecedented growth over the forecast timeframe. Moreover, the increase in the Hispanic population in North America is also expected to bolster the demand for snacks, creating lucrative opportunities for the manufacturers to boost their product sales.

Savory snacks based on flavored ingredients have taken a sturdy stand in the market and are likely to be unaffected by the growth of other snack categories such as sugar and chocolate confectionery and ice creams. The major advantage is that they contain no sugar. As the consumers turn towards sugar-free options in the market, savory snacks will witness growth, concurrently boosting the product sales of key industry players.

Growth in the sauces and condiments industry to support cheese powder business growth
Sauces and condiments are the major revenue contributors in the flavors market outlook. Cheese powder play an important role in satisfying consumer demands for sensory gratification, stimulation of appetite and improving the health of consumers with clinical conditions. As per Agriculture and Agri-Food Canada, the U.S. accounted for over 20% of the world's retail sales for sauces, dressings and condiments annually. The country is the largest importer and registered import sales over USD 2.6 billion in 2016, with a compound annual growth rate over 5% from 2012 to 2016.

A wave of the clean-label ingredients is also expected to drive the cheese powder market growth. It is a natural flavoring agent and its demand is expected to rise in the sauces and condiments sector. Consumer aversion for inorganic food additives has created new avenues for the manufacturers to invest in new product development in line with changing dietary patterns.

New cheese powder flavors are expected to grab consumer attention on retail shelves
Newer exotic flavor varieties are gaining ground in metropolitan cities across the globe. This is reflected through a number of product launches which include organic and exotic flavor types. These varieties also allow consumers to choose from a plethora of options, thereby influencing the consumer buying behaviour. Penetration of new varieties such as blue, swiss and parmesan are expected to gain popularity over the forecast period.

The introduction of new flavors such as the Edam powder on the market shelves is specifically targeted at the consumers exploring exotic flavors in the retail shelves and is pitched at a premium price. Other flavors such as the parmesan and blue cheese powder are also gaining popularity among consumers owing to their health benefits. Such types which are favored both by the demand and supply side are expected to witness high growth over the forecast period.

Consumer preference for Italian cuisines driving Asia Pacific cheese powder market demand
The growing product demand in China and India is supported by consumer preference for pizzas, nachos and pasta. An increasing number of foodservice outlets, especially those serving Italian food are expected to robustly boost the growth of the market. India is a major milk producer globally and it has exhibited enormous potential for the industry expansion. The growth of value-added dairy products such as butter, ghee, and yogurt are expected to witness a growth of 25% over the forecast timeframe 2015 and 2020.