Lime Oil Market Size
Lime Oil Market size was valued at USD 299.3 million in 2022 and is estimated to expand at 3.5% CAGR from 2023 to 2032, driven by the growing consumer preference for natural and health-oriented products. Lime oil, extracted from lime peels, is renowned for its refreshing citrus fragrance and versatile applications in the food and beverage, cosmetics, and aromatherapy industries.

To understand key trends &nbsp
Download Free Sample

The increasing awareness of the benefits associated with natural ingredients, coupled with a rising emphasis on well-being and a preference for products with unique and vibrant flavors, has fueled the demand for lime oil. Additionally, lime oil's antimicrobial and antioxidant properties contribute to its popularity in skincare and aromatherapy products, further propelling its market demand as consumers seek natural and sustainable alternatives in their daily lives.
Lime Oil Market Report Attributes
Report Attribute
Details
Base Year:
2022
Lime Oil Market Size in 2022:
USD 299.3 Million
Forecast Period:
2023 to 2032
Forecast Period 2023 to 2032 CAGR:
3.5%
2032 Value Projection:
USD 427.2 Million
Historical Data for:
2018 to 2022
No. of Pages:
210
Tables, Charts & Figures:
246
Segments covered:
Source, Form, Applications, Distribution channel
Growth Drivers:

Increasing demand from pharmaceutical and cosmetic industry
Changing personal preferences
Growing application in the food and beverage industry

Pitfalls & Challenges:

Fluctuation of raw material prices
To understand market opportunities &nbsp
Download Free Sample

The availability of raw materials depends on various factors such as climate, weather, and pest attacks. Fluctuations in the prices of raw materials can significantly impact the production cost of lime oil and further affect the market price. This variability in price can negatively impact the global lime oil market.

COVID-19 Impact
The increased consumer focus on health and wellness during the pandemic has driven demand for natural and immune-boosting products, positively influencing the lime oil market. The antimicrobial properties of lime oil have contributed to its use in sanitizers and cleaning products. On the other hand, disruptions in the global supply chain, restrictions on international trade, and fluctuations in consumer purchasing power have presented challenges for lime oil producers.

The closure of restaurants, hotels, and other hospitality establishments during lockdowns has also affected the demand for lime oil in the foodservice industry. Overall, the market has experienced a mix of opportunities and challenges, with ongoing shifts in consumer behavior and supply chain dynamics shaping the industry's response to the pandemic.

Lime Oil Market Trends
Lime oil's refreshing fragrance and potential skincare benefits have positioned it as a sought-after component in various beauty products. Moreover, the food and beverage industry is embracing lime oil for its versatility in flavor enhancement, especially in beverages, confectionery, and culinary applications. Sustainable and eco-friendly practices are gaining traction, leading to a growing emphasis on ethically sourced lime oil and environmentally conscious production methods.

Additionally, the surge in e-commerce and online retail platforms has facilitated easier access to lime oil-based products, contributing to market expansion. These trends collectively underscore the increasing importance of lime oil across diverse industries and its alignment with current consumer preferences for natural, sustainable, and multi-functional products.

Lime Oil Market Analysis
To understand key market trends &nbsp
Download Free Sample

Based on source, the conventional source segment dominated around USD 245.3 million revenue in 2022. Conventional farming methods often involve larger-scale production with higher yields, leading to a more cost-effective supply chain.

Additionally, conventional agriculture practices are well-established and widely adopted, making them accessible to a larger number of farmers. While the demand for organic products is growing, the transition to organic farming can be challenging and time-consuming, involving a shift in agricultural practices, certifications, and potentially lower yields during the transitional period. As a result, the majority of lime oil production continues to come from conventional sources, meeting the market demand for a more cost-efficient and readily available supply.

To understand key market trends &nbsp
Download Free Sample

Based on form, the distilled form segment accounted for 68% of the market share in 2022. Distillation, a widely used extraction method, ensures the removal of impurities and contaminants, resulting in a high-quality and concentrated lime oil. This process is particularly effective in capturing the volatile aromatic compounds present in lime peels, leading to a more authentic and robust citrus fragrance. Distilled lime oil is favored in industries such as perfumery, cosmetics, and food, where precise and standardized aromas are essential. Moreover, the distilled form is often preferred for medicinal and therapeutic purposes, as the extraction process retains the potential health benefits associated with lime oil.

Based on application, the food & beverage industry held the dominant lime oil market in 2022 and is anticipated to grow through the years. Lime oil adds a distinctive citrusy and refreshing note to a wide range of food and beverage products, including beverages, confectionery, baked goods, and culinary creations. Its ability to enhance and uplift flavors, coupled with its natural appeal, makes it a sought-after ingredient for chefs and manufacturers aiming to create appealing and innovative products.

Lime oil's compatibility with both sweet and savory profiles contributes to its widespread use in various culinary applications. Additionally, as consumer preferences increasingly gravitate toward natural and clean label products, lime oil, with its natural extraction process, aligns well with the industry's demand for authentic and high-quality flavorings.

Based on distribution channel, the lime oil market is segmented as B2B & B2C. B2B segment will gain remarkable momentum during the forecast timeline. Lime oil is frequently used as an ingredient in the formulation of various products rather than being directly sold to end consumers. B2B channels cater to manufacturers, retailers, and other businesses in need of bulk quantities for their production processes. These transactions often involve negotiated contracts, large volumes, and a focus on establishing long-term business relationships.

B2B transactions can offer more customization, quality control, and specialized services to meet the specific needs of industrial clients. Given these factors, the B2B distribution channel is well-suited to the demands of the lime oil market, where the majority of sales are driven by businesses incorporating the oil into their products rather than direct consumer sales.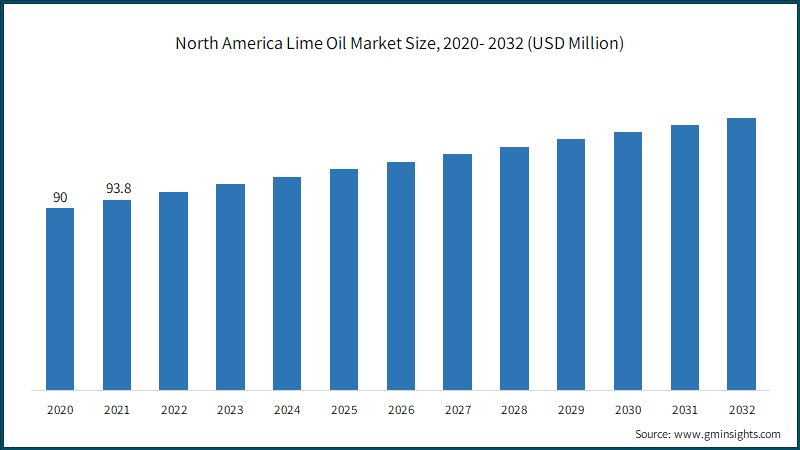 To understand regional trends &nbspDownload Free Sample

North America lime oil market size held over USD 97.6 million in 2022. There is a rising consumer inclination towards natural and organic products, aligning with the clean label trend, and lime oil, known for its natural extraction process and versatile applications, meets these preferences. The thriving food and beverages industry in North America, with a constant demand for unique and exotic flavors, has propelled the use of lime oil in various culinary creations, beverages, and snacks.

The region's well-established cosmetic and personal care industry is incorporating lime oil for its refreshing fragrance and potential skincare benefits. The growing awareness of lime oil's potential health benefits has increased its adoption in pharmaceutical applications. The presence of key players, technological advancements, and a favorable regulatory environment further contribute to the flourishing market in North America.

Lime Oil Market Share
Some of the major companies operating in the lime oil industry are:
Firmenich
Givaudan
IFF
Symrise
DoTerra
Young Living
NOW Foods
Edens Garden
These companies focus on strategic partnerships, new Source launch & commercialization for market expansion. Furthermore, these companies are heavily investing in research that allows them to introduce innovative sources and garner maximum revenue in the market.
Firmenich is a Swiss-based company that has been producing essential oils since 1895. It is one of the world's leading producers of lime oil. The company has a strong presence in the Americas, Europe, and Asia, and it supplies lime oil to a wide range of customers, including consumers, manufacturers, and retailers.

Lime Oil Industry News
In January 4, 2022, Symrise acquired Pinova, a leading producer of natural extracts and fragrances. Pinova specializes in natural extracts, including lime oil, and the acquisition will strengthen Symrise's position in the natural extracts market.

The lime oil market research report includes an in-depth coverage of the industry with estimates & forecast in terms of revenue in USD Million & Units in Thousand Liters from 2018 to 2032, for the following segments:


Click here to Buy Section of this Report
Market, By Source
Market, By Form
Distilled
Cold Pressed
Infused
Essence
Market, By Application
Cosmetic and Personal Care Industry

Fragrances
Skin care products
Hair care products
Others

Food and Beverages Industry

Beverages
Confectionery
Baked goods
Others

Pharmaceutical Industry
Household
Market, By Distribution Channel
B2B
B2C

Hypermarket/Supermarket
Convenience Stores
Specialty Store
Online Retail
Others
The above information has been provided for the following regions and countries:
North America
Europe

Germany
UK
France
Spain
Italy

Asia Pacific

China
Japan
India
Australia
South Korea
Indonesia
Malaysia

Latin America
Middle East & Africa

South Africa
Saudi Arabia
UAE
Egypt