Europe EV Battery Reuse Market Size
Europe EV Battery Reuse Market was valued at over USD 34 million in 2022 and is projected to grow at a CAGR of over 45% from 2023 to 2032. The industry growth aligns with the region's commitment to sustainability and the circular economy, promoting the efficient use of resources. As per Europe Environment Agency, the EU aims to augment the use of recyclable materials, doubling its share in the amount of material used across the region between the period 2020 and 2030. Furthermore, recycled materials accounted for 11.7% of the total material used across Europe in 2021, which is anticipated to increase substantially in the coming years.

To understand key trends &nbsp
Download Free Sample

Stringent environmental regulations and emissions targets in Europe have accelerated the adoption of EVs, resulting in a growing volume of retired but still usable batteries. This offers significant potential for extending their operational life and reducing waste. As energy storage demand rises, particularly for renewable energy integration and grid stabilization, reusing EV batteries presents an economical and eco-friendly solution. Additionally, the decreasing cost of energy storage technologies and advancements in repurposing methods and business models further boost the market's potential.

Europe EV Battery Reuse Market Report Attributes
Report Attribute
Details
Base Year:
2022
Europe EV Battery Reuse Market Size in 2022:
USD 34.6 Million
Forecast Period:
2023 to 2032
Forecast Period 2023 to 2032 CAGR:
45%
2032 Value Projection:
USD 1.5 Billion
Historical Data for:
2019 to 2022
No. of Pages:
150
Tables, Charts & Figures:
163
Segments covered:
Application, Source
Growth Drivers:

Growing penetration of electric vehicles
Growing demand for energy storage systems

Pitfalls & Challenges:

Declining battery cost and lack of government regulations
To understand market opportunities &nbsp
Download Free Sample

COVID-19 Impact
The Europe EV battery reuse market, like many other sectors, faced challenges due to the COVID-19 pandemic. While the pandemic disrupted supply chains and slowed economic activity, it also led to a temporary reduction in EV sales. This, in turn, affected the availability of retired EV batteries for reuse. However, the pandemic also accelerated the focus on sustainability and clean energy, which aligns with the principles of battery reuse. As the region gradually recovers, investments in the circular economy and sustainable practices are expected to bolster the demand for EV battery reuse.

Europe EV Battery Reuse Market Trends
The Europe EV battery reuse business is witnessing several notable trends. There is a growing emphasis on recycling and repurposing retired EV batteries to extend their lifecycle and minimize waste. This trend aligns with sustainability goals and the circular economy concept. Collaborations and partnerships between automakers, battery manufacturers, and technology companies are on the rise to develop innovative solutions for EV battery reuse. Furthermore, the market is experiencing advancements in second-life applications, including grid energy storage, where used EV batteries can provide cost-effective energy solutions.

Advanced repurposing technologies are enabling retired EV batteries to find new applications, including stationary energy storage, extending their usability. Blockchain technology is gaining ground for tracking the history and performance of reused batteries, ensuring transparency and trust. The integration of EV batteries into renewable energy storage systems is becoming more prevalent, allowing the storage of excess energy for later use. Battery health monitoring systems are advancing, simplifying the assessment of used batteries' suitability for various applications. There's also a focus on scaling up recycling processes to extract valuable materials from retired batteries, reducing their environmental impact.

Europe EV Battery Reuse Market Analysis
To understand key market trends &nbsp
Download Free Sample

The energy storage applications is projected to experience a robust CAGR of over 55% through 2032. The repurposing of used EV batteries for energy storage brings several advantages that bolster its adoption. Firstly, it extends the lifespan of these batteries, optimizing the return on the initial investment and reducing the overall cost per unit of energy storage. Furthermore, this approach diminishes the demand for new battery production, curbing the consumption of valuable resources and energy, thereby reducing the environmental footprint. This alignment with circular economy principles and sustainable resource management is seen as a positive step towards efficient resource utilization.

Postponing the recycling of batteries is beneficial, as recycling processes can be complex and energy-intensive. By giving used batteries a second life, recycling demands are deferred, reducing the immediate necessity for recycling facilities. Moreover, repurposed EV batteries contribute to grid stability by storing excess renewable energy during low-demand periods and releasing it during peak periods, facilitating load balancing and grid stability, thus driving their adoption across Europe.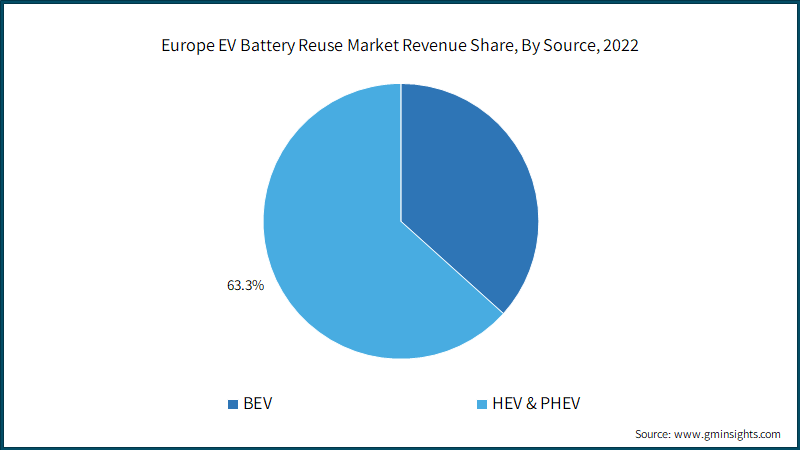 To understand key market trends &nbsp
Download Free Sample

The BEV sources segment is set to exceed a market value of USD 900 million by 2032, driven by the expanding adoption of battery electric vehicles (BEVs) in response to stringent emission control regulations. A notable feature of BEV batteries is their extended lifespan, often outlasting the vehicles themselves. When these batteries are retired from automotive applications due to diminished capacity, they retain substantial energy storage potential, rendering them highly suitable for second-life applications.

The increasing demand for energy storage solutions, both at grid-scale and distributed levels, presents a robust market opportunity for repurposing BEV batteries. These batteries can play a pivotal role in bolstering grid stability, harmonizing energy supply and demand, and facilitating the integration of renewable energy sources. Moreover, reusing BEV batteries aligns with sustainability goals by prolonging the life of valuable battery components. This practice curtails the requirement for new battery production and contributes to reducing the environmental footprint associated with battery manufacturing.

To understand regional trends &nbspDownload Free Sample

The Germany EV battery reuse market is anticipated to attain 49% growth rate till 2032, on account of the country's significant inventory of lithium-ion batteries. The country's commitment to sustainability and environmental responsibility aligns with the concept of reusing these batteries to extend their life cycle, reduce waste, and minimize the ecological footprint of EV technology. Furthermore, Germany's expanding renewable energy sector, characterized by intermittent energy production from sources like wind and solar, creates a growing demand for efficient energy storage solutions. The German government's supportive policies, incentives, and funding for sustainable practices and clean energy technologies further boost the adoption of EV battery reuse in Germany.

Europe EV Battery Reuse Market Share
Connected Energy Ltd., based in the UK, is a prominent player in the European EV battery reuse market. The company has established a strong presence by pioneering innovative solutions for repurposing EV batteries. Connected Energy specializes in developing stationary energy storage systems that utilize second-life EV batteries, providing an eco-friendly and cost-effective approach to energy storage. Their success in the market is attributed to their advanced technology, collaboration with automakers, and a commitment to sustainability. They have strategically partnered with major automotive manufacturers, such as Renault and Nissan, to access a steady supply of used EV batteries. This access to high-quality battery packs has allowed Connected Energy to offer reliable and efficient energy storage solutions, making them a leader in the European market.

Some of the key market players operating across the Europe EV battery reuse industry are:
Second Life EV Batteries Ltd
Tesla
Nissan Motor Co., Ltd.
Renault Group
RWE + Audi
Stena Metall
Connected Energy Ltd.
evyon.com
BatteryLoop
OCTAVE BV
Europe EV Battery Reuse Market News:
In March 2022, Nissan announced its partnership with Enel Green Power, a multinational power company, for the development of a second life project across Europe. Under the project, the company will deliver 48 of its used LEAF batteries along with 30 new batteries to be used in a backup generator offering energy storage solutions to Enel's conventional power plant across Spain. The collaboration will significantly impact the EV second life battery market and will further provide a substantial recognition to Nissan across the industry.

In December 2021, RWE and AUDI announced their collaboration for launching an Energy Storage System (ESS) comprising of second life batteries provided by AUDI. The project will offer a total backup of 4.5 MWh to RWE's pump storage power plant situated at Hengsteysee reservoir in Germany. The demonstration project will aid both companies in analyzing the reliability and economic viability of second life battery storage solutions, which in turn will complement their venture into the EV battery reuse industry.

This Europe EV battery reuse market research report includes an in-depth coverage of the industry with estimates & forecast in terms of volume and revenue in MWh and USD Million from 2019 to 2032, for the following segments:


Click here to Buy Section of this Report
By Application
Energy Storage
EV Charging
Base Stations
Low Speed Vehicles
By Source
The above information has been provided for the following countries:
UK
Germany
Italy
Spain
Russia
France