Digital Psychotherapeutics Market Size
Digital Psychotherapeutics Market size was valued at around USD 1.2 billion in 2022 and is estimated to account over USD 16.9 billion by 2032. The prevalence of psychological disorders such as depression, anxiety, and stress-related ailments is rising globally. The increased prevalence of psychological disorders is boosting the demand for accessible and effective treatment choices, thus, fueling the expansion of digital psychotherapeutics.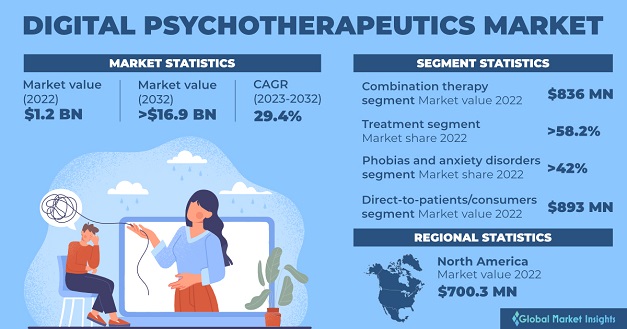 To understand key trends &nbsp
Download Free Sample

For instance, according to Australian Bureau of Statistics, in 2022, 21.5% of people had a 12-month mental disorder, with anxiety being the most common group (17.2% of people aged 16–85 years). In addition, according to World Health Organisation (WHO) fact sheet 2022, 1 out of every 8 individuals in this world suffers from a psychological disorder. Moreover, growing awareness of mental health concerns has reduced stigma and increased individuals' willingness to seek treatment. Individuals are becoming more self-aware of their mental health, that has substantially increased the demand for digital psychotherapeutics.
Digital psychotherapeutics are evidence-based therapy treatments and services given through digital technology and software applications. These treatments are intended to test, cure, or aid people suffering from a variety of psychological conditions, such as depression, anxiety, stress, and mood disorders.
Digital Psychotherapeutics Market Report Attributes
Report Attribute
Details
Base Year:
2022
Digital Psychotherapeutics Market Size in 2022:
USD 1.2 Billion
Forecast Period:
2023 to 2032
Forecast Period 2023 to 2032 CAGR:
29.4%
2032 Value Projection:
USD 16.9 Billion
Historical Data for:
2018 to 2022
No. of Pages:
160
Tables, Charts & Figures:
264
Growth Drivers:

Rising prevalence of mental health disorders
Increasing technological advancements in digital psychotherapeutics
Growing awareness of mental health issues

Pitfalls & Challenges:

Lack of clinical validation
Limited access to technology
To understand market opportunities &nbsp
Download Free Sample

COVID-19 Impact
The COVID-19 pandemic had a positive impact on the digital psychotherapeutics market. Due to reasons such as social isolation, economic uncertainty, and fear of the virus, the pandemic raised stress, anxiety, depression, and other mental health concerns. This spike in demand for mental health treatments resulted in a higher dependence on digital psychotherapeutics. Furthermore, the pandemic has pushed the use of remote patient monitoring and data analytics in mental health treatment. To deliver more personalised and effective therapies, digital platforms began to gather and analyse patient data.

Digital Psychotherapeutics Market Trends
The market is experiencing several notable trends that are shaping its growth and development. Factors such as increase in adoption of teletherapy, growing demand for mental health apps, and virtual reality (VR) therapy.

Artificial intelligence (AI) in healthcare and chatbot integration into mental health applications and platforms provide automated help, advice, and interventions. These AI-powered systems seek to provide personalized mental health care to the user.

Moreover, wearable medical devices, such as fitness trackers and smartwatches, began to integrate mental health monitoring and intervention features to provide a more holistic approach to well-being. In addition, healthcare institutions and providers are progressively integrating digital psychotherapy services into their service offerings, making them more broadly available to patients and a frequent part of comprehensive treatment initiatives

Digital Psychotherapeutics Market Analysis
To understand key market trends &nbsp
Download Free Sample

The market by solution is categorized into monotherapy and combination therapy. The combination therapy segment garnered USD 836 million revenue in 2022.

Combining several therapy techniques can result in improved treatment efficacy. Different treatment modalities can address different aspects of a mental health condition, providing an enhanced and personalized treatment plan. Individuals suffering from depression or anxiety, for example, may benefit from a combination of CBT provided via a mobile app and periodic teletherapy sessions.

Furthermore, combination therapy may assist with bridge treatment gaps, ensuring that people receive care when they need it. This is critical in closing the mental health care gap, where many people do not receive proper treatment. In addition, the digital psychotherapeutics industry has adopted emerging technologies such as AI, and VR, along with wearable devices. These technologies and products can be efficiently combined to give novel and effective digital therapeutics options.

To understand key market trends &nbsp
Download Free Sample

Based on application, the digital psychotherapeutics market is segmented into prevention, management, and treatment. The treatment segment accounted for over 58.2% market share in 2022 and is anticipated to witness fastest growth during the forecast period.
It offers greater accessibility to mental health treatment and allow individuals to receive treatment from the comfort of their homes, thereby, reducing geographical barriers and making it more convenient. In addition, digital therapy can be more discreet and may help individuals overcome the stigma associated with seeking mental health treatment in traditional settings. This encourages more people to seek professional help or consultation for mental health.

Moreover, several digital psychotherapy services are less expensive than traditional in-person treatment. This factor has the potential to make mental health therapy more accessible to a larger population. Additionally, growing awareness of mental health disorders and the significance of getting assistance whenever required has resulted in a rise in treatment demand.

Based on indication, the digital psychotherapeutics market is segmented into phobias and anxiety disorders, psychotic disorders, and other indications. The phobias and anxiety disorders segment accounted for over 42% market share in 2022.

Anonymity provided by digital psychotherapeutics can significantly assist patients in reducing the stigma associated with phobias and anxiety disorders. The anonymity of online therapy and self-help applications encourages more individuals to seek treatment.

Additionally, digital solutions are highly accessible, allowing individuals to receive treatment and support from the comfort of their homes. This convenience is particularly valuable for those who may find it difficult to attend in-person therapy sessions due to their phobias or anxiety. Moreover, virtual reality (VR) technology is increasingly used in the treatment of phobias and anxiety disorders. VR-based exposure therapy allows individuals to confront their fears in a controlled, immersive environment, making it a powerful driver for treatment landscape.

The digital psychotherapeutics market by business model is categorized into direct-to-patients/consumers, and Business-to-Business (B2B). The direct-to-patients/consumers segment accounted for around USD 893 million revenue size in 2022.
The accessibility and convenience provided by digital psychotherapeutics is among the primary drivers for direct-to-patients/consumers segment. Individuals can access treatment from the comfort of their own homes, eliminating the need for travel and shortening the time and effort required for in-person therapy.

Additionally, to personalize treatment programmes, digital platforms employ data-driven insights. This personalization ensures that interventions are specific to each individual's distinct requirements, preferences, and development. Moreover, DTC services provide rapid access to mental health aid. This is critical for those who require immediate assistance, such as those suffering from extreme stress, anxiety, or crisis situations.

To understand regional trends &nbspDownload Free Sample

North America digital psychotherapeutics market accounted for USD 700.3 million revenue in 2022 and is predicted to witness substantial market growth over the analysis timeline.

North America has seen a significant increase in mental health awareness, with a growing recognition of the importance of mental well-being. Public discourse and advocacy efforts have reduced stigma, encouraging more individuals to seek mental health support.

Furthermore, the region has a relatively high prevalence of mental health disorders, including depression, anxiety, and substance use disorders. This high prevalence drives the demand for accessible and effective mental health treatment. In addition, North America is a hub for technological innovation. The region has a strong focus on research and development in the field of digital health, leading to the creation of advanced digital psychotherapeutic solutions.

Digital Psychotherapeutics Market Share
The digital psychotherapeutics industry is fragmented in nature, with a large number of small and medium-sized companies competing with each other. However, there are a few larger companies that are focusing on improving their market share. Prominent players such as Pear Therapeutics, SilverCloud Health, and Woebot Health hold a notable share in the market. These companies are diligently directing their efforts towards continuous solution innovation to gain substantial market share.

Some of the eminent market participants operating in the digital psychotherapeutics industry include:
Novartis AG
Pear Therapeutics
SilverCloud Health
Woebot Health
Starling Minds
SwissDT
AbleTo, Inc.
Spring Care, Inc
Meru
Ginger
Digital Psychotherapeutics Industry News:
In August 2022, CarePaths Inc. has announced the launched of CarePaths Connect, a new mobile app that extends its mental health EHR platform with numerous features aimed at increasing patient participation and improving outcomes.

Digital psychotherapeutics market research report includes an in-depth coverage of the industry with estimates & forecast in terms of revenue in USD from 2018 to 2032 for the following segments:


Click here to Buy Section of this Report
By Solution, 2018-2032 (USD Million)
Monotherapy
Combination therapy
By Application, 2018-2032 (USD Million)
Prevention
Management
Treatment
By Indication, 2018-2032 (USD Million)
Phobias and anxiety disorders
Psychotic disorders
Other indications
By Business model, 2018-2032 (USD Million)
Direct-to-patients/consumers
Business-to-Business (B2B)
The above information is provided for the following regions and countries:
North America
Europe

Germany
UK
France
Italy
Spain
Rest of Europe

Asia Pacific

China
Japan
India
Australia
South Korea
Rest of Asia Pacific

Latin America

Brazil
Mexico
Argentina
Rest of Latin America

Middle East & Africa

Saudi Arabia
South Africa
UAE
Rest of Middle East & Africa