Asia Pacific Transformer Industry Analysis
Asia Pacific Transformer Market size was valued at USD 20.5 billion in 2022 and is projected to grow at a CAGR of 5.7% between 2023 and 2032. Distribution System Operators (DSOs) and Transmission System Operators (TSOs) typically ensure a consistent and reliable supply of electricity to their customers, although the specifics of their operations, network characteristics, customer base, and ownership structure can vary widely across different regions, creating a diverse landscape for the electricity business. This diversity is reflected in the various models used to assess tariffs and revenue, allowing for meaningful comparisons across the industry.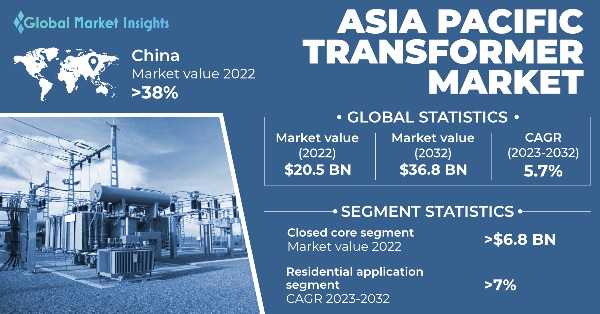 To get more details on this report: Request Free Sample PDF

A transformer is a stationary electrical device which is used to transfer electrical energy within two or more circuits using electromagnetic induction. A variable current in one transformer coil produces a fluctuating magnetic field, which in turn induces an electromotive force or "voltage" across second coil. In recent years, the electricity industry has experienced significant expansion, primarily driven by the rising demand for electricity and favorable regulatory reforms aimed at enhancing and expanding the current grid infrastructure. A key focus for regulators has been ensuring the availability of affordable and uninterrupted electricity, which serves as a clear impetus for the reforms and policies implemented in this sector.

Asia Pacific Transformer Market Report Coverage
Report Coverage
Details
Base Year:
2022
Market Size in 2022:
USD 20.5 Billion
Forecast Period:
2023 to 2032
Forecast Period 2023 to 2032 CAGR:
5.7%
2032 Value Projection:
USD 36.8 Billion
Historical Data for:
2019 - 2022
No. of Pages:
300
Tables, Charts & Figures:
632
Segments covered:
Core, Product, Winding, Cooling, Insulation, Rating, Mounting, Application
Growth Drivers:

Large scale renewable integration
Increasing demand for electricity
Rising infrastructural spending

Pitfalls & Challenges:
To get more details on this report: Request Free Sample PDF

The electricity industry faces certain challenges, notably the significant upfront expenses and rising replacement costs associated with transformers. Additionally, the technology employed in transformers is subject to strict regulations and labeling standards, resulting in higher production costs for premium products.

Transformers play a vital role in the Transmission and Distribution (T&D) network, contributing to voltage regulation and current carrying capabilities. Due to their critical role in electricity applications and the requirement for precise operation, substantial investments are necessary for quality control and automated manufacturing of transformer components. The utilization of advanced electrical components and growing emphasis on energy efficiency also contribute to the escalating prices of transformers.

COVID-19 Impact
Amidst the COVID-19 pandemic, the development, construction, and maintenance of power infrastructure continued to operate without government prohibitions on new energy projects. Government initiatives aimed at resuming operations in major industries, manufacturing facilities, and infrastructure projects will further support the growth of the energy sector due to increased demand from these sectors. In recent times, several regions have witnessed the installation of large-scale power projects, aligning with the ongoing pandemic situation. Nevertheless, the pandemic has had a modest impact on the fundamentals of the sector, including business revenues, customer behavior, and certain aspects of industrial operations.

APAC Transformer Market Trends
The Asia Pacific region holds the distinction of being the world's largest energy producer and consumer, with China taking a prominent role in both production and consumption. In line with its commitment to the Paris Agreement, the region has experienced a substantial twofold increase in the adoption of renewable energy sources. National targets for renewable energy, coupled with a shift towards expanding traditional electrical networks, have created a favorable business environment. Utility companies have primarily directed their efforts towards enhancing and expanding the grid infrastructure to accommodate the growing share of renewable energy sources and advanced distributed generation technologies.

According to the Renewable Energy Institute, the total renewable energy generation in the country exceeded 6,000 TWh in 2018, making China the top choice for global investors in the renewable energy sector. China attracted a significant amount of investment, totaling USD 90 billion, in its renewable energy industry.

Furthermore, favorable government incentives and regulatory reforms designed to promote the adoption of renewable energy throughout the region are expected to have a substantial positive impact on the growth of the transformer market. The implementation of stringent policies aimed at establishing a sustainable energy mix in various industries, supported by utility-led large-scale expansion of renewable energy, will further enhance the prospects of the industry.

Asia Pacific Transformer Core Segmentation
To get more details on this report: Request Free Sample PDF

The closed core transformer market dominated around USD 6.8 billion revenue in 2022, due to their versatility in handling different voltage conditions. Their capacity to support renewable energy transformations while maintaining efficient operational lifespans has contributed to the growth of this sector. However, the evolution of advanced coil technologies and growing concerns about energy efficiency have led to the introduction of various alternative core technologies that offer significant improvements in efficiency and performance compared to traditional closed core units.

Asia Pacific Transformer Product Segmentation
Based on product, the power transformers market to witness remarkable growth through 2032, owing to increasing investments in infrastructure, coupled with favorable regulations governing the refurbishment and expansion of existing grid networks. The rapid pace of urbanization and ongoing industrial expansion in developing economies will further bolster business growth in this sector. Moreover, the rising need for upgrading and replacing aging electric networks across Asia Pacific has created a favorable industrial environment.

Asia Pacific Transformer Winding Segmentation
The auto transformer market is poised to show tremendous growth till 2032, attributed to its superior transformation capabilities and operational flexibility compared to its competitors. Key factors driving product adoption include its compact design, cost-effectiveness, and higher efficiency. Additionally, the integration of smart monitoring technologies has improved product reliability and cost-effectiveness, further contributing to the growth of the industry.

Asia Pacific Transformer Cooling Segmentation
The demand for oil-immersed power transformer market to rise substantially during the forecast period, credited to their effective compatibility with high-tension applications and superior cooling capabilities compared to dry transformers. Over time, this technology has gained a solid foothold in the market thanks to its efficient cooling properties and ease of installation. However, it's important to note that concerns related to product leakage, health, and fire hazards may act as constraints on the demand for these transformers in the foreseeable future.

Asia Pacific Transformer Insulation Segmentation
Based on insulation, the transformers market the oil-insulated units have been among the most primitive insulation technologies ever since the introduction of transformers across the electrical infrastructure. Effective insulation capabilities, high temperature bearing strength, and sustainable product applicability have fostered the product demand. However, rapid technological enhancements have led to the introduction of advanced insulation technologies, which may hamper the industry growth.

Air & gas insulated power transformers have gained appreciable market penetration subject to their safe and reliable operations and flexible product applications. Although the products have not yet gained technological maturity, the comparatively higher cost compliances have obstructed the product penetration.

Asia Pacific Transformer Rating Segmentation
≤ 10 MVA rated transformer market is anticipated to witness a considerable growth from 2023 to 2032, owing to its wide applications across process industries, power, and infrastructure sectors. The rapid adoption of renewable sources across the residential establishments coupled with the expeditious expansion of micro-grid networks will positively influence the business landscape. The growing demand for compact transformers for indoor applications coupled with the cost-sensitive consumer behavior has compelled manufacturers to integrate a sustainable production mechanism. The ongoing residential expansion across the globe along with rapid urbanization will appreciably boost the industry growth.

Asia Pacific Transformer Mounting Segmentation
Based on mounting, the pad-mounted distribution transformer units have achieved significant market adoption because the installation of large units necessitates effective base foundations and grounding arrangements. These units have found extensive applications in various industries and utility settings due to the need for transformers in close proximity to their usage locations.

Asia Pacific Transformer Application Segmentation
To get more details on this report: Request Free Sample PDF

The Asia Pacific transformer market from residential application segment is set to expand at a CAGR of 7% till 2032, driven by rapid urbanization and favorable government reforms promoting renewable energy integration in residential areas. The increasing adoption of on-site electricity generation technologies and ongoing initiatives for smart control networking will further boost the demand for these products.

Asia Pacific Transformer Country Analysis
The China transformer market accounted for 38% of the revenue share in 2022. China's rapid industrialization and urbanization have been driving a significant increase in electricity demand. This has led to a growing need for transformers to support power distribution and transmission. To accommodate long-distance power transmission and connect remote renewable energy sources, China has been investing in HVDC technology. This has created demand for specialized transformers capable of handling high-voltage direct current.

The Chinese government has been implementing stricter energy efficiency standards for transformers, encouraging the replacement of older, less efficient units with newer, more energy-efficient models. China has a well-established domestic transformer manufacturing industry. The government has been promoting local production and technology innovation to reduce reliance on imports. The transformer market in China is highly competitive, with both domestic and international manufacturers operating in the country. Local companies like State Grid Corporation of China and China Southern Power Grid are major players in the industry.

Asia Pacific Transformer Industry Leaders
Some of the major companies operating across the Asia Pacific transformer market are General Electric, Siemens Energy, Mitsubishi Electric Corporation, ABB, Schneider Electric, Bharat Heavy Electricals Ltd., Toshiba International Corporation, Elsewedy Electric, Eaton, CG Power & Industrial Solutions Ltd., IMEFY GROUP, Voltamp, Ormazabal, ARTECHE, Pfiffner Group, MEHRU, Kirloskar Electric Company, DAIHEN Corporation, Hyosung Heavy Industries, Celme S.r.l.

These companies focus on new product launch & commercialization and strategic partnerships for market expansion. Furthermore, these companies are increasingly investing in research & development activities, which enable them to introduce innovative products and garner maximum revenue in the market.

Asia Pacific Transformer Industry News:
In February 2020, Eaton Corporation acquired Power Distribution, Inc (PDI), a leading supplier of power monitoring, static switching, and power distribution equipment & services for industrial & commercial data centers. This acquisition helped the company to expand its data center power monitoring & distribution solutions.

In April 2022, Bharat Heavy Electricals Ltd. (BHEL) developed a bus potential transformer module for Gas Insulator Systems (GIS). This model will reduce the cost of power transformers 90% with the help of indigenous power transformers. Currently, this model is installed and commissioned at a substation in Haryana.

This Asia Pacific transformer market research report includes an in-depth coverage of the industry with estimates & forecast in terms of volume & revenue in '000 Units & USD Million from 2019 to 2032, for the following segments:


Click here to Buy Section of this Report
Market, By Core
Market, By Product
Distribution Transformer
Power Transformer
Instrument Transformer
Others
Market, By Winding
Two Winding
Auto Transformer
Market, By Cooling
Dry Type
Oil Immersed

Self Cooled
Water Cooled
Forced Oil
Others
Market, By Insulation
Market, By Rating
≤ 10 MVA
> 10 MVA to ≤ 100 MVA
> 100 MVA to ≤ 600 MVA
> 600 MVA
Market, By Mounting
Market, By Application
Residential
Commercial & Industrial
Utility
The above information has been provided for the following countries:
China
Japan
South Korea
India
Australia