Pad Mounted Distribution Transformer Industry Analysis
Pad Mounted Distribution Transformer Market size reached USD 9 billion in 2022 and is estimated to exhibit 7.9% CAGR from 2023 to 2032. The distribution transformer industry has witnessed significant growth in recent years due to the increasing demand for electricity and supportive policies for expanding the grid infrastructure. Meeting the need for affordable and uninterrupted power has become a major focus for regulators, leading to the implementation of various reforms and policies. As concerns regarding coal availability have arisen, attention has now shifted towards the transmission and distribution sector.

To get more details on this report: Request Free Sample PDF

However, there is a growing emphasis on enhancing energy efficiency and reducing electrical losses, driving the need for capacity expansion and technological advancements. Manufacturers worldwide are investing in extensive research and development and adopting strategic measures to strengthen their market presence. Consequently, the industry is poised for growth through comprehensive industrial strategies and the rapid integration of cost-effective and efficient products.

Pad Mounted Distribution Transformer Market Report Coverage
Report Coverage
Details
Base Year:
2022
Market Size in 2022:
USD 9.2 Billion
Forecast Period:
2023 to 2032
Forecast Period 2023 to 2032 CAGR:
7.9%
2032 Value Projection:
USD 20 Billion
Historical Data for:
2019 to 2022
No. of Pages:
1,050
Tables, Charts & Figures:
1,506
Segments covered:
Core, Winding, Installation, Cooling, Insulation, Phase, Rating, Application
Growth Drivers:

North America
Refurbishment demand for existing grid infrastructure
Rising infrastructural spending

Europe
Growing deployment of renewable energy
Upgradation of existing grid network
Asia Pacific
Large-scale renewable integration
Increasing demand for electricity
Middle East & Africa and Latin America
Increasing demand for reliable & continuous electricity
Growing investment toward expansion of distribution networks
Pitfalls & Challenges:
To get more details on this report: Request Free Sample PDF

COVID-19 Impact
The pad mounted distribution transformer market has experienced diverse effects as a result of the COVID-19 pandemic. The global health crisis led to widespread lockdowns, restrictions, and disruptions in supply chains, impacting the production and delivery of distribution transformers. Manufacturing facilities faced temporary closures, scarcity of raw materials, and logistical challenges, causing delays in production and delivery schedules. The economic slowdown resulting from the pandemic led to a decrease in construction activities, industrial operations, and overall electricity consumption. This decline in electricity demand directly affected the demand for distribution transformers. Furthermore, many infrastructure projects, including grid expansion and distribution transformer installations, were postponed or halted due to the uncertainty caused by the pandemic, further impacting market growth.

The pandemic shed light on the significance of reliable and resilient power supply, leading to an increased emphasis on renewable energy sources. This shift in the energy mix may have implications for the demand for distribution transformers, as the infrastructure requirements for integrating renewable energy differ from traditional power systems. Additionally, governments and utilities recognized the need for robust and resilient electricity infrastructure during the pandemic. Stimulus packages and investment plans were introduced to stimulate the economy, including investments in modernizing and expanding grid infrastructure, which could drive the long-term demand for distribution transformers.

Pad Mounted Distribution Transformer Market trends
The increasing global population, urbanization, and industrialization are generating a growing need for electricity. This demand is primarily driven by residential, commercial, and industrial sectors, resulting in the expansion of distribution transformer installations. Governments and utilities worldwide are investing in the expansion and modernization of their grid infrastructure to meet this demand. These initiatives involve upgrading outdated distribution systems, integrating renewable energy sources, and enhancing overall power reliability and quality. To support these infrastructure development efforts, the deployment of distribution transformers is essential, thereby stimulating market growth.

The shift towards a cleaner energy future is promoting the integration of renewable energy sources like solar and wind into the power grid. Pad mounted distribution transformers play a crucial role in connecting these distributed energy resources to the grid, facilitating their efficient and reliable transmission. Continuous research and development endeavors are driving technological advancements in distribution transformers. For instance, the emergence of smart transformers, equipped with digital monitoring and communication capabilities, allows for real-time data analysis, remote monitoring, and predictive maintenance. These advancements improve the efficiency, reliability, and performance of distribution transformers, leading to increased market demand.

Pad Mounted Distribution Transformer Core Segmentation
To get more details on this report: Request Free Sample PDF

The pad mounted distribution transformer market consists of various core types, including closed, berry, and shell cores. Among these, shell core distribution transformers accounted for over USD 3.5 billion in 2022 and is projected to surpass USD 7.5 billion by 2032. In recent years, shell core distribution transformers have gained significant traction in the market due to their superior efficiencies and cost advantages compared to conventional closed core units. The adoption of shell core transformers has been driven by their high product flexibility and the incorporation of smart monitoring units, leading to an increased demand.

Shell core transformers are characterized by having the windings surrounded by the core. They offer inherent benefits such as increased resistance to transit damage, improved kVA-to-weight ratio, and enhanced short-circuit strength. These advantages contribute to the growing preference for shell core transformers over alternative options available in the market.

Pad Mounted Distribution Transformer Winding Segmentation
To get more details on this report: Request Free Sample PDF

The pad mounted distribution transformer market is divided into two segments: two-winding and auto-transformer, based on winding configuration. The two-winding distribution transformers market value crossed USD 5 billion in 2022 and is set to observe gains at nearly 7% up to 2032. Traditional electrical networks have experienced widespread deployment of two-winding pad mounted distribution transformer units. However, the introduction of advanced transformer technologies has presented challenges to the extensive adoption of these units.

Nevertheless, two-winding distribution transformers continue to maintain a significant presence in the market, particularly in developing economies. These units are expected to sustain their market share in emerging markets, supporting their continued use and demand despite the aforementioned challenges.

Pad Mounted Distribution Transformer Installation Segmentation
The pad mounted distribution transformer market is divided into outdoor and indoor based on installations. The outdoor installation captured 54% of the market share in 2022 and is likely to grow at a CAGR of over 7% through 2032. The rapid expansion of high-tension electrical networks is a direct response to the increasing energy demand in isolated load centers. These load centers, often situated in remote or underserved areas, require the establishment of robust and efficient power transmission and distribution infrastructure. Consequently, there is a stimulated demand for outdoor transformers as they play a crucial role in stepping down voltage levels and ensuring reliable power supply to these areas.

The ongoing expansion of cross-border networks facilitates the integration and sharing of electricity resources across regions. This integration necessitates the installation of outdoor transformers at key transmission points to enable the seamless transfer of power between different countries or regions. The growing interconnectivity and cross-border energy trading activities contribute to the demand for outdoor transformers.

Moreover, the revamping and restructuring of existing grid infrastructure in suburban areas are crucial for improving the efficiency and reliability of power distribution. As part of these initiatives, outdoor pad mounted transformers are being deployed to upgrade and modernize distribution networks, ensuring efficient power delivery to residential, commercial, and industrial consumers. The demand for outdoor transformers is expected to increase as more suburban areas undergo grid infrastructure revamps.

Pad Mounted Distribution Transformer Cooling Segmentation
The pad mounted distribution transformer market can be divided into two categories based on cooling technologies: dry type and oil immersed transformers. Among these, oil immersed distribution transformers hold a significant market share due to their superior cooling features and high compatibility with high tension applications. The transformer oil used in oil immersed transformers possesses excellent dielectric properties, ensuring effective insulation between the transformer windings and the core. This insulation capability enables the transformer to operate reliably and safely, even under high electrical stress conditions.

Additionally, oil immersed transformers exhibit superior short-circuit strength characteristics. The oil serves as a coolant and provides additional mechanical support, enhancing the transformer's ability to withstand short-circuit currents without sustaining damage. In addition, well-maintained oil immersed transformers tend to have a longer lifespan compared to alternative options. The oil helps prevent insulation material degradation, thereby extending the operational life of the transformer.

Pad Mounted Distribution Transformer Insulation Segmentation
The pad mounted distribution transformer market encompasses various types of insulation, including oil, gas, solid, air, and others. The oil-insulated distribution transformers dominated with market value of around USD 5 billion in 202 and is slated to exceed USD 11 billion by 2032. Oil insulation in pad mounted distribution transformers provides effective protection against moisture and contaminants. It plays a crucial role in preserving the integrity of insulation materials, preventing degradation, and extending the lifespan of the transformer. Oil-insulated transformers possess inherent properties that enable them to withstand short-circuit currents without sustaining damage.

The oil provides additional mechanical support and acts as a coolant, dissipating heat generated during short-circuit events and maintaining the structural integrity of the transformer. Moreover, in the case of minor electrical faults, the oil insulation in transformers can exhibit self-healing properties. It can insulate and isolate the faulted area, preventing further damage and ensuring the operational integrity of the transformer.

Furthermore, oil-insulated transformers are well-suited for a wide range of distribution applications, including medium and high voltage networks. They find common use in substations, industrial facilities, and commercial buildings, offering versatility in terms of voltage ratings, power capacities, and adaptability to various environmental conditions. These factors contribute to the widespread adoption of oil-insulated transformers over alternative options.

Pad Mounted Distribution Transformer Application Segmentation
Pad mounted distribution transformer market is divided into insulation utility, industrial, and residential & commercial establishments based on application. The utility sector reached USD 3.5 billion In 2022, propelled by the increasing demand for electricity and ongoing efforts to revamp transmission and distribution infrastructure worldwide. The utility sector is experiencing robust growth as it responds to rapid advancements in grid networks, which are necessary to meet the ever-growing global energy demand.

Utility companies are actively involved in retrofitting existing networks to enhance their capacity, efficiency, and reliability. This proactive approach is driven by the need to ensure a stable and resilient power supply to meet the evolving energy needs of consumers. Additionally, the expansion of cross-border electrical networks is contributing to the growth of the utilities industry. Interconnecting power grids across borders enables the efficient sharing and trading of electricity between countries or regions. This expansion not only strengthens energy security but also fosters regional cooperation and integration in the energy sector.

Pad Mounted Distribution Transformer Regional Analysis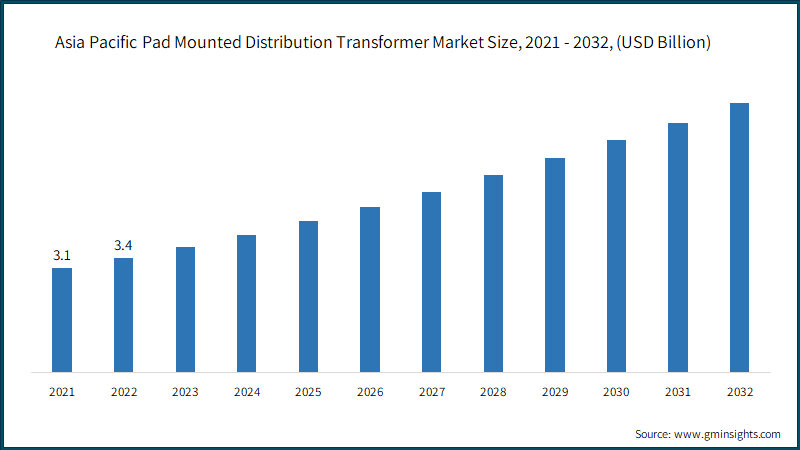 The Asia Pacific pad mounted distribution transformer market is predicted to exceed USD 8 billion by 2032, driven by the increasing demand for efficient transmission and distribution (T&D) systems. The Asia Pacific region is experiencing rapid economic growth, urbanization, and population expansion. This has led to a surge in electricity consumption across residential, commercial, and industrial sectors, driving the demand for pad-mounted distribution transformers. Governments in the Asia Pacific region are investing heavily in infrastructure development, including the establishment of new residential and commercial buildings, industrial zones, and smart cities. Pad-mounted distribution transformers are essential components of the electrical infrastructure, supporting reliable power distribution and supply to these developments.

Growing renewable energy integration across the region will further drive the demand for effective distribution transformer technologies, thus complementing the pad mounted distribution transformer market growth. Furthermore, many countries in the Asia Pacific region have aging power distribution systems that require modernization and upgradation. As a result, there is a need to replace outdated distribution transformers with newer, more efficient and reliable pad-mounted transformers, which in turn is driving the market growth.

Pad Mounted Distribution Transformer Industry Leaders
Key organizations operating in the pad mounted distribution transformer market include Eaton Corporation, Toshiba Energy Systems & Solutions Corporation, Mitsubishi Electric Corporation, Celme S.r.l., ORMAZABAL, Siemens, IMEFY GROUP, Hitachi Energy Ltd., Voltamp, General Electric, HYOSUNG HEAVY INDUSTRIES, Schneider Electric, CG Power & Industrial Solutions Ltd., ABB, ERMCO, and Elsewedy Electric.

Pad Mounted Distribution Transformer Industry News:
In June 2021, Imefy Group launched a new transformer i-Trafo, which can react to on-load voltage changes. The product is equipped with ECOTAP VPD system from Maschinenfabrik Reinhausen having the capability of compensating fluctuations in the average voltage. Through the utilization of this technique, these transformers are used by electricity supply firms, operators/industries of wind installations. This launch enabled the company to expand its product portfolio across the transformers market and enhance its market position in the power industry.

In March 2021, Siemens Energy has recently secured a contract to install 22 distribution transformers for Phase 1 of the Yuhuan offshore wind power project in Taizhou, Southeast China. The wind farm, with a capacity of 300 megawatts, aims to provide clean energy to approximately 240,000 households every year. This project has allowed Siemens Energy to effectively optimize power supply in the Yangtze River delta region. Additionally, it has bolstered the company's market position in the area and facilitated the expansion of its project portfolio in the transformer industry.

This pad mounted distribution transformer market research report includes an in-depth coverage of the industry with estimates & forecast in terms of Units & USD Million from 2019 to 2032, for the following segments:


Click here to Buy Section of this Report
By Core
By Winding
Two - Winding
Auto - Transformer
By Installation
By Cooling
By Insulation
By Phase
By Rating
≤ 2.5 MVA
2.6 MVA to 10 MVA
> 10 MVA
By Application
Residential & Commercial
Utility
Industrial
The above information has been provided for the following regions and countries:
North America
Europe

Germany
France
Russia
UK
Italy

Asia Pacific

China
Japan
South Korea
India
Australia

Middle East & Africa

Saudi Arabia
UAE
Egypt
South Africa

Latin America