Animal Model Substitutes Market size is expected to grow significantly from 2020 to 2026. Animal model substitutes make the use of artificially cultured cell or tissue lines, or microfluidic organs-on-chips systems as opposed to a live animal. Often animals such as mice aren't accurate models for drugs aimed at humans. Furthermore, ethical concerns regarding animal use are increasing the demand for alternatives.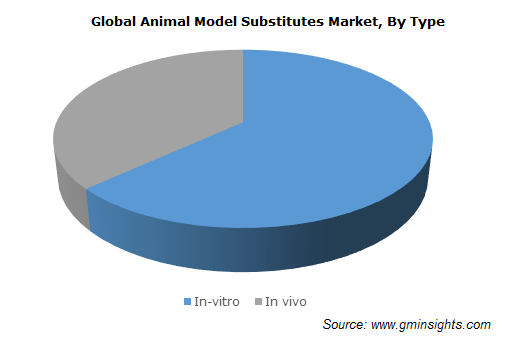 Get more details on this report - Request Free Sample PDF

The animal model substitutes market is driven by growing ethical concerns about the use of animals in medical research. Animal rights activists and researchers alike have been clamoring for the use of substitutes in medical research. Rising concerns over the plight and suffering of animals during research coupled with doubts over effectiveness of animal testing have been a positive factor in boosting the demand for substitutes to animal models. These factors will drive the market growth over the forecast period.

Technological advancements in the field of animal model substitutes will be a market boosting factor. Due to growing ethical concerns over use of animal models, there has been significant research to discover suitable substitutes. This has led to several technological advancements such as human cell lines and organs-on-chips to test for potential adverse effects of drugs. Furthermore, as these cultivated cell lines are more representative of the human physiology, they offer increased accuracy over animal models. This will lead to increased adoption of the substitutes over the animal models, boosting product demand. Hence, technological advancements will foster the animal model substitutes industry growth.

The animal model substitutes market by type is classified into in vitro and in vivo testing, in silico modelling, human volunteers, and stem cell research. The in vitro testing segment is predicted to witness significant revenue growth over the forecast period. In vitro testing involves the use of culturing human cells and tissues, and the use of microfluidics to mimic human organs. The high growth can be attributed to the increased accuracy of results owing to the human origin of these cells. Furthermore, animal models are expensive, and time-consuming to obtain and in vitro models offer a faster and cost-effective alternative. These advantages will boost the product demand and propel the market growth.

Animal model substitutes by application are segmented into research and development, production and quality control, and academics segments. The research and development segment is forecasted to exhibit substantial revenue growth over the analysis timeframe. Research and development in life-sciences is the most common application of animal models. As technological advancements make the animal model substitutes increasingly cost-effective and accurate, there will be an increased product demand in research and development initiatives. The increased product demand will propel the animal model substitutes market demand.

By use the animal models substitute market is classified into human and veterinary use segments. The human use segment is forecasted to showcase sizeable revenue growth over the forecast years. The high segment growth can be attributed to the larger market share of life-science research for human use. Furthermore, increased resemblance of in vitro models to human physiology will further boost demand from research geared towards humans. These above-mentioned factors will contribute in boosting the industry expansion.

The animal model substitutes market by end-use is segmented into companies, organizations, academic and research institutes, and contract research organizations (CROs). The CROs segment is predicted to witness lucrative growth across the analysis timeframe. CROs offer testing services such as analytical, metabolical, and toxicology testing. The presence of numerous CROs in the market will boost the product demand from the segments. Furthermore, the CROs will take advantage of the lower cost of animal model substitutes to enhance their profit margins, fueling market growth. These above-mentioned factors will positively affect market expansion.

The regional animal model substitutes market share in Europe is forecast to exhibit a large revenue growth across the forecast years. The high growth can be attributed to presence of well-established research institutes and pharmaceutical manufacturers in the region. Furthermore, high rates of technology adoption will fuel the product demand in the regional market. The above-mentioned factors will foster the regional market growth.

Some of the prominent players operating in animal model substitutes market share include HuRel Corporation, Cyprotex, MatTek, VITROCELL, and Abzena. Companies are focusing on innovation to launch new products, and developing increasingly accurate substitutes, in a bid to capture market share.

Animal Model Substitutes Market, By Type, 2015-2026 (USD Million)
In Vitro testing

Organs-on-chips
Cell lines
Tissue lines

In vivo testing
In Silico Modeling

Computer modelling
Quantitative structure-activity relationship (QSARs) algorithms

Human Volunteers

Micro-dosing
Imaging studies

Stem cell research
Animal Model Substitutes Market, By Application, 2015-2026 (USD Million)
Research & development

Infectious disease
Immunological disease
Oncology
Cardiovascular
Diabetes
Genetic diseases
Neurological diseases
Vaccine testing
Genomic analysis
Others

Production and quality control
Academics
Animal Model Substitutes Market, By Use, 2015-2026 (USD Million)
By End-use, 2015-2026 (USD Million)
Companies

Pharmaceutical
Biotechnology
Cosmetics

Organizations

Government
Non-government

Academic and research institutes
Contract Research Organizations
The above information is provided for the following regions and countries:
North America
Europe

Germany
UK
France
Italy
Spain

Asia Pacific
Latin America
Middle East and Africa

Saudi Arabia
South Africa

What Information does this report contain?
Historical data coverage: 2017 to 2021; Growth Projections: 2022 to 2028.
Expert analysis: industry, governing, innovation and technological trends; factors impacting development; drawbacks, SWOT.
6-7 year performance forecasts: major segments covering applications, top products and geographies.
Competitive landscape reporting: market leaders and important players, competencies and capacities of these companies in terms of production as well as sustainability and prospects.