Therapeutic Nuclear Medicine Market Size, Industry Analysis Report, Regional Outlook (U.S., Canada, Germany, UK, France, Spain, Italy, Russia, Japan, China, India, Australia, Brazil, Mexico, Argentina, South Africa, Saudi Arabia, UAE), Application Potential, Price Trends, Competitive Market Share & Forecast, 2021 – 2027
Report ID: GMI4454
Therapeutic Nuclear Medicine Market size is projected to experience significant growth from 2019 to 2025.

Therapeutic nuclear medicine or radionuclide therapy is the use of radioactive elements, by utilizing their peculiar characteristics for therapeutic irradiation of cells and/or organs. In radionuclide therapy, small amount of a radionuclide is introduced in the body. The history of nuclear medicine dates back to 1920s, when the first nuclear medicine experiment was in humans, that was later artificially produced for therapeutic application in the year 1936.

Global Therapeutic Nuclear Medicine Market, By Indication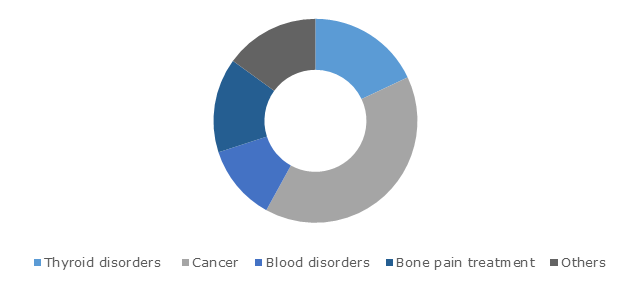 Get more details on this report - Request Free Sample PDF

Therapeutic nuclear medicine is being largely employed for the treatment of cancer. With growing incidence of cancer throughout the world, the demand for therapeutic nuclear medicine is expected to expand in the forthcoming years. In 2018, there were over 2 million new cases of cancer in North America alone. Patients that do not effectively respond to chemotherapy can undergo radioimmunotherapy as it offers targeted therapy for specific forms of cancer and thus produces desirable effects. Hence, with increasing burden of cancer and need for efficient cancer therapy, therapeutic nuclear medicine market will upsurge over the foreseeable future.

Increasing research and development in the field of nuclear medicine will positively impact therapeutic nuclear medicine industry size. Scientists are emphasizing on the development of new radiotherapeutic agents and improving targeted therapy for cancer patients. In addition, few companies have radiopharmaceuticals in clinical development phase, that will broaden the market size in future. However, stringent regulatory guidelines pertaining to therapeutic nuclear medicine may limit the industry expansion in the coming years.

Demand for therapeutic nuclear medicine using alpha emitters will progress at rapid pace over the analysis period. Favorable characteristics associated with alpha emitters such as higher biological effectiveness, radiosensitivity, and cell-linking efficiency will augment the demand for this therapy. Some α-emitters also possess bone-targeting properties, that can be beneficial in the treatment of bone cancer. Thus, with promising opportunities for therapeutic applications, α-emitters segment will hold considerable market size during the forecast timeframe.

Application of therapeutic nuclear medicine for treatment of thyroid disorders will witness robust growth over the forecast years. As per the American Thyroid Association, over 12% of the population is estimated to be affected by thyroid disease, with female population being at greater risk. Overactive thyroid (hyperthyroidism) can be treated with the help of nuclear medicine therapy using radioactive iodine. With gaining traction of nuclear medicine for thyroid disease therapy, the segment will foresee lucrative growth in the future.

Hospitals segment will foresee robust growth due to increasing prevalence of cancer including other chronic disorders. Rising number of hospitalizations for effective cancer therapy owing to availability of sophisticated technology and infrastructure in hospitals will impact the segmental growth. As per the Center for Nuclear Science and Technology Information, approximately 33% of the procedures utilized in advanced hospital settings comprise radioactivity/radiation. Thus, increasing adoption of nuclear medicine, the segment share will considerably expand in the coming years.

U.S. therapeutic nuclear medicine industry is projected to account for significant revenue share of the global therapeutic nuclear medicine market revenue. Presence of suitable facilities for development and assessment of nuclear medicine therapy will accelerate the business growth. The U.S. market comprises vast patient population suffering from cancer, thyroid and blood disorders that will create attractive demand for nuclear medicine therapy. Moreover, presence of key competitors in the country, the industry will influence the U.S. therapeutic nuclear medicine market growth over the estimated years.

Europe therapeutic nuclear medicine industry will advance at momentous pace on account of growing patient population suffering from chronic ailments along with adoption of high-quality therapeutic technology. Numerous associations including the European Association of Nuclear Medicine are undertaking projects to develop nuclear medicine, involving radionuclide therapy along with other areas. Furthermore, rapid capitalization on radionuclide therapeutics by European countries will boost therapeutic nuclear medicine business growth in Europe.

Eckert & Ziegler, Jubilant Pharma, Advanced Accelerator Applications and Progenics Pharmaceuticals are some of the major market players involved in the global therapeutic nuclear medicine market. These players are undertaking product innovation and acquisition strategies to advance in the global market. In October 2017, Novartis announced about its plan to acquire Advanced Accelerator Applications, aimed at enhancing Novartis' product portfolio for tumor treatment.

Therapeutic Nuclear Medicine Market, By Radionuclide Type, 2014-2025 (USD Million)
Alpha Emitters

Radium-223 (RA-223) & Alpharadin
Actinium-225 (AC-225)
Lead-212 (PB-212)/Bismuth-212 (BI-212)
Astatine-211 (AT-211)
Radium-224 (RA-224)
Thorium-227 (TH-227)

Beta Emitters

Iodine-131 (I-131)
Yttrium-90 (Y-90)
Samarium-153 (SM-153)
Rhenium-186 (RE-186)
Lutetium-177 (LU-177)
Others

Brachytherapy

Cesium-131
Iodine-125
Palladium-103
Iridium-192
Others
Therapeutic Nuclear Medicine Market, By Indication, 2014-2025 (USD Million)
Thyroid disorders
Cancer

Prostate cancer
Breast cancer
Lymphoma
Lung cancer
Liver cancer
Others

Blood disorders
Bone pain treatment
Others
Therapeutic Nuclear Medicine Market, By End-use, 2014-2025 (USD Million)
Hospitals
Ambulatory Centers
Cancer Centers
Others
The above information is provided for the following regions and countries:
North America
Europe

Germany
UK
France
Italy
Spain
Russia

Asia Pacific

Japan
China
India
Australia

Latin America
Middle East and Africa

South Africa
Saudi Arabia
UAE
Company Profiles:
Cardinal Health
Curium Pharma
Eckert & Ziegler
International Isotopes Idaho, Inc.
Isoray Inc.
Jubilant Pharma
Medi-Radiopharma Co., Ltd.
Novartis AG (Advanced Accelerator Applications)
Orano
Progenics Pharmaceuticals
Theragenics Corporation
What Information does this report contain?
Historical data coverage: 2016 to 2020; Growth Projections: 2021 to 2027.
Expert analysis: industry, governing, innovation and technological trends; factors impacting development; drawbacks, SWOT.
6-7 year performance forecasts: major segments covering applications, top products and geographies.
Competitive landscape reporting: market leaders and important players, competencies and capacities of these companies in terms of production as well as sustainability and prospects.
Customize this Report
Our Market Research Reports Include:
Market snapshot

Market Segmentation

Value Chain Analysis

Growth Dynamics

Potential Market Opportunities

Regulatory Overview

Technology Evolution

Innovation & Sustainability
Connect with our sales team