Europe Surge Arrester Market Size
Europe Surge Arrester Market was valued at over USD 380 million in 2022 and is projected to grow at a CAGR of over 5.5% between 2023 and 2032. The increasing emphasis on modernizing and upgrading the region's electrical infrastructure to enhance grid reliability and stability has fueled the demand for surge arresters. With growing urbanization and the integration of renewable energy sources, there is a greater need to protect sensitive electrical equipment and systems from voltage surges and transient over voltages. As per Eurostat, renewable energy consisted of the highest share of 41% in energy production and 38% in electricity production in 2021.

To understand key trends &nbsp
Download Free Sample

The surge arrester market benefits from advancements in technology, particularly in the development of more efficient and reliable surge protection solutions. The increasing adoption of polymer-based surge arresters, which offer superior performance and durability, contributes to market growth. Furthermore, Europe's focus on renewable energy integration, particularly in countries like Germany and Spain, has led to the need for surge protection solutions to safeguard the growing number of solar and wind installations.

Europe Surge Arrester Market Report Attributes
Report Attribute
Details
Base Year:
2022
Europe Surge Arrester Market Size in 2022:
USD 383.3 Million
Forecast Period:
2023 to 2032
Forecast Period 2023 to 2032 CAGR:
5.9%
2032 Value Projection:
USD 692.6 Million
Historical Data for:
2019 to 2022
No. of Pages:
235
Tables, Charts & Figures:
263
Segments covered:
Voltage, Class, Material, Application
Growth Drivers:

Rapid smart grid adoption
Expansion of sustainable electricity networks

Pitfalls & Challenges:

Fluctuating raw material cost
To understand market opportunities &nbsp
Download Free Sample

COVID-19 Impact
The COVID-19 pandemic had a varied impact on the Europe surge arrester market. At the beginning of the pandemic, the market experienced disruptions due to lockdowns, supply chain interruptions, and reduced manufacturing activities. Many projects were delayed or put on hold. However, as the situation stabilized and economies gradually reopened, there was a resurgence in demand for surge arresters. With increased awareness of the importance of reliable electrical infrastructure for remote work, healthcare, and other critical applications, the market witnessed a rebound. Furthermore, the ongoing investments in renewable energy projects and grid modernization initiatives across Europe continued to drive the surge arrester market's recovery, albeit with some delays and supply chain challenges.

Europe Surge Arrester Market Trends
The European market for surge arrester is witnessing several prominent trends. The growing emphasis on renewable energy sources and grid modernization. As Europe strives to transition to cleaner energy generation, surge arresters play a crucial role in protecting sensitive renewable energy installations and the electrical grid from voltage surges. Another trend is the development of eco-friendly surge arresters. Manufacturers are focusing on more environmentally friendly materials and designs, aligning with Europe's sustainability goals. Additionally, there is a rising demand for smart surge arresters equipped with monitoring and diagnostic capabilities.

Another noteworthy trend in the European surge arrester market is the shift towards compact and modular surge protection solutions. Manufacturers are developing smaller, more space-efficient surge arresters that are easier to install and maintain. These compact designs are particularly useful in urban areas with limited space for electrical infrastructure. Furthermore, modular surge protection solutions allow for scalability and flexibility, making it easier to adapt to evolving grid requirements and accommodate growing renewable energy installations.

Europe Surge Arrester Market Analysis
To understand key market trends &nbsp
Download Free Sample

The medium voltage surge arresters market captured the major market share of over 42% in 2022 and is anticipated to grow at a CAGR of over 5.5% through 2032, due to the growing awareness of the need for reliable power distribution and grid protection. Europe's emphasis on grid modernization and the integration of renewable energy sources necessitates robust surge protection solutions to ensure grid stability and reliability. Additionally, the surge in industrial activities and urbanization is increasing the demand for medium voltage systems, further fueling the market.

To understand key market trends &nbsp
Download Free Sample

The distribution class surge arresters market in Europe recorded a value of over USD 120 million in 2022 and is predicted to surpass USD 220 million by 2032. The primary growth driver is the increasing emphasis on enhancing the resilience and efficiency of power distribution networks throughout Europe. With the transition towards renewable energy sources and the integration of distributed generation systems, grid modernization is paramount. Distribution class surge arresters play a crucial role in safeguarding sensitive equipment and infrastructure against voltage surges, ensuring the uninterrupted flow of electricity.

Polymer based surge arresters held a market value of over USD 190 million in 2022 and is expected to grow at a CAGR of over 6.5% up to 2032. The increasing emphasis on environmental sustainability complements the product penetration in the coming years. Polymer-based surge arresters, also known as non-gapped metal oxide surge arresters, are considered more environmentally friendly due to their construction materials and manufacturing processes. As Europe continues to modernize its electrical grid, incorporating renewable energy sources and enhancing grid reliability, the demand for reliable surge protection devices like polymer-based surge arresters is on the rise.

The growth of the surge arrester market in Europe from the residential and commercial sector is driven by increasing concerns over the protection of sensitive electronic equipment and appliances. As more households and businesses rely on advanced electronics and automation systems, the risk of damage from voltage surges is a significant consideration. Surge arresters are becoming an essential component in these settings, providing a shield against sudden voltage spikes and ensuring the safe operation of electrical devices. With a growing awareness of the potential financial and operational losses associated with power disruptions, surge arresters are in high demand, especially in the residential and commercial sectors, driving market growth.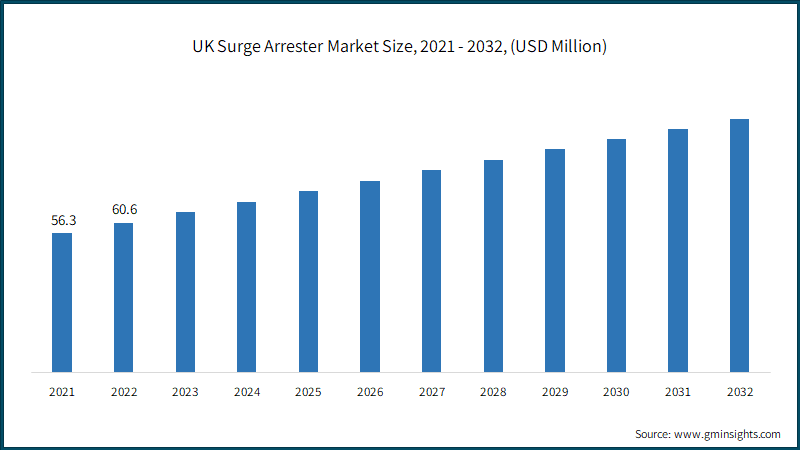 To understand regional trends &nbspDownload Free Sample

The UK surge arrester market is estimated to showcase 5% growth rate from 2023 to 2032, on account of the increasing need for grid stability and the protection of critical infrastructure across the nation. Surge arresters play a pivotal role in safeguarding the electrical grid, substations, and sensitive equipment against voltage surges caused by various factors, including lightning strikes and power switching. With the growing integration of renewable energy sources and the need for enhanced grid resilience, surge arresters are in high demand to maintain the stability and reliability of the power infrastructure in the UK, making them a vital driver of market growth.

Europe Surge Arrester Market Share
ABB has established itself as a dominant player in the surge arrester market across Europe, holding a substantial market share. The company's strong market presence can be attributed to its unwavering commitment to innovation and the delivery of high-quality surge protection solutions. ABB's surge arresters are renowned for their advanced technology and reliability, offering superior protection against voltage surges in electrical systems. With a deep understanding of the European market's diverse needs, ABB has tailored its surge arrester offerings to effectively safeguard a wide range of applications, from residential and commercial sectors to critical industrial installations. This strategic alignment with the regional market demands has allowed ABB to build trust among customers and maintain its market leadership by delivering sustainable and efficient surge protection solutions.

Some of the key market players operating across the Europe surge arrester industry are:
TE Connectivity
ABB
General Electric
CG Power & Industrial Solutions Ltd.
Eaton
Siemens Energy
Hubbell
INAEL, S.A.
CHINT Group
DEHN SE
Ensto
Elpro
TDK Electronics AG
L&T Electrical & Automation
Phoenix Contact
INDELEC
Raycap
ETI Elektroelement d.o.o
Hitachi Energy Ltd.
TOSHIBA

Europe Surge Arrester Market News:
In January 2019, Eaton entered into a firm agreement to purchase Ulusoy Elektrik, a prominent switchgear manufacturer based in Turkey. This strategic acquisition was designed to bolster Eaton's electrical equipment offerings and enable the provision of comprehensive medium-voltage solutions across diverse requirements. Moreover, this purchase extended Eaton's reach with access to the medium voltage market in regions such as Africa, Europe, and the Middle East, while also providing access to a highly capable and competitive manufacturing base. This move was part of Eaton's broader strategy to enhance its presence and capabilities in the global medium-voltage sector.

This Europe surge arrester market research report includes an in-depth coverage of the industry with estimates & forecast in terms of units and revenue in '000 Units and USD Million from 2019 to 2032, for the following segments:


Click here to Buy Section of this Report
By Voltage
By Class
Distribution
Intermediate
Station
By Material
By Application
Residential & Commercial
Industrial
Utility
The above information has been provided for the following countries:
UK
Germany
France
Italy
Spain