Cartilage Repair Market Size
Cartilage Repair Market size was valued at USD 708.1 million in 2022 and is estimated to reach around USD 1.8 billion by 2032. Advancements in regenerative medicine, including stem cell therapy and growth factor treatments, are providing promising non-surgical options for cartilage repair, contributing to market progress.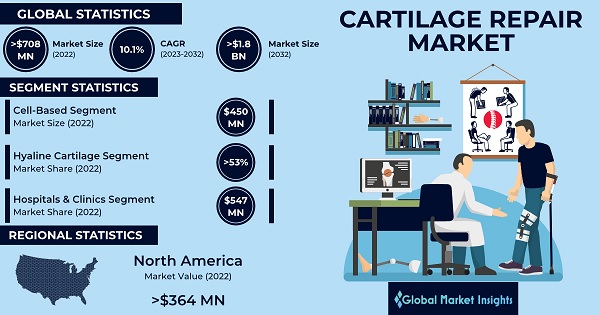 To understand key trends &nbsp
Download Free Sample

Increased awareness of the importance of cartilage health and the availability of cartilage repair options has led more people to seek treatment for joint pain and injuries. Further, the introduction of biological products, such as autologous chondrocyte implantation (ACI) and cartilage-derived scaffolds, has enhanced the effectiveness of cartilage repair, boosting demand for these treatments. Moreover, as healthcare expenditure continues to increase in many regions, patients have more access to cartilage repair procedures and technologies.

Cartilage Repair Market Report Attributes
Report Attribute
Details
Base Year:
2022
Cartilage Repair Market Size in 2022:
USD 708.1 Million
Forecast Period:
2023 to 2032
Forecast Period 2023 to 2032 CAGR:
10.1%
2032 Value Projection:
USD 1,878.5 Million
Historical Data for:
2018 to 2022
No. of Pages:
190
Tables, Charts & Figures:
384
Segments covered:
Modality, Type, Application, End-use, and Region
Growth Drivers:

Increasing incidence of osteoarthritis
Rise in sports-related injuries
Technological advancements
Rise in geriatric population

Pitfalls & Challenges:

High costs associated with cartilage repair procedures
To understand market opportunities &nbsp
Download Free Sample

Cartilage repair refers to the process of restoring damaged or injured cartilage, a tough and flexible connective tissue that covers the ends of bones in joints, such as the knee, hip, and shoulder. Cartilage serves as a cushion and provides a smooth surface for joint movement. When cartilage is damaged due to injury, degeneration, or disease, it can lead to pain, reduced joint function, and the development of conditions like osteoarthritis.

COVID-19 Impact
The cartilage repair market experienced a negative impact due to the COVID-19 pandemic. Elective surgeries, including many cartilage repair procedures, were postponed, or cancelled to allocate healthcare resources for COVID-19 patients. This led to a decline in the number of surgeries and a reduction in revenue for healthcare providers and manufacturers of cartilage repair products. Patients were often reluctant to seek medical care for non-urgent orthopedic issues, further impacting the market. However, with the gradual resumption of elective procedures and an increased focus on regenerative medicine, the cartilage repair industry is expected to rebound, but recovery may take time.

Cartilage Repair Market Trends
Osteoarthritis is a common degenerative joint condition characterized by the breakdown of cartilage in the joints. As the population ages and obesity rates rise, the prevalence of osteoarthritis has been steadily increasing. For instance, according to the Centers for Disease Control and Prevention (CDC), osteoarthritis affects over 32.5 million adults in the U.S.

With the rising incidence of osteoarthritis, there is a growing interest in regenerative therapies, including stem cell therapy treatments and growth factor-based interventions, as potential alternatives to surgical cartilage repair. These therapies are becoming more prevalent in the market to address osteoarthritis.

Osteoarthritis often necessitates surgical intervention, such as joint replacements or cartilage repair. As the number of osteoarthritis cases rises, so does the demand for these surgical procedures.

Cartilage Repair Market Analysis
To understand key market trends &nbsp
Download Free Sample

The market by modality is categorized into cell based, and non-cell based. The cell-based segment accounted for around USD 450 million revenue in 2022. Cell-based treatments can be tailored to the patient's specific needs. This customization can lead to more effective and targeted cartilage repair, potentially improving patient outcomes.

Cell-based therapies, such as stem cell treatments and autologous chondrocyte implantation (ACI), offer regenerative potential by stimulating the growth of new cartilage tissue. This regenerative approach is increasingly favored over traditional surgical interventions in many cases.

Further, cell-based therapies are particularly appealing for younger patients with cartilage injuries, as they can delay or prevent the need for joint replacement surgery in the long term.

To understand key market trends &nbsp
Download Free Sample

Based on type, the cartilage repair market is bifurcated into hyaline cartilage and fibrocartilage. The hyaline cartilage segment accounted for over 53% market share in 2022 and is projected to record highest growth during the forecast period.

Articular cartilage, which is a type of hyaline cartilage, covers the ends of bones in joints. Injuries to articular cartilage are common, especially among athletes and those with a history of joint trauma. This creates a demand for procedures and products that repair or regenerate hyaline cartilage.

Minimally invasive surgical techniques, such as microfracture and autologous chondrocyte implantation (ACI), have improved the feasibility and effectiveness of hyaline cartilage repair, attracting both patients and healthcare providers.

Based on application, the cartilage repair market is segmented into knee, hip, and others. The knee segment held significant share and accounted for over USD 373 million in 2022.

The knee is one of the most commonly injured joints, and issues like ligament tears and articular cartilage damage are prevalent. This leads to a substantial demand for knee cartilage repair procedures.

Sports and physical activities often result in knee injuries, particularly in athletes. The desire to maintain an active lifestyle and return to sports drives demand for effective knee cartilage repair.

Advancements in surgical techniques, such as microfracture, osteochondral grafting, and autologous chondrocyte implantation (ACI), have made knee cartilage repair more accessible and effective, attracting both patients and healthcare providers.

The cartilage repair market by end-use is categorized into hospitals and clinics, and ambulatory surgical centers. The hospitals and clinics segment was valued at USD 547 million revenue in 2022. Primary care physicians often refer patients with joint issues to orthopedic specialists in hospitals and clinics. This referral process has increased the number of patients seeking cartilage repair services in these settings.

The adoption of advanced diagnostic tools and surgical equipment has improved the precision and success rates of cartilage repair procedures. This has boosted patient confidence and demand for these treatments.

Orthopedic clinics and specialty centers provide expert care for musculoskeletal conditions, including cartilage injuries. These facilities are dedicated to offering cartilage repair procedures and have contributed to the demand for such treatments

Additionally, government support and healthcare policies promoting orthopedic care have also contributed to the growing demand for cartilage repair procedures in hospitals and clinics.

To understand regional trends &nbspDownload Free Sample

North America cartilage repair market accounted for over USD 364 million revenue in 2022 and is predicted to witness substantial market growth over the forecast timeline. Health insurance coverage in North America often includes orthopedic procedures, making cartilage repair accessible to a larger portion of the population.

North America has a strong sports culture, and the prevalence of sports injuries often necessitates cartilage repair procedures. Many people actively engage in physical activities, increasing the risk of joint injuries.

The region has experienced rising obesity rates, which put additional stress on weight-bearing joints, leading to a higher incidence of cartilage damage and wear and tear.

Moreover, the region has been at the forefront of regenerative medicine, including stem cell therapies, growth factor treatments, and other innovative options for cartilage repair. This has attracted patients seeking these cutting-edge solutions.

Cartilage Repair Market Share
The cartilage repair industry is competitive in nature, with leading companies competing to offer superior products in this business space. Prominent players such as Zimmer Biomet, Vericel Corporation, CONMED Corporation, Arthrex, Inc., and Stryker Corporation hold a significant share in this market. These companies are diligently directing their efforts towards continuous product innovation to improve their market presence.

Some of the eminent market participants operating in the cartilage repair industry include:
Zimmer Biomet
Smith & Nephew Plc
Arthrex, Inc.
Conmed Corporation
B. Braun Melsungen AG
Stryker Corporation
Vericel Corporation
Collagen Solutions LLC
Anika Therapeutics, Inc.
Johnson & Johnson Services, Inc.
Becton, Dickinson and Company

Cartilage Repair Industry News:
July 2022, Bioventus Inc., a leading company operating in innovations for active healing completed its acquisition of CartiHeal. This acquisition will allow Bioventus to enhance its product offerings related to treatment of osteoarthritis and osteochondral defects of the knee.

March 2019, Smith & Nephew plc expands in regenerative medicine sector through its acquisition of Osiris Therapeutics, Inc. This USD 660 million acquisition will allow Smith & Nephew plc to improve its footprint in regenerative medicine market and enhance their wound management business in the coming years.

Cartilage repair market research report includes an in-depth coverage of the industry with estimates & forecast in terms of revenue in USD Million from 2018 to 2032 for the following segments:


Click here to Buy Section of this Report
By Modality, 2018-2032 (USD Million)
Cell-Based

Chondrocyte Transplantation
Growth Factors
Other cell-based modalities

Non-cell Based

Tissue Scaffolds
Cell-free composites
By Type, 2018-2032 (USD Million)
Hyaline Cartilage
Fibrocartilage
By Application, 2018-2032 (USD Million)
Knee
Hip
Other applications
By End-use, 2018-2032 (USD Million)
Hospitals and Clinics
Ambulatory Surgical Centers
The above information is provided for the following regions and countries:
North America
Europe

Germany
UK
France
Italy
Spain
Rest of Europe

Asia Pacific

China
Japan
India
Australia
South Korea
Rest of Asia Pacific

Latin America

Brazil
Mexico
Argentina
Rest of Latin America

Middle East & Africa

Saudi Arabia
South Africa
UAE
Rest of Middle East & Africa