Antimalarial Drugs Market Size, Industry Analysis Report, Regional Outlook (U.S., Canada, Germany, UK, France, Spain, Italy, China, Japan, India, Australia, South Korea, Brazil, Mexico, Argentina, South Africa, Saudi Arabia, UAE), Application Potential, Price Trends, Competitive Market Share & Forecast, 2021 – 2027
Report ID: GMI4626
Antimalarial Drugs Market size is projected to witness significant growth from 2020 to 2026. Antimalarial drugs are used to treat and prevent malaria infections. There are five different types of plasmodia parasites that cause malaria in humans. Malaria is found in more than 100 countries mainly in the tropical regions of the world that includes Central and South America, Africa, Asia, Middle East and some Pacific islands. The medication and duration of treatment for malaria depends upon the type of malaria and severity of symptoms. Most of the antimalarial medications target the phase of infection causing symptomatic illness.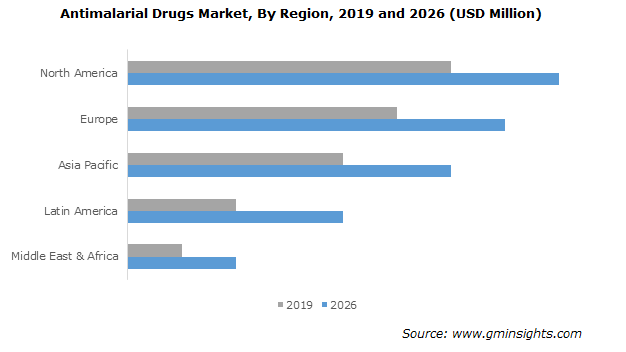 Get more details on this report - Request Free Sample PDF

Exponential increase in COVID-19 cases across the world is one of the significant factors propelling the growth of antimalarial drugs market. For instance, as per the recently published data by the World Health Organization, there were around 1.8 million confirmed cases of coronavirus disease across the world. As chloroquines have an ability to change the acidity at the surface of the cell, they can prevent the virus from infecting people. Therefore, it is expected that the tablets containing hydroxychloroquine will inhibit the virus that causes COVID-19. Increase in number of COVID-19 cases across the globe and hydroxychloroquine being a potential treatment will result in boosting the demand for antimalarial drugs to tackle the coronavirus.

Growing focus of government on the treatment of COVID-19 will contribute to the market growth in the near future. The countries with COVID-19 cases are urging the Indian government to increase the exports of hydroxychloroquine. For instance, as per the recent news article, the U.S. government received around 3.5 million tablets of hydroxychloroquine and nine metric tons of active pharmaceutical ingredients (API) required in the manufacturing of drug.

Moreover, strong presence of companies producing hydroxychloroquine in India will fuel the market growth in the upcoming years. The two main producers such as Ipca Laboratories and Zydus Cadila can produce over 1.5 million tablets on a daily basis. Thus, the abovementioned factors will enhance the market growth.

On the basis of drug type, the antimalarial drugs market is segmented into quinine, chloroquine, hydroxychloroquine, amodiaquine, mefloquine, primaquine, artemisinin & derivatives, halofantrine, doxycycline, clindamycin, piperaquine, tafenoquine, artemisinin, dihydroartemisinin, artemether, artesunate and other drugs. The hydroxychloroquine segment is anticipated to hold a significant share over the analysis timeframe.

As several drugs including hydroxychloroquine showed the ability to block coronavirus from infecting cells in vitro, the market is expected to show a lucrative growth in the near future. For instance, according to a new French study, around 91% cure was observed in 1,061 hospitalized COVID-19 patients within 10 days of hydroxychloroquine treatment. Also, increasing number of patients suffering from COVID-19 will contribute to the market growth.

By drug class, the market is categorized into aryl aminoalcohol compounds, antifolate compounds, artemisinin compounds and antimicrobials. The aryl aminoalcohol compounds segment is projected to witness robust growth in the upcoming years. Rising incidences of malaria cases across the world will positively impact the segmental growth.

For instance, according to the recently published data by World Health Organization, in 2018, there were an estimated 228 million cases of malaria worldwide. Thus, this will enable people to consume antimalarial drugs to prevent disease infection. Also, aryl aminoalcohol compounds includes the drugs such as chloroquine and hydroxychloroquine that are highly preferred to treat COVID-19. Thus, the increasing preference of hydroxychloroquine as a medication for coronavirus disease will spur the market growth in the coming years.

By route of administration, the market is divided into oral, powder inhalation and intravenous administration. The oral segment is expected to grow at a significant growth rate over the analysis period. The segmental growth is attributed to the advantages such as safety, better patient compliance, easy ingestion, pain avoidance and versatility to accommodate various types of drugs. Moreover, as hydroxychloroquine comes only in the form tablets, the demand for oral administrations will rise throughout the forecast timeframe thereby, assisting the coronavirus affected people.

Based on malaria type, the market is classified into Plasmodium falciparum, Plasmodium malariae, Plasmodium vivax, Plasmodium ovale and Plasmodium knowlesi. The Plasmodium falciparum segment is anticipated to witness substantial growth over the analysis period. Presence of large population pool that is heavily exposed to the bites of mosquitoes are at greater risks of getting infected with Plasmodium falciparum. Additionally, people with low immunity towards malaria and lack of access to healthcare facilities are some of the factors driving the segmental growth over the forecast period.

By application, the antimalarial drugs market is bifurcated into prevention and treatment of malaria. The treatment segment is expected to showcase lucrative growth in the projected years. The malaria treatment depends on several factors that include disease intensity, the species of malaria parasite, and the region/country in which the infection was acquired. Rising worldwide deaths due to malaria will require people to receive a proper medication for the treatment of malaria. For instance, according to the World Health Organization, in 2018, the estimated number of malaria deaths stood at around 405,000. Thus, the aforementioned factors will propel the market growth in the future.

By distribution channel, the market is segmented into hospital pharmacy, brick & mortar and online pharmacy. The hospital pharmacy segment is projected to witness substantial growth in the upcoming years. The hospital pharmacies offer care teams the opportunity to collaborate with one another to improve patient outcomes. It also avoids the medication errors that arises when patients jump from one retail pharmacy to another after discharge. Thus, these advantages will drive the segmental growth over the forecast period.

U.S. antimalarial drugs market is anticipated to hold a major market share in the foreseeable future. Continuously rising cases of coronavirus disease across the country will positively impact the market growth. The U.S. Food and Drug Administration has identified hydroxychloroquine as a possible treatment for COVID-19. For instance, according to a recent news article, hydroxychloroquine is being tested on more than 1,500 coronavirus affected patients in New York. Thus, this might create the need for hydroxychloroquine in the future. Additionally, import of hydroxychloroquine tablets in the U.S. will further contribute to the growth of antimalarial drugs market.

Some of the major companies involved in the global antimalarial drugs market are Mylan, Cipla, Zydus Cadila, Ipca Laboratories, Teva Pharmaceutical, GlaxoSmithKline, Novartis, F. Hoffmann-La Roche Ltd, Bayer, Lincoln Pharmaceuticals, Strides Pharma Science Limited, Glenmark Pharmaceuticals and Alliance Pharma among others. These players are constantly focusing on major strategies such as new product launches, partnerships, production expansions and acquisitions in order to strengthen their market position. For instance, in March 2020, Mylan planned to restart the production of hydrochloroquine tablets at West Virginia facility to fight the novel coronavirus. This strategic move will help cater the increasing demand for hydrochloroquine thereby, spurring the antimalarial drugs market growth.

By Drug Type, 2015-2026 (USD Million)
Quinine
Chloroquine
Hydroxychloroquine
Amodiaquine
Mefloquine
Primaquine
Artemisinin & derivatives
Halofantrine
Doxycycline
Clindamycin
Piperaquine
Tafenoquine
Artemisinin
Dihydroartemisinin
Artemether
Artesunate
Others
By Drug Class, 2015-2026 (USD Million)
Aryl aminoalcohol compounds
Antifolate compounds
Artemisinin compounds
Antimicrobials
By Route of Administration, 2015-2026 (USD Million)
Oral
Powder Inhalation
Intravenous
By Malaria Type, 2015-2026 (USD Million)
Plasmodium falciparum
Plasmodium malariae
Plasmodium vivax
Plasmodium ovale
Plasmodium knowlesi
By Application, 2015-2026 (USD Million)
By Distribution Channel, 2015-2026 (USD Million)
Hospital Pharmacy
Brick & Mortar
Online Pharmacy
The above information is provided for the following regions and countries:
North America
Europe

Germany
UK
France
Spain
Italy

Asia Pacific

Japan
China
India
Australia
South Korea

Latin America
Middle East and Africa

South Africa
Saudi Arabia
UAE

What Information does this report contain?
Historical data coverage: 2013 to 2015; Growth Projections: 2016 to 2026.
Expert analysis: industry, governing, innovation and technological trends; factors impacting development; drawbacks, SWOT.
6-7 year performance forecasts: major segments covering applications, top products and geographies.
Competitive landscape reporting: market leaders and important players, competencies and capacities of these companies in terms of production as well as sustainability and prospects.
Customize this Report
Our Market Research Reports Include:
Market snapshot

Market Segmentation

Value Chain Analysis

Growth Dynamics

Potential Market Opportunities

Regulatory Overview

Technology Evolution

Innovation & Sustainability
Connect with our sales team
Benefits of Association
Data Coverage & Quality
GMI reports provide the most comprehensive coverage of any focus industry, ensuring a holistic and deep understanding of the market, along with actionable and granular data. We also take pride in our commitment to quality and strive to ensure that our clients get their moneys worth.
Client Trust & Security
GMI maintains strict code of conduct as a business and is committed to ensure that the privacy and trust of our clients are always maintained. As an organization, we also strive to be fully compliant with privacy laws, PCI and information security guidelines.
Customer Service
Our customers rely on us to produce accurate, reliable and timely information. Service orientation is a key mission for us as an organization; our process is guided by the desire to ensure that our clients are provided the best possible solutions in optimal timeframe. GMI stands by its commitment to service, providing timely assistance in both pre-sales and post-sales support for our clients.
GMIPulse, our report store
We have introduced 'GMIPulse', which is our report store; designed to offer clients a one-stop platform for all market research and business intelligence requirements. Clients can access reports, presentations, raw data excel sheets as well as detailed company profiles. GMIPulse allows you to track relevant industries and stay informed with latest innovation, competitive and regulatory developments to help design strategic framework.