Home > Pressrelease > LiDAR Mapping Market Size worth over $4bn by 2026
LiDAR Mapping Market Size worth over $4bn by 2026
Published Date: December 6, 2019
LiDAR Mapping Market size is estimated to surpass USD 4 billion by 2026; according to a new research report by Global Market Insights Inc.

LiDAR mapping technology enables effective disaster prevention, energy exploration, climate monitoring, and weather forecasting. It produces accurate digital surfaces of the ground and vegetation. Additionally, climate change models help geoscientists to study different types of surface patterns, such as permafrost, in changing environments.

LiDAR mapping market growth is attributed to increase in the need to reduce risks associated with natural disasters such as floods, volcanic eruptions, and tsunamis. Several nations across the world are suffering from huge economic and non-economic losses due to disasters. Government institutions across the globe are using LiDAR mapping solutions for surveying in disaster-prone regions to study acquired data points and prepare strategies to avoid natural & manmade disasters. Disaster preparedness helps government departments and other related organizations to reduce risks associated with the loss of life & property. For instance, in May 2019, the U.S. Geological Survey (USGS) announced the deployment of LiDAR mapping technology for the surveying of Kilauea volcano in Hawaiian Island, U.S. This volcano survey project is a part of the disaster preparedness for volcanos. The market demand is also attributed to an increase in the adoption of drones for surveying and mapping applications.
Browse key industry insights spread across 290 pages with 320 market data tables and 26 figures & charts from the report, "LiDAR Mapping Market Size By Platform (Drones [Fixed Wing Drones, Single Rotor Drones, Multi Rotor Drones], Terrestrial [Mobile, Stationary], Airborne, Handheld & Backpack), By Component (Hardware, Software), By Application (Corridor Mapping, Construction & Surveying, Agriculture & Forestry, Mining & Quarrying, Education, Environmental, Transport, Emergency Services), Industry Outlook, Regional Analysis, Application Development, Competitive Landscape & Forecast, 2020 - 2026" in detail along with the table of contents
:
https://www.gminsights.com/industry-analysis/lidar-in-mapping-market
Government authorities are using LiDAR mapping technology for improving urban planning
The demand for improving urban planning to build well-managed cities due to rapidly increasing urban population is supporting LiDAR mapping market revenue. The companies operating in the real-estate sector are increasingly deploying LiDAR mapping technology for ground surveying due to the requirement of high accuracy and precision for Digital Elevation Models (DEM). Changing technological landscape in the market is anticipated to propel market growth. The use of innovative GIS platforms, imaging solutions, and visualization tools is enabling the growing adoption of the technology. This will benefit federal, state, and local government bodies along with private and non-profit organizations to better execute their mapping functions. Government authorities are partnering with companies operating in the LiDAR industry for infrastructure projects including smart city and urban governance. For instance, in January 2017, Genesys International Corporation Ltd. partnered with the Municipal Corporation of Greater Mumbai (MCGM) to begin property mapping using LiDAR. This partnership helped the government organization to improve the revenue collection process.

Demand for improved urban planning is helping the market growth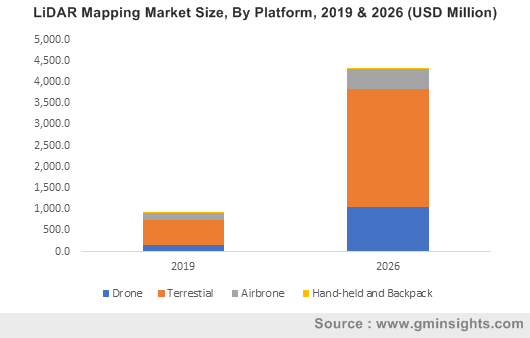 Get more details on this report - Request Free Sample PDF

Terrestrial platforms held the LiDAR mapping market share of over 60% in 2019 due to the increasing demand for acquiring the complete three-dimensional data for several applications including urban planning. Rapidly growing urbanization and industrialization are resulting in rising demand for advanced township planning techniques that can create accurate 3D city models. Terrestrial LiDAR combines various digital orthophotos to build highly detailed Digital Surface Models (DSMs) and digital city representations. It helps in the acquisition of topographical data over vast surface areas at High Level of Detail (LoD), used on large scale urban areas.

The drone platform is expected to grow at a CAGR of over 30% during the forecast timeline due to the increasing deployment of aerial mapping and surveying applications. The capability of drones to fly in difficult terrains and extreme weather conditions have made them a preferred choice for aerial mapping and surveying applications.

The LiDAR mapping hardware segment held the highest market share in 2019
The hardware products held the LiDAR mapping market share of over 80% in 2019 due to rising adoption of LiDAR sensors in mapping applications. Hardware manufacturers operating in the industry focus on strategic alliances with other market players to facilitate the mass production of hardware at low cost. This helps LiDAR hardware manufacturing companies to expand their geographical presence. For instance, in April 2019, Velodyne LiDAR partnered with Nikon Corp. to mass manufacture low-cost LiDAR sensors. This partnership is expected to expand its sales in North America, Europe, and Asia Pacific. Also, automotive companies are partnering with LiDAR hardware manufacturers to enhance their LiDAR mapping capabilities. For instance, in 2018, Volvo Group collaborated with Luminar Technologies, a LiDAR startup, to develop physical and car-mounted LiDAR sensors along with software designed to process, label, and tag captured data.

Demand for improving rail infrastructure is fueling the LiDAR mapping market value
Corridor mapping application is expected to hold the market share of over 20% by 2026 due to the increasing demand for improving rail infrastructure. The LiDAR solution is used in railways to address the challenge of tracking and evaluation of rail-side assets. The rail tracks need continuous monitoring to assure the safety of passengers and assets. The LiDAR sensor facilitates the detection of defects in rail tracks and reduces risk to human life. Mobile-based and drone-based LiDAR scanning are predominantly used in railway infrastructure maintenance. For instance, in September 2019, Banedanmark, a company that manages Denmark's public railway infrastructure awarded a contract to Fugro for a quick and accurate digital survey. Fugro deployed train-borne (mobile-based) lidar scanning of railway infrastructure.

Increasing demand for mineral exploration is supporting North America market growth
North America LiDAR mapping market is expected to hold an industry share of over 50% by 2026 due to increase in the demand for geospatial elevation data and mineral exploration. The improved capabilities of LiDAR mapping solutions, such as higher resolution and long-range operability, are attracting government agencies for flood & disaster prevention and tracking climate changes. Additionally, the combination of high penetration laser, low-light operating capabilities, and immunity to weather changes in LiDAR mapping technology has driven its adoption in mineral exploration and mining applications. Major service providers and manufacturers operating in the LiDAR mapping market are collaborating with public agencies to deliver high precision terrain mapping services. For instance, in February 2018, a geospatial services provider, Woolpert, adopted Leica Geosystems' linear mode LiDAR sensor and accompanying software solution, HxMap, to provide mineral exploration services for the Montana State Administration.

The companies operating in the market are focusing on introducing new LiDAR mapping solutions for improving the mapping experience and gaining a competitive advantage over other market players. For instance, in November 2018, Fugro N.V. launched its GAIA Insight mapping platform. This new platform enabled users to quickly map construction sites using pre-built geotechnical and geological modules. This helped the company to target civil engineering projects and construction firms, expanding its presence in land site mapping & characterization segments across the global market.

Some of the players operating in the LiDAR mapping market are Blickfeld GmbH, Cepton Technologies, Inc., Argo AI, FARO Technologies, Inc., GeoSLAM Ltd. (3D Laser Mapping), Hesai Technology, Innoviz Technologies Ltd., Fugro N.V., Leica Geosystems AG (Hexagon), LeddarTech, Inc., Luminar Technologies, Inc., Ouster, Inc., LeiShen Intelligent Systems Co., Ltd., Phantom Intelligence, Topcon Positioning Systems, Inc., Quanergy Systems, Inc., Tetravue, Inc., Phoenix LiDAR Systems, and Velodyne LiDAR, Inc.

Explore More on Related Topics: