Medical Adhesive Tapes Market Size
Medical Adhesive Tapes Market was valued at USD 7 billion in 2022 and is anticipated to grow at a CAGR of over 5.6% between 2023 and 2032. The increasing road accidents and traumatic incidents have led to higher demand for tapes in wound care. For instance, according to the Ministry of Road Transport and Highways, India witnessed a total of 4,12,432 reported road accidents in 2021. These accidents led to the loss of 1,53,972 lives and caused injuries to 3,84,448 individuals. Consequently, there is an increased demand for medical adhesive tapes to support wound care and management in the face of these unfortunate occurrences.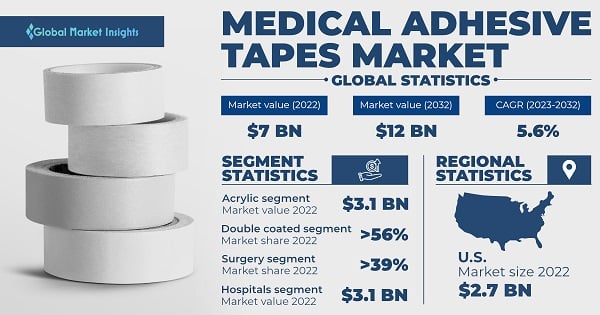 To understand key trends &nbsp
Download Free Sample

Medical adhesive tapes are specialized tapes used in the field of medicine for various purposes, primarily in wound care, securing medical devices, and providing support or compression to the body. These tapes are designed to adhere securely to the skin or other medical surfaces while remaining gentle to the patient's skin. These tapes play a critical role in responding to road accidents and traumatic incidents, which often lead to various wounds and injuries.
Medical Adhesive Tapes Market Report Attributes
Report Attribute
Details
Base Year:
2022
Medical Adhesive Tapes Market Size in 2022:
USD 7 Billion
Forecast Period:
2023 to 2032
Forecast Period 2023 to 2032 CAGR:
5.6 %
2032 Value Projection:
USD 12 Billion
Historical Data for:
2018 to 2022
No. of Pages:
199
Tables, Charts & Figures:
341
Segments covered:
Type, Adhesive, Application, End-use, and Region
Growth Drivers:

Surge in road accidents and other traumatic incidents
Increasing prevalence of chronic disorders
Rising number of surgical procedures
Growing healthcare sector in emerging economies

Pitfalls & Challenges:

High cost of raw materials
Stringent regulatory scenario
To understand market opportunities &nbsp
Download Free Sample

COVID-19 Impact
The COVID-19 pandemic had adverse effect on the medical adhesive tapes industry. Disruptions in supply chain, reduced healthcare facility visits, and financial strain on healthcare systems characterized the challenges faced. Manufacturers encountered difficulties in procuring raw materials, and postponement of medical procedures resulted in a decline in surgical tapes demand. However, the market remained essential for critical applications such as wound care and gradually recovered as healthcare systems adapted to the pandemic challenges.

Medical Adhesive Tapes Market Trends
Surgical procedures have witnessed global growth over recent years, driven by advances in medical technology, an aging population base, and enhanced access to healthcare services. For instance, nearly 310 million major surgeries are conducted globally each year, with approximately 40 to 50 million taking place in the U.S. and 20 million in Europe. Therefore, in the realm of surgical settings, medical adhesive tapes play an indispensable role, facilitating diverse applications that encompassed securing IV lines and catheters, estimated to reach USD 54.7 billion by 2032, wound closure, the fixation of surgical dressings, and supporting post-operative recovery.

The robust growth of healthcare sectors in emerging economies, fuelled by enhanced infrastructure, heightened investments, and increasing incomes, has significantly expanded access to healthcare services and enlarged the patient population.

Moreover, the growing number of vehicles on the road, shifting traffic patterns, and factors such as distracted driving have contributed to a rise in road accidents. For instance, as per CDC's report each year, approximately 1.35 million individuals worldwide lose their lives in traffic accidents indicating the need for products such as medical adhesive tapes that are used in management of injuries incurred during road accidents.

Medical Adhesive Tapes Market Analysis
To understand key market trends &nbsp
Download Free Sample

The medical adhesive tapes industry by type is categorized into acrylic, silicone, and rubber. The acrylic segment garnered USD 3.1 billion revenue size in the year 2022. The dominance of the segment can be attributed to their exceptional adhesive properties, durability, versatility, hypoallergenic qualities, regulatory compliance, and continuous innovation.

Their long-lasting adhesion withstands moisture and environmental factors, reducing the need for frequent changes and enhancing patient care. Additionally, their adaptability across various medical applications, including surgery and wound care, contributes to their market dominance.

Moreover, their hypoallergenic nature makes them suitable for sensitive skin, prioritizing patient comfort and safety.

Furthermore, ongoing research and development efforts continue to improve acrylic adhesive formulations, expanding their potential applications and sustaining their market prominence.

To understand key market trends &nbsp
Download Free Sample

Based on adhesive, the market is segmented into double coated and single coated. The double coated segment dominated the medical adhesive tapes industry and accounted for over 56% market share in the year 2022. High segment share is attributable due to its versatile and reliable adhesive properties.

These tapes, with adhesive on both sides, provide secure fixation and long-lasting adhesion across various medical applications.

Additionally, their compliance with stringent regulatory standards assures their safety and effectiveness in healthcare settings, fostering increased adoption.

Thus, the double-coated segment's ability to offer versatile, strong, and compliant adhesive solutions will propel its growth and solidify its crucial role in modern healthcare.

Based on application, the medical adhesive tapes market is segmented into surgery, wound dressing, device fixation and others. The surgery segment dominated the medical and accounted for over 39% market share in the year 2022 and is anticipated to witness highest growth during the forecast period.

High segment growth is primarily fuelled by the escalating number of surgical procedures globally. For instance, according to data from the Aesthetics Society, there were approximately 140,000 fat reduction surgical procedures conducted in 2020.

Therefore, the surge in surgical procedures boost the demand for medical adhesive tapes. The tapes are widely used for wound closure, incision sealing, and tissue support during surgeries due to their gentle, atraumatic adhesive properties and versatility across various surgical settings.

Therefore, as surgical techniques continue to advance, the demand for high-quality medical adhesive tapes is expected to rise, driving market growth.

The medical adhesive tapes market by end-use is categorized into hospitals, specialty clinics, ambulatory surgical centers, and others. The hospitals segment garnered USD 3.1 billion revenue size in the year 2022.

Hospitals encounters a high volume of patients, leading to a continuous need for medical adhesive tapes in wound care, surgery, and various medical applications. These tapes are versatile, cost-effective, and support infection control efforts, aligning with hospitals' goals to provide a sterile and safe environment.

Their ease of application and patient comfort further enhances their appeal. Moreover, the steady demand from well-established hospital supply chains and the expansion of healthcare infrastructure contribute to the segment's dominance.

Therefore, as healthcare facilities continue to grow, the demand for medical adhesive tapes in hospitals is expected to drive market growth consistently.

To understand regional trends &nbspDownload Free Sample

U.S. medical adhesive tapes industry accounted for USD 2.7 billion revenue size in 2022 and is predicted to witness substantial market growth over the analysis timeline.

The U.S. has established its dominant position in the medical adhesive tapes market primarily due to the high volume of surgical procedures conducted annually. For instance, each year, over one million people in the U.S. undergo joint replacement surgeries, comprising approximately 720,000 knee replacements and 330,000 hip replacements.

Furthermore, with a vast network of healthcare facilities and a technologically advanced healthcare infrastructure, the country witnesses a substantial number of surgical interventions, both elective and non-elective. Therefore, medical adhesive tapes play a pivotal role in these surgeries, contributing significantly to their widespread utilization and market dominance.

Therefore, the continuous influx of patients requiring surgical interventions in the U.S. ensures a robust and growing market for medical adhesive tapes in the healthcare sector.

Medical Adhesive Tapes Market Share
The medical adhesive tapes industry is consolidated in nature, with major companies competing to offer superior medical adhesive tapes in this business space. Prominent players such as Smith & Nephew hold a significant share in this market. These companies are diligently directing their efforts towards continuous product innovation to gain substantial market share. For instance, 3M introduced the 3M Spunlace Extended Wear Adhesive Tape on Liner (4576), tailored for long-lasting skin attachment needs, offering an impressive 21-day wear time and marking a significant advancement in device innovation.

Some of the eminent market participants operating in the medical adhesive tapes industry include:
Smith & Nephew
McKesson Corporation
3M
Medline Industries, LP
Paul Hartmann AG
MPM Medical, Inc.
Cardinal Health
Dermarite Industries
Baxter International
Medtronic
Johnson & Johnson
Nichiban
Nitto Denko Corporation
Lohmann GmbH & Co. KG
Medical Adhesive Tapes Industry News:
In March 2022, Cardinal Health introduced an innovative surgical incise drape that incorporated potent Chlorhexidine Gluconate (CHG) antiseptic. This drape harnessed Avery Dennison's patented BeneHold CHG adhesive technology to enhance protection against organisms associated with surgical site infections (SSIs), reducing contamination risks during surgery. This unique drape set the company apart from competitors and positioned it as a leader in infection control solutions.

In December 2020, 3M launched new adhesives made of silicone designed for patients using wearable medical devices. Silicone, being one of the commonly used adhesive types benefitted the company in expanding its product portfolio as well as consumer base.

Medical adhesive tapes market research report includes an in-depth coverage of the industry with estimates & forecast in terms of revenue in USD and volume in Units from 2018 to 2032 for the following segments:


Click here to Buy Section of this Report
By Type
By Adhesive
Single coated
Double coated
By Application
Surgery
Wound dressing
Device fixation
Other applications
By End-use
Hospitals
Specialty clinics
Ambulatory surgical centers
Other end-users
The above information is provided for the following regions and countries:
North America
Europe

Germany
UK
France
Italy
Spain
Rest of Europe

Asia Pacific

China
Japan
India
Australia
South Korea
Rest of Asia Pacific

Latin America

Brazil
Mexico
Argentina
Rest of Latin America

Middle East & Africa

Saudi Arabia
South Africa
UAE
Rest of Middle East & Africa