Cardiac Biomarkers Market Size
Cardiac Biomarkers Market size was valued at USD 9.4 billion in 2022 and is estimated to account for USD 31.2 billion by 2032. Cardiac biomarkers are substances or molecules that are measured in the blood to assess the health and function of the heart.

To understand key trends &nbsp
Download Free Sample

These biomarkers serve as diagnostic tools to detect and evaluate various cardiac conditions, including heart attack, failure, and other such disorders. According to the World Health Organization, cardiovascular diseases (CVDs) are the primary cause of global mortality, responsible for an estimated 18 million deaths each year.

Cardiac Biomarkers Market Report Attributes
Report Attribute
Details
Base Year:
2022
Cardiac Biomarkers Market Size in 2022:
USD 9.4 Billion
Forecast Period:
2023 to 2032
Forecast Period 2023 to 2032 CAGR:
12.8%
2032 Value Projection:
USD 31.2 Billion
Historical Data for:
2018 to 2022
No. of Pages:
118
Tables, Charts & Figures:
223
Segments covered:
Product, Application, End-use, and Region
Growth Drivers:

Increase in prevalence of cardiovascular diseases
Rise in the elderly population is leading to a higher prevalence of heart-related conditions
Elevating clinical research studies that aim to discover novel cardiac biomarkers
Increase in point-of-care testing

Pitfalls & Challenges:

Stringent regulatory framework
Presence and advancement in cardiac imaging technologies
To understand market opportunities &nbsp
Download Free Sample

Increasing prevalence of CVDs is likely to increase the demand for cardiac markers. As the number of individuals affected by CVDs increases, there will be a greater need for diagnostic tools and biomarkers to identify, assess, and manage these conditions. As people become more informed about the risk factors for CVDs, including high blood pressure, high cholesterol, obesity, smoking, and physical inactivity, they are increasingly motivated to monitor their heart health.

COVID-19 Impact
During the initial phase of the pandemic, healthcare resources were redirected towards COVID-19 care, leading to the postponement of non-urgent cardiac testing and elective procedures. This temporarily affected the demand for cardiac marker testing. Nevertheless, COVID-19 posed cardiovascular complications, including myocardial injury which elevated the need for cardiac marker testing in patients with COVID-19 to assess cardiac health and monitor potential damage.

Cardiac Biomarkers Market Trends
The increasing clinical research efforts dedicated to discovering novel cardiac biomarkers represent a pivotal development in the field of cardiology. These efforts have the potential to transform cardiovascular diagnostics and patient care, enhancing early detection, risk assessment, and the personalization of treatment strategies. As research progresses and novel biomarkers are identified, the future of cardiovascular healthcare is likely to benefit from accurate, comprehensive, and patient-specific approaches to cardiac diagnostics and management.

The trend towards personalized medicine has emphasized the need for biomarkers tailored to individual patient profiles. Clinical research seeks to identify markers that can better predict and monitor cardiac risk on a patient-specific basis.

Conditions such as heart failure with preserved ejection fraction and microvascular dysfunction have created new diagnostic challenges. Research efforts are underway to discover biomarkers specific to these conditions.

Cardiac Biomarkers Market Analysis
To understand key market trends &nbsp
Download Free Sample

The market by product is categorized into troponins, creatine kinase-MB (CK-MB), myoglobin, natriuretic peptides, c-reactive protein (CRP), ischemia modified albumin. The troponins segment garnered USD 3 billion revenue size in the year 2022. Troponins are predominantly found in cardiac muscle and their specificity for cardiac injury reduces the risk of false positives, making them highly reliable indicators of heart damage.

Troponins exceptional sensitivity and specificity for cardiac injury make them indispensable in the early detection of myocardial infarction, the monitoring of heart-related disorders, and risk assessment in cardiovascular healthcare.

Advances in diagnostic technology have made it possible to conduct troponin testing at the point of care. This increased accessibility has driven demand, particularly in emergency departments.

Troponins are prominently featured in clinical guidelines for cardiac evaluation, enhancing their use in routine practice.

To understand key market trends &nbsp
Download Free Sample

Based on application, the cardiac biomarkers market is segmented into congestive heart failure, myocardial infarction, acute coronary syndrome, atherosclerosis, and others. The atherosclerosis segment accounted for over 31% market share in the year 2022. High segment progression can be attributed to following factors as mentioned below;

Cardiac markers have become valuable tools in atherosclerosis diagnosis, enabling the assessment of novel therapeutic approaches and monitoring treatment efficacy

The integration of cardiac markers into atherosclerosis diagnosis represents a significant step in addressing atherosclerosis, ultimately improving patient outcomes, and contributing to more effective strategies for cardiovascular disease prevention.

The cardiac biomarkers market by end-use is categorized into hospital laboratory, point of care testing facilities, diagnostic facilities, and others. Hospital laboratory segment garnered USD 4.8 billion revenue size in the year 2022.

Hospital laboratories play a crucial role in modern healthcare by providing in-vitro diagnostic services and supporting clinical decision-making. In addition to diagnosis, they continually monitor patients with heart-related conditions to assess treatment effectiveness and potential complications.

The hospital collaborates closely with clinical teams to seamlessly integrate cardiac marker testing into patient care plans. Additionally, there is a need to manage costs and billing processes effectively, especially given the growing volume of cardiac marker testing.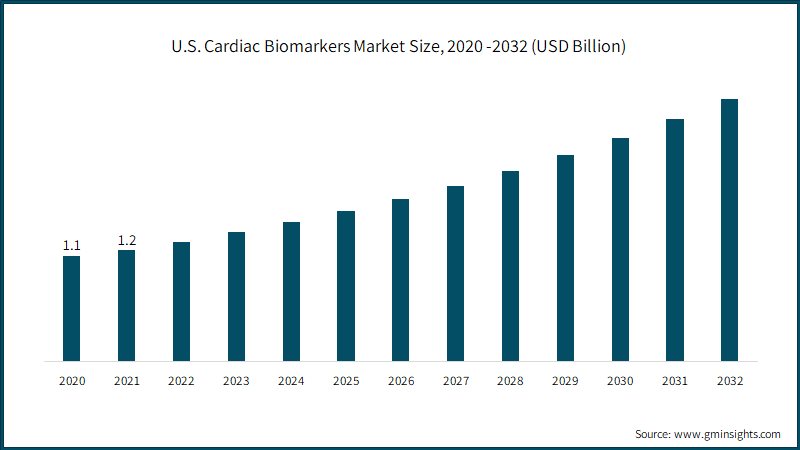 To understand regional trends &nbspDownload Free Sample

U.S. cardiac biomarkers market accounted for USD 1.4 billion revenue size in 2022.

As per CDC data, approximately 695,000 individuals suffered from heart disease in the U.S. in 2021, accounting for 1 out of every 5 deaths.

Moreover, as healthcare systems adjust to meet the growing demand, cardiac markers continue to play an essential role in cardiovascular medicine, guaranteeing that patients receive the utmost standard of care for heart-related conditions. This is crucial in addressing the elevated mortality associated with cardiovascular diseases.

Cardiac Biomarkers Market Share
The cardiac biomarkers industry is consolidated, with major players such as Abbott, Roche dominating the market. These companies are focused on continuous product innovation to secure a significant market share. For instance, in 2021, Roche has unveiled a set of five new proposed applications for two pivotal cardiac biomarkers, utilizing the Elecsys technology: the N-terminal pro-brain natriuretic peptide test and high-sensitive cardiac troponin T. These well-established biomarkers have demonstrated their efficacy in aiding the management of cardiovascular diseases and can assist healthcare professionals in the diagnosis of heart attacks and the improved management of heart failure. The introduction of such products can certainly be advantageous for the company
.
Some of the eminent market participants operating in the cardiac biomarkers industry include:
Abbott Diagnostics
Roche Diagnostics
Siemens Healthineers
Beckman Coulter
Bio-Rad Laboratories
Ortho Clinical Diagnostics
Randox Laboratories
Quidel Corporation
Radiometer
Tosoh Corporation
Meso Scale Diagnostics (MSD)
Thermo Fisher Scientific
Luminex Corporation
Trinity Biotech
Biomerieux
Cardiac Biomarkers Industry News:
In June 2022, Tosoh Bioscience introduced the ST AIA-PACK BNP assay, designed for use on Tosoh System Analyzers. This assay provides a non-invasive approach for precise measurement of B-type Natriuretic Peptide (BNP) levels in a blood sample, enabling the evaluation of patients for heart failure. The compact AIA-360 system is particularly well-suited for emergency rooms and can be utilized alongside other cardiac markers, including troponin I, CK-MB, and myoglobin. This strategy benefited the company by extending its product portfolio.

In July 2021, the distribution of BNP assay was taken over by Beckman Coulter. It is a marker for congestive heart failure, currently known as TRIAGE BNP from Quidel Corporation. Beckman Coulter sells it under the brand name Access BNP for their immunoassay analyzers. This strategic move aimed at generating favorable outcomes for the company.

Cardiac biomarkers market research report includes an in-depth coverage of the industry with estimates & forecast in terms of revenue in USD from 2018 to 2032 for the following segments:


Click here to Buy Section of this Report
By Product, 2018-2032 (USD Million)
Troponins
Creatine kinase-MB (CK-MB)
Myoglobin
Natriuretic peptides
C-reactive protein (CRP)
Ischemia modified albumin
Other products
By Application, 2018-2032 (USD Million)
Congestive heart failure
Myocardial infarction
Acute coronary syndrome
Atherosclerosis
Other applications
By End-use, 2018-2032 (USD Million)
Hospital laboratory
Point of care testing facilities
Diagnostic facilities
Other end-users
The above information is provided for the following regions and countries:
North America
Europe

Germany
UK
France
Italy
Spain
Rest of Europe

Asia Pacific

China
Japan
India
Australia
South Korea
Rest of Asia Pacific

Latin America

Brazil
Mexico
Argentina
Rest of Latin America

Middle East & Africa

Saudi Arabia
South Africa
UAE
Rest of Middle East & Africa