Home > Pressrelease > Proanthocyanidins Market size to exceed $12bn by 2026
Proanthocyanidins Market size to exceed $12bn by 2026
Published Date: November 25, 2019
Proanthocyanidins Market size is set to surpass USD 12 billion by 2026; according to a new research report by Global Market Insights Inc.

Proanthocyanidins are natural flavonoids extracted from various plant sources such as apples, grape seed, pine bark, black chokeberry, and bilberry. These products also referred to as procyanidins or condensed tannins, exhibit various antioxidant and free-radical scavenging properties depending on the dosage. These products are the most abundant phenol found in nature after lignin and are found in bark, berries, seeds, fruits & flowers of plants. Growing consumer awareness of the therapeutic features of dietary supplements and the growing demand for natural & organic food products should boost the condensed tannins industry growth.

Antimicrobial properties to stimulate cranberry proanthocyanidins market growth
The global cranberry proanthocyanidins market share witnessed a consumption of over 29 kilo tons in 2018. Regular consumption of these products prevents Urinary Tract Infection(UTI) by blocking bacteria from adhering to bladder walls, which makes them ideal for use in dietary supplements. These products destroy biofilms of UTI-causing bacteria which make them resistant to conventional antibiotics and human immune response. The World Health Organization (WHO) states that 50% of the women will suffer from UTIs globally at some point in their lives, which indicates ample growth opportunities for the procyanidins market trends.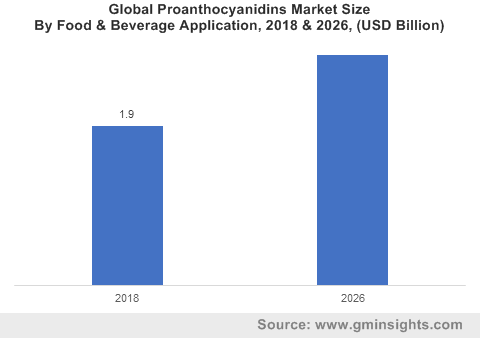 Get more details on this report - Request Free Sample PDF

Cranberry procyanidins do not contain sugar, vitamin K or oxalates, making them ideal for preventing UTIs in a wide range of patients with compromised renal function, individuals taking medications, and diabetics. These products are safe, antibiotic-free, natural, and medical-grade, which should boost the condensed tannins industry growth from the pharmaceutical sector. The global pharmaceuticals market size surpassed USD 1.2 trillion in 2018 owing to growing consumer health awareness, which is driving the procyanidins market growth.

Browse key industry insights spread across 150 pages with 224 market data tables and 23 figures & charts from the report, "Proanthocyanidins Market Size By Source (Grape Seed Extract, Cranberry Extract, Pine Bark Extract), By Type (Type A, Type B), By Application (Pharmaceuticals, Personal Care & Cosmetics, Dietary Supplements, Food & Beverage), Application Potential, Price Trends, Competitive Market Share & Forecast, 2019 – 2026" in detail along with the table of contents:
https://www.gminsights.com/industry-analysis/proanthocyanidins-market

Potent antioxidant activity to drive the demand for A-type proanthocyanidins
A-type procyanidins offer potential health benefits and potent bioactivities, which stimulated their adoption in the nutrition sector. They are extensively used in healthy beverages pertaining to their ability to prevent fatigue, convenient consumption, ability to scavenge free radicals, and high antioxidant activity. The global functional beverage market size surpassed USD 85 billion in 2018 due to the growing demand for healthy soft drink alternatives, which is driving the A-type procyanidins market demand.

Regular consumption of A-type proanthocyanidins has the potential to prevent chronic diseases, which has increased their adoption by the food industry. These products have easy availability for use as food additives as large volumes of raw materials, such as grape seeds & peanut skins, are generated as waste from the food processing & agricultural sectors. Growing consumer awareness of the health benefits of antioxidants has stimulated the requirement for fortified food & beverages, which will create opportunities for the A-type procyanidins market growth.

The growing demand for antiaging creams to stimulate personal care & cosmetics applications
Proanthocyanidins are highly effective in eliminating free radicals, which imparts anti-aging benefits to the skin. The global procyanidins market size from personal care & cosmetics applications should register over 6.5% gains by 2025. These products reduce skin damage from ultraviolet radiation, reduce brown spots, skin blackening, inflammation, and skin allergies. They play a vital role in speckle whitening & removal, restoring skin elasticity, and prevent wrinkles, making them an ideal functional cosmetic ingredient, thus creating opportunities for procyanidins market outlook.

Proanthocyanidins find extensive usage in various cosmetic products such as sunscreen and hand creams. These products promote wound healing and reduce inflammation, which can protect and cure skin conditions. Their antimicrobial properties and the ability to easily pass through the skin barrier have boosted their usage in cosmetic products. Global personal care & beauty market size surpassed USD 500 billion in 2019, pertaining to the growing online beauty spending represents substantial growth opportunities for the procyanidins market size.

Growth in functional food & dietary supplement demand in Germany to stimulate proanthocyanidins demand
Germany proanthocyanidins market size should surpass USD 465 million by 2025. Condensed tannins find extensive usage in the food industry pertaining to their beneficial impact on human health. They are used to protect and enrich various food products such as potato chips, meat, cookies, dairy products, fresh vegetables, and fish. Germany food & beverage market size surpassed USD 1.5 billion in 2019 owing to economic growth and the rising preference for healthy lifestyles, which should accelerate Germany proanthocyanidins industry demand.

These products help to prevent the oxidation of LDL cholesterol, promote blood vessel dilation, and lower blood pressure, which improve cardiovascular health and should create opportunities for the procyanidin's market growth. They also have the potential to reduce diabetic complications such as nephropathy and diabetic retinopathy.

Proanthocyanidins improve blood circulation, reduce the risk of strokes caused by blood clots, and improve immunity, which enhance their suitability as dietary supplements. Germany dietary supplement market size exceeded USD 1 billion in 2018 pertaining to the growing preference for preventive healthcare, driving the domestic procyanidins market share.

Various proanthocyanidins manufacturers are indulging in new product developments to expand their product portfolio and attract more customers. The primary participants in the proanthocyanidins industry are Advanced Functional Nutrition, Xian Yuensun Biological Technology, Bio-Botanica, Nexira, NOW Foods, Swanson, Activ'Inside, Grap'Sud, Naturex, and Polyphenolics.

Explore More on Related Topics: