Three Phase Inverter Market Size
Three Phase Inverter Market size was valued at over USD 4.6 billion in 2022 and is anticipated to grow at a CAGR of over 7.2% between 2023 and 2032. The rising awareness of climate change and the need for sustainable energy sources have significantly boosted the demand for renewable energy systems.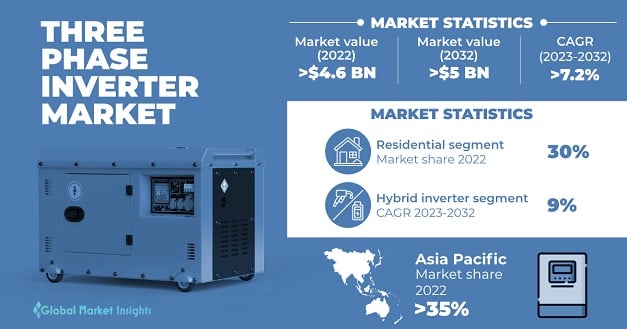 To understand key trends &nbsp
Download Free Sample

Solar & wind power have witnessed widespread adoption. According to the World Economic Forum, 40% of the UK's electricity supply in 2022 was generated from solar, wind, biomass, and hydropower sources. Three-phase inverters are integral components of these systems, converting the variable DC power generated by solar panels or wind turbines into stable AC power for consumption or grid integration. Moreover, the increasing adoption of solar energy systems, both in the residential and commercial sectors, is significantly driving the demand for three-phase inverters.

For instance, in recent years, the U.S. has witnessed significant growth in solar PV installations. According to the Solar Energy Industry Association, the U.S. installed 20.2 gigawatts of solar PV capacity in 2022 to reach 142.3 gigawatts of the total installed capacity.

A Three Phase Inverter is an electronic device that converts direct current (DC) into alternating current (AC) with three separate waveforms, typically used in industrial and commercial applications. It ensures stable and efficient power supply by balancing the load across three phases, essential for various machinery, motors, and power systems requiring three-phase electricity.

Three Phase Inverter Market Report Attributes
Report Attribute
Details
Base Year:
2022
Three Phase Inverter Market Size in 2022:
USD 2.5 Billion
Forecast Period:
2022 to 2032
Forecast Period 2022 to 2032 CAGR:
7.3%
2032 Value Projection:
USD 5 Billion
Historical Data for:
2018 – 2022
No. of Pages:
200
Tables, Charts & Figures:
249
Segments covered:
Type, Power rating, End-use Industry, and Region
Growth Drivers:

Growing demand for renewable energy
Rising smart grid installations and modernization initiatives
Government initiatives & incentives for renewable energy adoption
Increasing focus on rural electrification

Pitfalls & Challenges:

High initial cost
Increasing integration challenges
To understand market opportunities &nbsp
Download Free Sample

One of the primary challenges hindering the adoption of three-phase inverters, especially in residential & small-scale commercial applications, is the high initial installation cost. These inverters can be relatively expensive, which can deter some consumers, particularly in regions with limited financial resources.

COVID-19 Impact
The COVID-19 pandemic had significant impacts on the three phase inverter market. The pandemic disrupted global supply chains due to factory closures, transportation restrictions, and raw material shortages. This led to delays in the production & delivery of three-phase inverters, affecting both manufacturers and customers. The economic uncertainty caused by the pandemic led to reduced investments in renewable energy projects. Many planned installations, especially in the commercial and industrial sectors, were delayed or canceled. This decline in demand directly impacted the sale of three-phase inverters, particularly for large-scale projects.

Three Phase Inverter Market Trends
The integration of smart features, such as monitoring capabilities, remote control, and data analytics, is becoming increasingly prevalent. Smart inverters enable the real-time monitoring of energy production & consumption, allowing users to optimize their systems for efficiency and savings. Data analytics and machine learning algorithms are applied to the collected data, allowing users to optimize their energy usage patterns and reduce costs. Remote diagnostics and firmware updates also enhance the overall user experience.

Modularity is a key trend, allowing users to customize their energy systems based on specific requirements. These systems provide flexibility to users, allowing them to expand their solar or wind power installations based on their energy needs and available space. Scalable solutions are particularly valuable for businesses and utilities as they allow gradual expansion without requiring a complete overhaul of the existing system.

Three Phase Inverter Market Analysis
To understand key market trends &nbsp
Download Free Sample

Based on end-use industry, the market is segmented into residential, commercial & industrial, renewable energy, and others. The residential segment held a business share of around 30% in 2022 and is expected to grow at a lucrative pace by 2032. The residential segment is expected to grow due to several reasons:
Many homeowners are adopting solar energy solutions to reduce electricity bills and contribute to environmental sustainability. Solar rooftop installations often require three-phase inverters to convert the DC power generated by solar panels into usable AC power for residential consumption. The growing trend of solar adoption directly fuels the demand for three-phase inverters in residential settings.

Modern homes are equipped with a wide range of energy-intensive devices including air conditioning systems, electric heating, home automation systems, and electric vehicles. Three-phase power is efficient in managing these high-energy demand applications. As more households incorporate these technologies, the need for three-phase inverters will increase.

To understand key market trends &nbsp
Download Free Sample

Based on type, the three phase inverter market is segmented into voltage source inverter (VSI), current source inverter (CSI), hybrid inverter, and others. The hybrid inverter segment held a dominant market share in 2022 and is anticipated to register a CAGR of 9% by 2032.

Hybrid inverters have gained popularity due to their ability to manage multiple energy sources. These inverters seamlessly switch between solar, grid, and energy storage, maximizing energy utilization. They are particularly valuable in regions with fluctuating grid reliability, enabling users to rely on renewable energy and stored power during grid outages or peak demand periods.

Hybrid inverters empower users to become more energy-independent. By harnessing energy from renewable sources such as solar panels and storing the excess energy in batteries, households & businesses can significantly reduce their dependence on the grid.

During grid outages, hybrid inverters with energy storage systems provide backup power, thereby ensuring a stable electricity supply. This feature is crucial for use in critical facilities, such as hospitals, data centers, and homes, where uninterrupted power is essential. The ability to seamlessly transition between grid-tied and off-grid modes ensures uninterrupted power supply even during emergencies.

To understand regional trends &nbspDownload Free Sample

The Asia Pacific three phase inverter market held over 35% business share in 2022. The region is experiencing rapid industrialization & urbanization, leading to increased electricity demand. Industries, commercial establishments, and urban infrastructure require a stable & reliable three-phase power supply. Three-phase inverters are essential in meeting the electricity needs of these sectors, thereby driving market progress. The Asia Pacific region is witnessing significant investments in renewable energy projects, especially in solar & wind power. Three-phase inverters are vital components of these projects, converting the DC power generated by solar panels or wind turbines into usable AC power. Rising investments in renewable energy infrastructure will drive the demand for three-phase inverters over the projected period.

Three Phase Inverter Market Share
Players operating in the three phase inverter industry focus on implementing different growth strategies to strengthen their offerings and expand their market reach. The strategies involve new product development & launches, partnerships & collaborations, mergers & acquisitions, customer retention, and others. These players are also heavily investing in research & development to introduce innovative and technologically advanced GPS trackers. Some of the major players operating in the three phase inverter industry are mentioned below:
SMA Solar Technology AG
Sungrow Power Supply Co Ltd
Delta Electronics, Inc.
KACO new energy GmbH
ABB Ltd
Schneider Electric
FIMER
Three Phase Inverter Industry News
In January 2022, SMA Solar Technology AG launched Sunny Tripower X, a three-phase inverter series with power output ratings of up to 135 kW for use in residential & commercial PV projects. Four new models with power ratings of 12kW, 15kW, 20kW, and 25kW are also part of this line. The inverters enable the over-dimensioning of PV systems by up to 150% along with offering grid-compliant power control of the entire system.

The three phase inverter market research report includes in-depth coverage of the industry with estimates & forecast in terms of revenue (USD Billion) from 2018 to 2032, for the following segments:


Click here to Buy Section of this Report
By Type, 2018 - 2032
Voltage Source Inverter (VSI)
Current Source Inverter (CSI)
Hybrid inverter
Others
By Power Rating, 2018 – 2032
Low power (Up to 10 kW)
Medium power (10 kW to 500 kW)
High power (Above 500 kW)
By End-use Industry, 2018 – 2032
Residential
Commercial & industrial
Renewable energy
Others
The above information is provided for the following regions and countries:
North America
Europe

Germany
UK
France
Italy
Spain
Rest of Europe

Asia Pacific

China
Japan
India
South Korea
ANZ
Rest of Asia Pacific

Latin America

Brazil
Mexico
Rest of Latin America

MEA

UAE
Saudi Arabia
South Africa
Rest of MEA