Real-time Operating System Industry Analysis
Real-time Operating System Market size was valued at USD 6.5 billion in 2022 and is projected to grow at a CAGR of over 7.5% between 2023 and 2032. The industry is gaining momentum owing to the rising demand for automotive electronics. The automotive industry is becoming increasingly reliant on electronic systems for safety, infotainment, and autonomous driving. RTOS plays a critical role in managing real-time tasks in vehicles, ensuring responsive control of safety-critical functions, and facilitating the integration of Advanced Driver Assistance Systems (ADAS).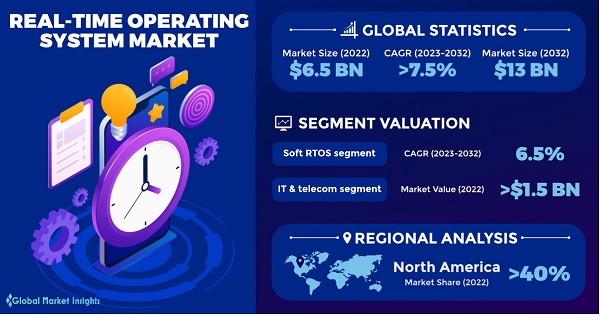 To get more details on this report: Request Free Sample PDF

Based on a June 2023 analysis by TechInsights, BlackBerry's QNX real-time operating system (RTOS) software has been integrated into more than 235 million vehicles globally. This demonstrates a year-on-year growth of 20 million, underscoring the transition away from mobile phone software towards automotive applications. A commendable rise in the popularity of electric vehicles and self-driving cars has further fueled the demand for RTOS, creating a favorable growth outlook for the real-time operating system industry.

Real-time Operating System Market Report Coverage
Report Coverage
Details
Base Year:
2022
Market Size in 2022:
USD 6.5 Billion
Forecast Period:
2023 to 2032
Forecast Period 2023 to 2032 CAGR:
7.5%
2032 Value Projection:
USD 13 Billion
Historical Data for:
2018 to 2022
No. of Pages:
239
Tables, Charts & Figures:
219
Segments covered:
Type, Application, and Region
Growth Drivers:

Increasing investments in Asia Pacific for smart cities
Rise in automotive advancements
Growing demand for 5G connectivity
Growing demand from transportation and logistics sector

Pitfalls & Challenges:

Highly complex development and maintenance of RTOS solution
Security concern
To get more details on this report: Request Free Sample PDF

Building and maintaining real-time operating systems can be complex and costly. Developing and optimizing an RTOS for specific hardware platforms and applications requires significant engineering resources and expertise. Besides, ongoing maintenance, updates, and support for RTOS implementations can be expensive. Small and medium-sized companies, in particular, may find it challenging to invest in the development and maintenance of custom RTOS solutions, limiting their adoption and thus impacting the overall market dynamics. However, the noteworthy growth of IoT devices across various industries, such as healthcare, automotive, industrial automation, and smart cities created a significant demand for RTOS. According to Fintech News,

in 2021, IoT services were used by 64% of households in the U.S., and 43% expressed their intention to sustain this usage even beyond the pandemic. These trends are expected to persist, further advancing the goal of enhancing healthcare accessibility, even when the pandemic is no longer a primary concern. RTOS is crucial for IoT applications as it ensures timely and predictable responses to real-time events, making it essential for managing sensor data, communication, and control systems in IoT devices.

COVID-19 Impact
The COVID-19 pandemic had a mixed impact on the real-time operating system market. While it initially disrupted supply chains and delayed projects, it also accelerated the adoption of RTOS in critical applications. With the increased demand for medical devices, remote monitoring, and automation in healthcare, manufacturing, and logistics, RTOS gained importance for ensuring real-time control and reliability. As industries adapted to remote work and digital transformation, the need for responsive systems grew, driving innovation in the RTOS sector. In the long term, the pandemic highlighted the significance of RTOS in ensuring seamless and reliable real-time operations across various sectors.

Real-time Operating System Market Trends
With the increasing connectivity of critical systems, particularly in sectors like healthcare, automotive, and industrial automation, there is a heightened focus on security. RTOS providers are working on enhancing the security features of their systems to protect against cyber threats and ensure the integrity of real-time operations. This trend involves the integration of robust security mechanisms, secure boot processes, and encryption techniques into RTOS platforms to safeguard sensitive data and control systems from cyberattacks. During the initial half of 2021, Kaspersky documented a staggering 1.5 billion cyberattacks on IoT systems, surpassing the total of 639 million recorded for the entire 2020. This, in line with the rapid integration of AI and ML capabilities into real-time operating systems, will strengthen the RTOS market outlook through 2032.

Real-time Operating System Type Segmentation
To get more details on this report: Request Free Sample PDF

Based on type, the real-time operating system market is divided into soft RTOS, hard RTOS, and firm RTOS. The soft RTOS segment is expected to grow at a CAGR of around 6.5% during the forecast period. Soft real-time operating systems are gaining traction due to their flexibility and adaptability, particularly in applications where hard real-time constraints are not critical. Examples like automotive infotainment systems and smart home devices showcase this trend. Soft RTOS allows for more efficient resource utilization, enabling seamless multitasking and better handling of dynamic workloads. Moreover, as IoT devices continue to proliferate, soft RTOS solutions are better suited to manage varying degrees of real-time requirements, making them a preferred choice for developers looking to balance responsiveness with system efficiency and versatility.

Real-time Operating System Application Segmentation
To get more details on this report: Request Free Sample PDF

Based on application, the real-time operating system market is categorized into automotive, consumer electronics, manufacturing, healthcare, military & defence, IT & telecom, and others. The IT & telecom segment was valued at over USD 1.5 billion in 2022. RTOS is experiencing high demand in IT and telecom applications due to their critical need for real-time responsiveness. In telecom, RTOS is crucial for managing network equipment, ensuring low latency and high reliability in data transmission. For instance, the use of RTOS is evident in the operation of cellular base stations. In IT, RTOS plays a role in managing tasks like data packet processing, security, and network management, supporting the robust performance of routers, switches, and other networking devices. The ever-increasing demand for fast and uninterrupted data services amplifies the importance of RTOS in these sectors.

Real-time Operating System Regional Analysis
North America held a dominant market share of over 40% in 2022. North America real-time operating system market is experiencing robust growth due to several factors. One key driver is the expanding adoption of real-time operating systems in critical sectors such as automotive, aerospace, and healthcare. For instance, the automotive industry's increasing emphasis on advanced driver-assistance systems and electric vehicles has led to a surge in the use of RTOS for managing real-time data processing and control. Additionally, the ongoing developments in autonomous vehicles further fuel this demand. In aerospace, RTOS is integral to avionics systems, ensuring safety and reliability. Furthermore, the growing need for medical devices and telemedicine solutions amid the pandemic has driven the healthcare sector to leverage RTOS for responsive and secure healthcare applications. These trends collectively contribute to the thriving RTOS market in North America.

Real-time Operating System Industry Leaders
Major players operating in the real-time operating system market are FreeRTOS, Eclipse Foundation (eCos), Green Hills Software, Wittenstein High Integrity Systems, STMicroelectronics N.V, Quadros Systems, OnTime Networks, NXP Semiconductors, Arm (Mbed OS), Vector Software, Aicas GmbH, IntervalZero, Lynx Software Technologies, Micrium, RTI (Real-Time Innovations), Wind River Systems, Microware, TenAsys Corporation, IAR Systems, Express Logic, SEGGER Microcontroller, Mentor Graphics, Keil, ENEA AB, QNX Software Systems.

Real-time Operating System Industry News
In April 2022, Lynx announced a strategic partnership with Google Cloud, resulting in the integration of Google Anthos Bare Metal into the LYNX MOSA.ic platform. This collaboration empowers users to leverage containerized software services, facilitating the development of secure, multi-cloud, and AI-capable solutions.

The real-time operating system market research report includes in-depth coverage of the industry with estimates & forecast in terms of revenue (USD Million) from 2018 to 2032, for the following segments:


Click here to Buy Section of this Report
By Type
Soft RTOS
Hard RTOS
Firm RTOS
By Application
Automotive
Consumer electronics
Manufacturing
Healthcare
Military & defense
IT & telecom
Others
The above information is provided for the following regions and countries:
North America
Europe

UK
Germany
France
Italy
Spain
Nordics

Asia Pacific

China
India
Japan
Australia
Singapore
Indonesia

Latin America
MEA

UAE
South Africa
Saudi Arabia