Patient Scales Industry Analysis
Patient Scales Market size was valued at around USD 640 million in 2022 and is estimated to reach over USD 1.1 billion by 2032. Precision and accuracy are proving to be crucial factors in patient scales, especially in healthcare facilities.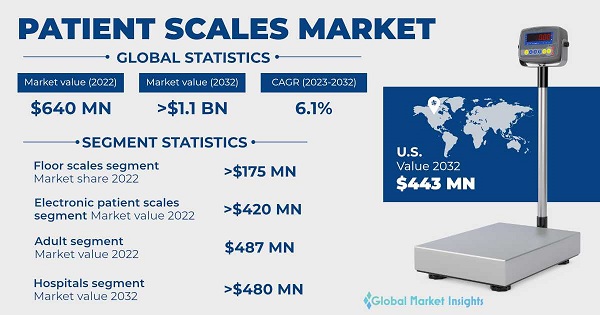 To get more details on this report: Request Free Sample PDF

Manufacturers are investing in advanced sensor technologies and calibration methods to ensure highly accurate measurements and minimize errors. Companies are incorporating ergonomic features, non-slip surfaces, and easy-to-read displays to enhance patient experience during the weighing process. Integration of patient scales with healthcare information technology (IT) systems including EHRs is allowing seamless data exchange and reducing the chances of manual errors. This integration is facilitating the better patient monitoring, data analysis, and decision-making for healthcare professionals.

Patient Scales Market Report Coverage
Report Coverage
Details
Base Year:
2022
Market Size in 2022:
USD 640.7 Million
Forecast Period:
2023 to 2032
Forecast Period 2023 to 2032 CAGR:
6.1%
2032 Value Projection:
USD 1.1 billion
Historical Data for:
2018 to 2022
No. of Pages:
180
Tables, Charts & Figures:
466
Segments covered:
Product, Type, Patient, End-use and Region
Growth Drivers:

Increasing prevalence of chronic diseases
Growing demand for accurate patient monitoring
Technological advancements
Surging focus on weight management

Pitfalls & Challenges:

Availability of alternative weight measurement methods
High cost of patient scales
To get more details on this report: Request Free Sample PDF

Portable and wireless patient scales are gaining popularity in various healthcare settings, including hospitals, clinics, and home healthcare. These scales are offering convenience, flexibility, and mobility, enabling healthcare professionals to measure & monitor patient weight accurately. Patient scale manufacturers are also leveraging digitization and data analytics to provide actionable insights and improve patient outcomes. Integration with analytics platforms will allows healthcare professionals to analyse weight trends, identify patterns, and make informed decisions regarding patient care.

However, high cost associated with patient scales may obstruct the segment revenue. The price range for patient scales can vary depending on various factors such as the brand, quality, style, and additional features. For instance, bedside weighing scales typically range between USD 50 to USD 200. Moreover, on average, chair weighing scales range between USD 100 to USD 500 or more. Similarly, some specialty patient scale equipment, such as custom-made scales or those with advanced features, may cost more. These costs highlight that patient scale devices can be more expensive compared to regular scales.

COVID-19 Impact
The impact of COVID-19 on the patient scales market had been positive. The need for patient scales had risen significantly during the COVID-19 pandemic. These scales played a crucial role in monitoring the health of patients, especially those with respiratory conditions or individuals at higher risk of complications from COVID-19. Infection prevention and control had become critical priorities in healthcare settings during the pandemic. Patient weighing scales that are designed with infection control features, such as touchless operation or antimicrobial surfaces, had gained more prominence. Hospitals and clinics had been adopting these advanced scales to minimize the risk of cross-contamination and enhance patient safety.

Patient Scales Market Trends
Technological advancements in patient scales intended to improve the comfort, safety, and overall well-being of individuals suffering with chronic diseases. Modern patient scales are providing additional insights into body composition. These scales are employing unique techniques comprising bioelectrical impedance analysis (BIA) to estimate body fat percentage, muscle mass, water content, bone density, etc. This data is highly useful for assessing variations in body composition over time. Smart scales can sync data with smartphones, tablets, or other devices through Bluetooth or Wi-Fi.

Some smart scales can even integrate with fitness equipment and health apps, providing a comprehensive view of an individual's health and progress. Novel patient scales are transmitting data to electronic medical records (EMRs) or cloud-based platforms remotely. This facilitates remote patient monitoring and reducing the need for frequent clinic visits. Moreover, patient scales have become more user-friendly, with features such as large, easy-to-use interfaces, and intuitive controls.

Patient Scales Product Segmentation
To get more details on this report: Request Free Sample PDF

Based on product, the patient scales market is segmented as wheelchair scales, bed scales, infant scales, specialized scales, floor scales, body fat scales, physician scales, chair scales, and others. The floor scales segment was valued at over USD 175 million. Floor patient weighing scales provide an easy way to track weight changes and ensure ongoing care. Modern floor patient weighing scales are equipped with advanced features such as digital displays, wireless connectivity, and integration with electronic medical records. These features are enhancing convenience, accuracy, and data management.

Monitoring weight is observed as crucial in managing various health conditions, such as heart disease, diabetes, and kidney disorders. Floor patient weighing scales provide an efficient way to track changes in weight and evaluate treatment effectiveness. The global obesity epidemic has also led to an increased focus on weight management. As per the CDC, around 40% people in the U.S. aged 20 and above are obese. This increased prevalence has stimulated a higher demand for floor patient weighing scales that offer a practical solution for regular weight measurements.

Patient Scales Type Segmentation
To get more details on this report: Request Free Sample PDF

Based on type, the patient scales market is segmented as mechanical patient scales and electronic patient scales. The electronic patient scales segment was valued at over USD 420 million due to the technological advancements, growing emphasis on patient monitoring, and advantages associated with the electronic patient scales among others. Electronic patient weighing scales have become more accurate over time. Advanced sensor technology and calibration techniques have been employed to minimize errors and provide more precise weight measurements. Traditional analog displays have been replaced by digital displays that offer clearer and easier-to-read measurements. Digital displays often include additional features such as backlighting and large fonts for enhanced visibility.

Modern electronic patient scales can handle a wider range of weight capacities. Scales with higher weight limits have been developed to accommodate a broader spectrum of patients, including bariatric individuals. Some electronic scales now incorporate additional features to assess body composition. These scales may provide measurements for body fat percentage, muscle mass, bone mass, and even hydration levels. This data can be useful for monitoring overall health and fitness.

Patient Scales Patient Segmentation
Based on patient, the patient scales market is segmented as adult and pediatric. The adult segment was valued at around USD 487 million in 2022 attributed to several factors such as increased awareness for overall health & fitness, advantages in chronic disease management, personalized health tracking among others. Adult patients are becoming more conscious of their overall health and fitness. Adults with chronic conditions such as heart disease, diabetes, or obesity are employing portable patient monitoring devices to assess their weight as part of their treatment plan.

Regular weight monitoring is assisting healthcare providers evaluate the effectiveness of interventions, adjust medications or treatment plans, and identify potential health risks. With the increasing prevalence of obesity, many adults are participating in weight loss programs or engaging in self-directed weight management efforts. For instance, as per the World Health Organization data 2022, over 650 million adults are obese worldwide. Many adults are also focusing on personalized health tracking.

Patient Scales End-use Segmentation
Based on end-use, the patient scales market is segmented as hospitals, clinics, long-term care facilities, and others. The hospitals segment is projected to reach more than USD 480 million by 2032. The soaring use of novel patient scales tools in hospital settings delivering rapid and reliable outcomes is estimated to surge the patient preference for these healthcare facilities. The availability of a broad spectrum of patient scale equipment for performing these procedures with proven accuracy is set to drive product preference in hospitals. The growing prevalence of chronic diseases and rising health awareness along with the accessibility to board-certified healthcare professionals are some other variables that are augmenting the segment development positively.

Patient Scales Regional Analysis
North America patient scales market is anticipated to expand at a considerable pace to reach around USD 443 million by 2032 on account of the aging population, healthcare expenditure, adoption of home healthcare services, and favourable regulatory environment among others. The increasing elderly population in the U.S. along with the rising prevalence of chronic diseases has created a demand for healthcare services, including patient monitoring devices comprising weighing scales. The U.S. has a relatively high healthcare expenditure per capita, and investment in healthcare infrastructure. As per the Centres for Medicare & Medicaid Services, in 2021, healthcare spending accounted for around USD 4.3 trillion in the U.S. The growing trend of home healthcare and remote patient monitoring in the U.S. has also created opportunities for patient weighing scales designed for home use.

Patient Scales Industry Leaders
Some of the major market players operating in the patient scales market are A&D Medical, Algen Scale Corp, Detecto Scale Company, Health O Meter, Marsden, Natus Medical Inc., and Pelstar LLC among others.

Patient Scales Industry News:
In May 2022, Rice Lake launched novel 682 Plus Synergy Plus configurable digital weight indicator that is constructed with stainless steel and has an IP69-rated enclosure to stand up to high-pressure, high-temperature washdowns. The 682 comes standard with advanced communications to external devices and networks that are available through USB serial ports, Ethernet, fieldbus, Wi-Fi and Bluetooth. Hence, this product launch aided the company in enhancing its patient scales product portfolio.

In April 2020, Health O Meter Professional Scales announced the launch of a new handlebar accessory for the entire Line Of 500 Series Scales. This unique accessory provides extra stability while weighing a patient. Its wrap-around design improves patient experience and allows patients of any height to comfortably hold the handlebars. The 500HB handlebars can be mounted to new or existing scales. Thus, this product launch assisted the company in strengthening its market presence.

Patient scales market research report includes an in-depth coverage of the industry with estimates & forecast in terms of revenue in USD (million) and volume (Units) from 2018 to 2032 for the following segments:


Click here to Buy Section of this Report
By Product, 2018 - 2032 (USD Million & Units)
Wheelchair Scales
Bed Scales
Infant Scales
Specialized Scales
Floor Scales
Body Fat Scales
Physician Scales
Chair Scales
Others
By Type, 2018 - 2032 (USD Million)
Mechanical Patient Scales
Electronic Patient Scales
By Patient, 2018 - 2032 (USD Million)
By End-use, 2018 - 2032 (USD Million)
Hospitals
Clinics
Long-term Care Facilities
Others
The above information is provided for the following regions and countries:
North America
Europe

Germany
UK
France
Spain
Italy
Poland
Switzerland
The Netherlands

Asia Pacific

Japan
China
India
Australia
South Korea
Indonesia
Philippines
Vietnam

Latin America

Brazil
Mexico
Argentina
Chile
Colombia
Peru

Middle East & Africa

South Africa
Saudi Arabia
UAE
Israel
Iran
Turkey