Orthopedic Padding Market size is projected to experience significant growth from 2020 to 2026. Orthopedic padding is a soft, adhesive or non-adhesive bandage, that is widely used to hold dressing and provide protection from injuries. High water holding capacities, absorption of sweat and prevention of skin maceration are some of the properties associated with orthopedic padding. Orthopedic padding are made up of materials such as polyester, cotton, plastic, water resistant materials, and others.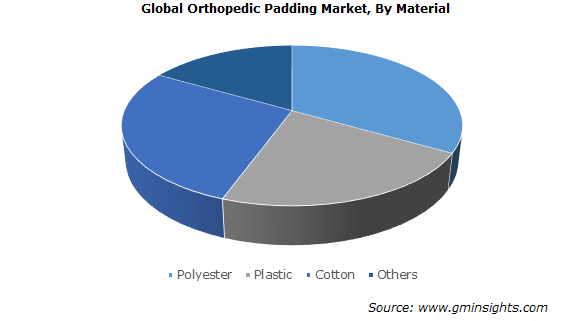 Get more details on this report - Request Free Sample PDF

Orthopedic padding market is poised to grow exponentially owing to increasing number of accidents coupled with rising number of individuals suffering from obesity. For instance, according to World Health Organization (WHO) estimates, approximately 35 million people suffer non-fatal injuries every year. These injuries include fractures and sprains of the upper and lower extremities that require orthopedic padding for quick healing and prevention of subsequent injuries. Furthermore, adoption of cast padding in low and middle-income economies will further accelerate the industry growth.

Orthopedic padding industry is primarily driven by the rising elderly population base across the globe. As per the WHO estimates, the proportion of population over 60 years of age will nearly double from 12% to 22% by 2050. Geriatric population is prone to various joint problems. Furthermore, growing adoption of sedentary lifestyle may cause loss of muscle mass and increased risk of osteoporosis. This will further drive the adoption of orthopedic padding, thereby propelling market growth. However, lack of patient compliance may hinder the orthopedic padding market progress.

The type segment is classified into adhesive and non-adhesive padding. Adhesive padding segment is estimated to dominate the overall orthopedic market owing to various benefits offered by this product. Benefits such as better stabilization and high absorbing materials will upsurge the product demand. Furthermore, adoption of adhesive felt padding to protect bone structure will offer several opportunities for business growth during the upcoming years.

Orthopedic padding are made up of several materials which includes polyester, plastic, cotton and other materials. Polyester segment held substantial revenue in 2019 and is poised to grow significantly over the forthcoming years. Polyester provides strength to attach patellar tendon and helps in maintaining the pressure required for healing. Various properties associated with polyester such as less absorption of moisture, durability, stability among others will favor segmental growth.

Based on size, the orthopedic padding market is bifurcated into 2 inch * 4 yds, 4 inch * 4 yds, 3 inch * 4 yds and 6 inch * 4 yds and others. 6 inch * 4yds segment is estimated to show significant growth during the forecast period. This size is widely used in upper and lower extremities. Utilization of this padding produces more strength owing to the use of multiple sheets. Moreover, rising incidence of accidents will increase the demand of various orthopedic padding, thereby, fostering industry growth.

Based on distribution channel, the market is divided into retailers, pharmacies and e-commerce. E-commerce segment is projected to show rapid growth over the coming years. High growth is attributed to various benefits and opportunities offered by this segment. E-commerce eliminates travel time & cost and provides huge array of cost-effective products that will foster the segment growth.

Asia Pacific orthopedic padding industry size is projected to witness lucrative growth over the forthcoming years due to increasing number of accidents and rising individual suffering from obesity. For instance, in 2018, more than 469,000 people were severely injured in road accidents in India. Such high number of road accidents involve bone injuries that require orthopedic padding. Additionally, public awareness regarding the usage of cast pads in accidental site will further stimulate the Asia Pacific orthopedic padding market during the analysis timeframe.

Some of the key players operating in the orthopedic padding market share are McKesson Medical Surgical, 3M, BSN Medical, Cardinal Health, Kiyan International and Johnson & Johnson among others. These players are adopting various strategies such as new product launch, acquisition and partnerships to sustain market competition.

Orthopedic Padding Market, By Type, 2015-2026 (USD Million)
Orthopedic Padding Market, By Material, 2015-2026 (USD Million)
Polyester
Plastic
Cotton
Others
By Dimension / size, 2015-2026 (USD Million)
2 inch * 4 yds
4 inch * 4 yds
3 inch * 4 yds
6 inch * 4 yds
Others
By Distribution Channel, 2015-2026 (USD Million)
Retailer

General stores
Supermarkets

Pharmacies

Retail pharmacy
Hospital pharmacy
E-pharmacy

E-Commerce
The above information is provided for the following regions and countries:
North America
Europe

Germany
UK
France
Italy
Spain

Asia Pacific

Japan
China
India
Australia

Latin America
Middle East and Africa

South Africa
Saudi Arabia
What Information does this report contain?
Historical data coverage: 2017 to 2021; Growth Projections: 2022 to 2028.
Expert analysis: industry, governing, innovation and technological trends; factors impacting development; drawbacks, SWOT.
6-7 year performance forecasts: major segments covering applications, top products and geographies.
Competitive landscape reporting: market leaders and important players, competencies and capacities of these companies in terms of production as well as sustainability and prospects.