Nanomedicine Market size is projected to experience significant growth from 2020 to 2026. Nanomedicine refers to the application of nanotechnology in disease diagnosis and treatment. Nanomedicine comprises nanoscale materials such as biocompatible nanoparticles and nanorobots that offer effective diagnosis, monitoring, prevention, control as well as treatment of diseases. Owing to novel properties such as size and shape, nanomedicine plays a crucial role in development of innovative drugs with reduced risk of side effects and greater efficacy than the standard therapies. The industry is in nascent stage, as several products are in the development phase.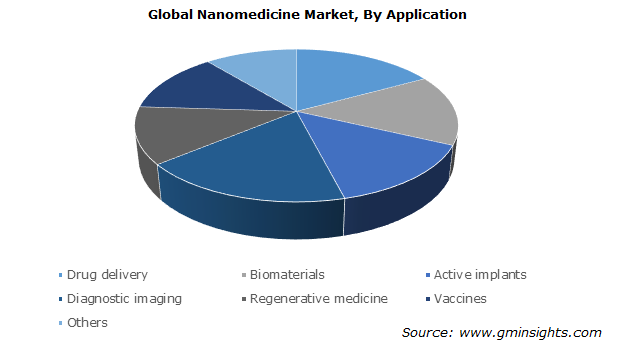 Get more details on this report - Request Free Sample PDF

Nanomedicine market is primarily driven by the growing burden of chronic and infectious diseases worldwide. According to the World Health Organization, cancer is the second leading cause of mortality globally, accounting for more than 9.5 million deaths in 2018. Ability of nanomedicine to modulate lymphoid and myeloid cell behavior and improve anticancer immunity and immunotherapy efficacy, will increase its adoption in cancer treatment.

Additionally, nanomedicine market growth is poised to grow exponentially owing to its demand in the treatment of neurological diseases. Insufficient absorption of oral drug administration in neurological conditions such as Alzheimer's disease, Parkinson disease, or tumor will pave way for nanomedicine expansion. Growing demand for gold, lipid or biodegradable nanoparticles for treating complex CNS disorders will favor the market growth. Advent in technology and potential product pipeline based on nano-molecules will further accelerate the industry growth. However, stringent regulatory guidelines and long approval process may hinder the nanomedicine industry progress.

Nanomedicine can be divided into nanoparticles, nano-shells, nanotubes and nanodevices. Nanoparticles comprise metal & metal oxide nanoparticles, liposomes, polymers & polymer drug conjugates, hydrogel nanoparticles, dendrimers and inorganic nanoparticles. Nanoparticles segment is estimated to dominate the overall nanomedicine market demand owing to the benefits offered by various nanoparticles. Increasing usage of metal and metal oxide particles in photodynamic therapy (PDT) for cancer and infectious disease treatment will upsurge the product demand. Furthermore, adoption of liposomal nanoparticles for encapsulating therapeutic agents may offer several opportunities for business growth during the upcoming years.

The modality segment of the nanomedicine market includes diagnostics and treatments. Treatments segment held substantial revenue in 2019 and is poised to grow significantly over the forthcoming years. The unique physicochemical properties of nanoparticles serve as a valuable technology for effective drug delivery at the desired site of action. Integration of nanomedicine in multimodal combination therapies, due to its synergy with pharmacological and physical co-treatments, will further favor its adoption in chronic disease treatments.

Nanomedicine has application in drug delivery, biomaterials, active implants, diagnostic imaging, regenerative medicine and vaccines among others. Nanotechnology offers several benefits such as target-oriented and site-specific delivery of precise medicines. Utilization of different kinds of nanoparticles in the development of novel delivery products will fuel the nanomedicine business growth.

Based on indications, the nanomedicine segment is divided into cardiovascular, oncological, neurological, orthopedic, infectious and other diseases. Oncological disease segment is projected to show rapid growth over the coming years owing to rising prevalence of cancer worldwide. Nanomedicine offers sensitive cancer detection and enhanced treatment efficacy with significantly less side effects as compared to standard treatments. Extensive application of nanomedicine in oncology will thus, foster the segment growth.

Europe nanomedicine market revenue is projected to witness lucrative growth over the forthcoming years owing to growing disease burden and focus on technological advancement. Organizations such as the European Technology Platform on Nanomedicine (ETPN) and the European Society for Nanomedicine (ESNAM) focus on promoting the research and clinical applications of nanomedicine for the betterment of humanity and environment. Additionally, expertise in drug delivery research and investments in clinical development of nano-pharmaceuticals will further stimulate the market growth during the analysis timeframe.

Some of the key players operating in the nanomedicine market share are Sanofi, Celegene Corporation, CytImmune Sciences, Luminex Corporation, Johnson & Johnson, Merck, Nanospectra Biosciences, Nanobiotix and Pfizer. These players are adopting various strategies such as acquisitions, mergers and product innovation to sustain market competition.

Nanomedicine Market, By Product, 2015-2026 (USD Million)
Nanoparticles

Metal & metal oxide nanoparticles
Liposomes
Polymers & polymer drug conjugates
Hydrogel nanoparticles
Dendrimers
Inorganic nanoparticles

Nano-shells
Nanotubes
Nanodevices
Nanomedicine Market, By Modality, 2015-2026 (USD Million)
By Application, 2015-2026 (USD Million)
Drug delivery
Biomaterials
Active implants
Diagnostic imaging
Regenerative medicine
Vaccines
Others
By Indication, 2015-2026 (USD Million)
Cardiovascular diseases
Oncological diseases
Neurological diseases
Orthopedic diseases
Infectious diseases
Others
The above information is provided for the following regions and countries:
North America
Europe

Germany
UK
France
Italy
Spain

Asia Pacific

Japan
China
India
Australia

Latin America
Middle East and Africa

South Africa
Saudi Arabia
UAE

What Information does this report contain?
Historical data coverage: 2017 to 2021; Growth Projections: 2022 to 2028.
Expert analysis: industry, governing, innovation and technological trends; factors impacting development; drawbacks, SWOT.
6-7 year performance forecasts: major segments covering applications, top products and geographies.
Competitive landscape reporting: market leaders and important players, competencies and capacities of these companies in terms of production as well as sustainability and prospects.