Immunoassay Interference Blocker Market Size, Industry Analysis Report, Regional Outlook (U.S., Canada, Germany, UK, France, Italy, Spain, Japan, China, India, Australia, Brazil, Mexico, South Africa, Saudi Arabia), Application Potential, Price Trends, Competitive Market Share & Forecast, 2021 – 2027
Report ID: GMI4427
Immunoassay interference blocker market size is expected to grow significantly from 2019 to 2025.

Analytical interference is defined as the effect of a substance present in sample that alters accurate value of result. Substances that change the measurable concentration of antibody binding or analyte can potentially cause immunoassay interference. Immunoassay interference may lead to misinterpretation of an individual's result by the research laboratory that may result in false course of treatment being given by the physician.

Global Immunoassay Interference Blocker Market, By Application, 2018 (USD Million)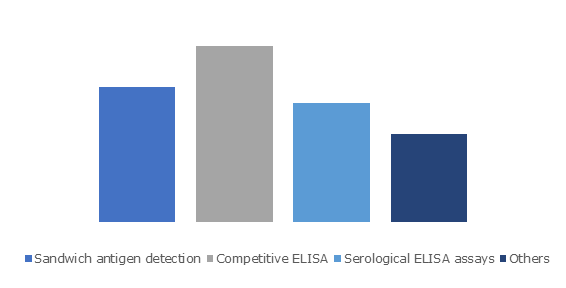 Get more details on this report - Request Free Sample PDF

Immunoassay interference blocker kit consists of reagents that are specifically designed to prevent false negative and false positive results that enhances the overall assay performance. The immunoassay interference is mainly triggered by endogenous antibodies present within a patient's sample and non?specific interactions between antibodies within the assay itself. Thus, certain type of intervention can affect an assay to report a completely negative result. Therefore, to prevent false results, immunoassay interference blocker kits are used. Furthermore, product such as blocking reagent is conceived to prevent interfering antibodies from affecting immunoassay results that raises huge demand for such kits.

Various companies operating in immunoassay interference blocker market are concentrating on introducing kits and novel technologies to effectively diagnose and manage patient health. Such technological progress will eventually benefit patients suffering from infectious diseases, cancer and other viral infections. Moreover, technological advancements surges the demand for R&D activities that strengthen the developments in immunoassay. Also, these advancements have enhanced the accuracy and quality for successful diagnostic immunoassays. However, inadequate detection limit may impede the overall immunoassay interference blocker market growth.

Immunoassay interference blocker market is segmented based on product type, application and end-use. The product type segment covers antibody interferences, detection interferences and surface interferences. Antibody interferences segment is projected to witness lucrative growth trend over the coming years. Rheumatic factors and heterophilic antibodies may cause major interventions in any immunoassay and are commonly referred as Human-Anti-Animal-Antibodies (HAAAs). Moreover, several diagnostic immunoassay reagents utilize mouse monoclonal antibodies, as HAMA, a type of HAAA, are the most frequent cause of interferences. Hence, aforementioned factors will prove to be beneficial for the segmental progress.

Application segment covers sandwich antigen detection, competitive ELISA, serological ELISA assays and others. Competitive ELISA segment will grow substantially during the analysis period as it measures the concentration of an antigen by identifying signal interferences. In addition, several other formats can also be adapted to the competitive format that further accelerates segmental expansion. Moreover, competitive ELISA kits widely prefer labeled antigen as compared to labeled antibody, as the sample antigen and labeled antigen compete for binding to the primary antibody. Hence, above mentioned factors augments the immunoassay interference blocker market progress.

The end-use segment is classified on the basis of academic research institutes, biotech and pharma companies, molecular diagnostic companies and others. Biotech and pharma companies' segment will show substantial growth opportunities over analysis timeframe. Increasing usage of immunoassay interference technique in research activities undertaken by biotech and pharma companies to introduce novel applications will foster segmental progress. Also, these companies invest huge amount in R&D activities that will drive the business growth.

Europe immunoassay interference blocker industry will account for momentous revenue share by 2025. Various companies operating in this market continue to make efforts towards expanding the product portfolio in immunoassay segment that will propel regional progress. Moreover, in-organic growth strategies to expand the immunoassay interference blocker business across European region will further accelerate the regional progress.

Prominent business players operating in immunoassay interference blocker market include Abcam, AMS Biotechnology, Aviva Systems Biology, Roche Diagnostics, Bio-Rad Laboratories, Scantibodies Laboratory, Meridian Bioscience and Thermo Fisher Scientific. These notable industry players operating in this business adopt several organic and in-organic strategies to compete in market and to have competitive edge over other players. For instance, in September 2017, Meridian Bioscience introduced TRU Block ULTRA, a powerful immunoassay interference blocker. This novel product launch expanded the product range of the company.

Immunoassay Interference Blocker Market, By Product Type, 2014-2025 (USD Million)
Antibody interferences
Detection interferences
Surface interferences

Bovine Serum Albumin (BSA)
Others
Immunoassay Interference Blocker Market, By Application, 2014-2025 (USD Million)
Sandwich antigen detection
Competitive ELISA
Serological ELISA assays
Others
Immunoassay Interference Blocker Market, By End-use, 2014-2025 (USD Million)
Academic research institutes
Biotech and pharma companies
Molecular diagnostic companies
Others
The above information is provided for the following regions and countries:
North America
Europe

Germany
UK
France
Italy
Spain

Asia Pacific

Japan
China
India
Australia

Latin America
Middle East and Africa

South Africa
Saudi Arabia
Company Profiles:
Abcam plc
AMS Biotechnology Limited
Aviva Systems Biology Corporation
Bio-Rad Laboratories, Inc.
Meridian Bioscience, Inc.
Roche Diagnostics
Scantibodies Laboratory, Inc.
Thermo Fisher Scientific
What Information does this report contain?
Historical data coverage: 2016 to 2020; Growth Projections: 2021 to 2027.
Expert analysis: industry, governing, innovation and technological trends; factors impacting development; drawbacks, SWOT.
6-7 year performance forecasts: major segments covering applications, top products and geographies.
Competitive landscape reporting: market leaders and important players, competencies and capacities of these companies in terms of production as well as sustainability and prospects.
Customize this Report
Our Market Research Reports Include:
Market snapshot

Market Segmentation

Value Chain Analysis

Growth Dynamics

Potential Market Opportunities

Regulatory Overview

Technology Evolution

Innovation & Sustainability
Connect with our sales team