Gas hydrates Industry Analysis
Gas Hydrates Market size was valued at USD 2.4 billion in 2022 and is estimated to register over 5.2% CAGR during 2023 to 2032. The increasing global energy demand, coupled with concerns about energy security, drives the exploration and development of gas hydrates as a potential alternative to conventional fossil fuels. The shift towards cleaner and more sustainable energy sources will complement the business growth.

To get more details on this report: Request Free Sample PDF

The search for new energy sources and untapped reserves stimulates the exploration and development of gas hydrates. As conventional hydrocarbon resources become more challenging to extract, gas hydrates present an opportunity for expanding energy portfolios and meeting future energy demands.

Gas Hydrates Market Report Coverage
Report Coverage
Details
Base Year:
2022
Market Size in 2022:
USD 2.4 Billion
Forecast Period:
2023 -2032
Forecast Period 2023 -2032 CAGR:
5.2%
3 -2032 Value Projection:
USD 4 Billion
Historical Data for:
2018 to 2022
No. of Pages:
160
Tables, Charts & Figures:
193
Segments covered:
By Product Form, By Application, By Technology, By Region
Growth Drivers:

Rising sustainability aims
Increasing environmental concerns
Rapidly growing demand for energy
Technological Challenges

Pitfalls & Challenges:

High Costs and Economic Viability
Environmental Concerns
To get more details on this report: Request Free Sample PDF

Gas hydrate extraction and production technologies are still in the early stages of development. The unique properties of gas hydrates, such as low permeability and high-pressure conditions, pose technical challenges in extracting gas from hydrate deposits. Developing efficient and cost-effective technologies for hydrate dissociation and gas recovery remains a significant challenge. The economic viability of gas hydrate extraction and production is a significant challenge.

The costs associated with exploration, drilling, production, and infrastructure development for gas hydrate resources can be high. Achieving cost-effectiveness and ensuring a competitive price of gas derived from hydrates compared to conventional sources is a key challenge for industry players. Thus, the high-end pricing and risks associated with Gas hydrates may drive down the acceptance rate, further hampering the gas hydrates market growth.

COVID-19 Impact
The pandemic has disrupted research activities, including those focused on gas hydrates. Laboratory and field research, as well as collaborative projects, may have been delayed or temporarily halted due to restrictions on travel, laboratory access, and funding limitations. This delay could have slowed down the progress in understanding gas hydrates and developing extraction technologies. The global economic slowdown caused by the pandemic has resulted in reduced investments and funding for energy projects, including gas hydrate research and development. Governments and organizations facing financial constraints may prioritize immediate healthcare and economic recovery efforts over long-term energy projects, affecting the funding available for gas hydrate initiatives.

Thus, the reduced number of COVID-19 cases and implementation of subsequent strategies by government and non-government organizations is likely to boost the market development.

Gas Hydrates Market Trends
The development of innovative extraction technologies for gas hydrates is a significant trend in the market. Continuous research and technological advancements aim to improve the efficiency and cost-effectiveness of gas hydrate extraction, including methods such as depressurization, thermal stimulation, and CO2 injection. These advancements are crucial for realizing the commercial potential of gas hydrate resources. Environmental sustainability is a key trend in the market.

As concerns about climate change and greenhouse gas emissions increase, there is a growing emphasis on environmentally sustainable practices in gas hydrate exploration and production. Efforts to minimize methane emissions during extraction, promote carbon capture and storage (CCS) techniques, and implement environmentally responsible production processes align with this trend.

Gas Hydrates Product Type Segmentation
To get more details on this report: Request Free Sample PDF

Gas hydrates market from the methane hydrates segment reached USD 0.72 billion in 2022. Methane hydrates are considered a potentially abundant and untapped energy resource. The demand for methane hydrates is led by the exploration and development of new energy sources to meet growing energy demands. The demand for CO2 hydrates is impelled by efforts to reduce carbon emissions and combat climate change.

Gas Hydrates Application Segmentation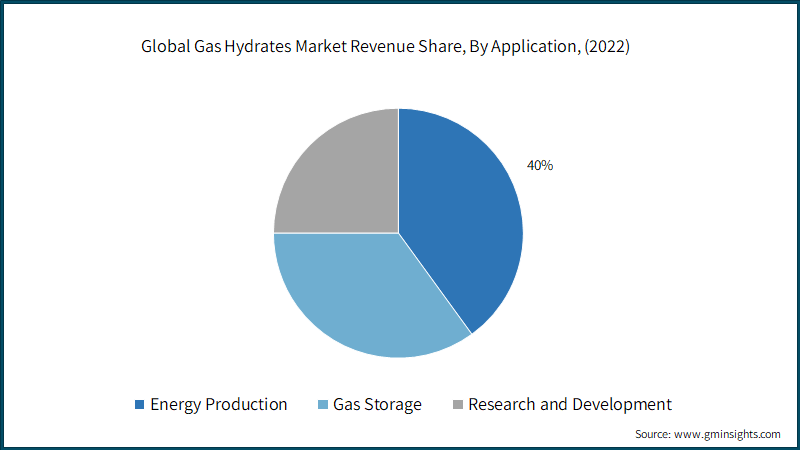 To get more details on this report: Request Free Sample PDF

The energy production segment held approximately 40% of the gas hydrates market share in 2022. Gas hydrates are considered a potentially abundant and untapped energy resource. The demand for gas hydrates in the energy sector is propelled by the exploration, production, and development of new energy sources to meet growing energy demands. The demand for gas hydrates in gas storage and transportation applications is driven by the need for safe and economical methods to store and transport gases.

Gas Hydrates Technology Segmentation
The production and extraction technology segment of gas hydrates market is set to grow at 4.6% CAGR through 2032. The development of advanced seismic imaging techniques, such as 3D and 4D seismic surveys, helps identify potential gas hydrate deposits. The demand for gas hydrate exploration technologies is led by the need for accurate mapping and characterization of hydrate reservoirs. Thus, the high-quality services and growing usage of Gas hydrates at places are anticipated to expedite the business growth.

Gas Hydrates Regional Analysis
U.S. gas hydrates market size dominated around USD 0.36 billion in 2022. North America is keen on reducing its dependence on imported energy resources. Gas hydrates offer the potential for a domestic and alternative energy source, thereby enhancing energy security and reducing reliance on foreign energy supplies. North America has significant gas hydrate reserves in its offshore regions, particularly in the Gulf of Mexico and the Arctic. The presence of these vast resources drives exploration and research activities to assess their commercial viability and potential contribution to the energy mix.

Gas Hydrates Industry Leaders
Some of the major market players operating in the gas hydrates market are Japan Oil, Gas and Metals National Corporation (JOGMEC), ConocoPhillips, Chevron Corporation, ExxonMobil Corporation, BP plc, Shell Global, TotalEnergies SE, PetroChina Company Limited, China National Offshore Oil Corporation (CNOOC), Indian Oil Corporation Limited, Gazprom, Statoil (Equinor), Korea Gas Corporation (KOGAS), Woodside Petroleum Ltd., Mitsui & Co., Ltd. among others. These participants focus on strategic partnerships, new product launch & commercialization for market expansion. Furthermore, these players are heavily investing in research that allows them to introduce innovative products and garner maximum revenue in the market.

Gas Hydrates industry News:
In March 2023, JX Nippon Oil & Gas Exploration Corporation (JX) announced in mid-March that it had reached an agreement with funds affiliated with Aspirant Group Inc. to acquire all of Japan Drilling Co. Ltd. (JDC)'s issued shares.

This gas hydrates market research report includes an in-depth coverage of the industry with estimates & forecast in terms of revenue in USD Billion & Units from 2018 to 2032, for the following segments:


Click here to Buy Section of this Report
Market, By Product Type
Methane Hydrates
Carbon Dioxide (CO2) Hydrates
Nitrogen (N2) Hydrates
Other Hydrocarbon Hydrates
Market, By Application
Energy Production
Gas Storage
Research and Development
Market, By Technology
Gas Hydrate Formation and Dissociation
Production and Extraction
Storage and Transportation
The above information is provided for the following regions and countries:
North America
Europe

Germany
UK
France
Spain
Italy

Asia Pacific

China
Japan
India
Australia
South Korea
Indonesia
Malaysia

Latin America
Middle East & Africa

South Africa
Saudi Arabia
UAE
Egypt