Fetal Bovine Serum Industry Analysis
Fetal Bovine Serum Market size was valued to be USD 1.1 billion in 2022 and is expected to reach USD 2.5 billion in 2032 with a CAGR of 8.1% till 2032 driven by the expanding scope of research and development within the pharmaceutical and biotechnological sectors.

To get more details on this report: Request Free Sample PDF

This expansion is paralleled by the increasing occurrence of chronic diseases, where the utilization of fetal bovine serum in both diagnosis and treatment has gained notable prominence. Also, fetal bovine serum, due to its rich nutrient composition, is notably integrated into cell culture processes, aiding cell growth and fostering research endeavors. This symbiotic relationship between research demands and disease prevalence has led to a notable industry upswing in the usage of fetal bovine serum within these critical industries. Moreover, high demand of sera in among end-users including academic institutes for drug development and cell culture media.
Fetal Bovine Serum Market Report Coverage
Report Coverage
Details
Base Year:
2022
Market Size in 2022:
USD 1.1 Billion
Forecast Period:
2023 to 2032
Forecast Period 2023 to 2032 CAGR:
8.1%
2032 Value Projection:
USD 2.5 Billion
Historical Data for:
2018 to 2022
No. of Pages:
126
Tables, Charts & Figures:
212
Segments covered:
Product type, Application, End-user and Region
Growth Drivers:

Increasing research activities in biopharmaceutical and biotechnological field
High demand for fetal bovine sera
Increasing prevalence of acute and chronic diseases

Pitfalls & Challenges:

Ethical and scientific concerns associated with collection of fetal bovine serum
Availability of the alternatives in the market
To get more details on this report: Request Free Sample PDF

Fetal bovine serum, also known as fetal calf serum, is a blood-derived product obtained from the blood of fetal bovine (cow) foetuses. It is rich in various growth factors, hormones, and other nutrients, making it an ideal supplement to promote the progress and proliferation of many types of animal cells.

COVID-19 Impact
The fetal bovine serum market underwent substantial shifts owing to the impact of the COVID-19 pandemic. The emergence of the pandemic created an exigent requirement for research and diagnostics aimed at comprehending the virus and its modes of transmission. To curtail the virus's proliferation and mitigate its adverse effects, the pandemic induced a heightened necessity for vaccination efforts. Given that fetal bovine serum plays a pivotal role in vaccine production, the increased demand for vaccines had a direct and positive influence on the market, consequently elevating fetal bovine serum sales.

Fetal Bovine Serum Market Driving Factors
Fetal bovine serum acts a pivotal role and fundamental constituent in cell culture media, finding application in bioproduction, drug exploration and evaluation, cellular communication studies, the synthesis of monoclonal antibodies, vaccine development, and gene expression analyses. The swift expansion of the biopharmaceutical and biotechnological landscape, there is a concurrent surge in the demand for fetal bovine serum, consequently impelling the market's enlargement. Also, the ongoing evolution and intricacy of biopharmaceutical research lead to a broader spectrum of cell varieties and models being employed.

Fetal Bovine Serum Restraint
The utilization of fetal bovine serum (FBS) in research and scientific endeavors has prompted significant ethical and scientific deliberations due to several underlying concerns. Ethical considerations stem from the method of FBS collection, which involves obtaining blood from cow fetuses derived from animals slaughtered for meat. This practice has raised ethical red flags as it sparks discussions about animal welfare, humane treatment, and the broader implications of animal use in research and industrial processes.

Fetal Bovine Serum Product Type Segmentation
To get more details on this report: Request Free Sample PDF

Based on the product type, the fetal bovine serum market is segmented into stem cell, charcoal stripped, exosome depleted, dialyzed fetal bovine serum, chromatographic and other product types. The stem cell segment held largest industry share of 30.4% in 2022. Stem cells hold remarkable potential in various scientific and medical applications due to their ability to differentiate into diverse cell types, offering insights into developmental processes, disease mechanisms, and potential therapeutic interventions. Also, fetal bovine serum with its complex mixture of growth factors and bioactive molecules, it serves as a rich source of critical factors in regenerative medicine, disease modeling, drug screening, and bioproduction of therapeutic agents.
Fetal Bovine Serum Application Segmentation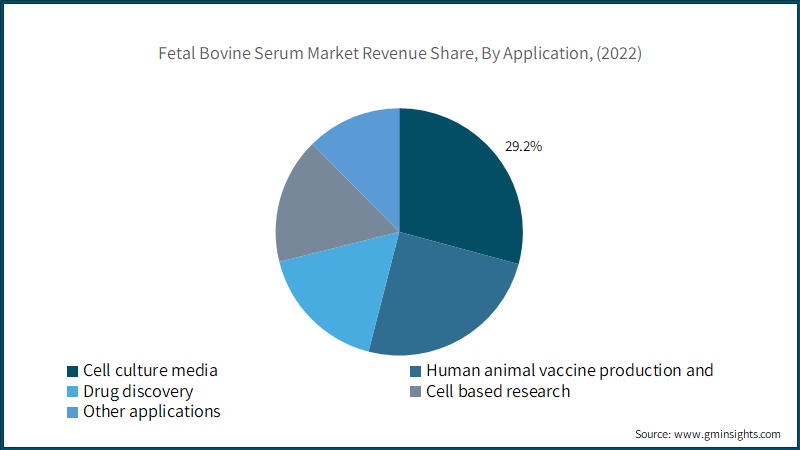 To get more details on this report: Request Free Sample PDF

Based on the application, the fetal bovine serum market is classified into cell culture media, human and animal vaccine production, drug discovery, cell-based research and other applications. The cell culture media segment led with a market size of USD 330.3 million. The frequent component utilized in the formulation of vaccines is fetal bovine serum. This serum is a rich source of nutrients and growing factors that play a pivotal role in fostering cellular proliferation. Further, the outbreak of the COVID-19 pandemic has instigated heightened interest in the development of novel vaccines. Consequently, the role of fetal bovine serum has gained even greater significance, emerging as an indispensable resource for the research and formulation of vaccines.

Fetal Bovine Serum End-user Segmentation
Based on the end-user, the fetal bovine serum market is fragmented into biotechnology & pharmaceutical industries, research and academic institutes, diagnostic labs, and other end-users. The biotechnology & pharmaceutical industries segment is expected to reach USD 1 billion by end of 2032. The industries encompass the manipulation of biological systems for diverse applications, fetal bovine serum is of paramount significance. It finds utility in cell culture processes, enabling researchers and scientists to cultivate and nurture cells in controlled laboratory settings. This practice is pivotal for investigating cellular behaviors and conducting experiments that underpin the development of biotechnological products like enzymes, biopharmaceuticals, and biofuels.

Fetal Bovine Serum Regional Analysis
In 2022, the North American fetal bovine serum market held the largest share of 38.3%. This high segment revenue is attributed to the presence of prominent players, better governing policies, increasing clinical diagnostic segment and high research and development activities. Also, the increasing prevalence of diseases, introduction of novel approaches in fetal bovine serum techniques, increasing research centers and academic institutes & labs.

Fetal Bovine Serum Industry Leaders
The prominent players in the fetal bovine serum market are Thermo Fisher Scientific, Inc., Danaher Corporation, Atlas Biologicals, Inc., Bio-Techne, Himedia Laboratories Pvt Ltd, Merk KGaA, Pan-biotech, Sera Scandia A/S (Biowest), Rocky Mountain Biologicals (RMBIO), ZenBio, Inc, and Gemini Bio-Products.

Fetal Bovine Serum Industry News:
In April 2021, Thermo Fisher Scientific Inc. announced a definitive agreement of acquisition of Pharmaceutical Product Development, Inc (PPD). This acquisition helped in enhancing its research and development activities which contributed to the developing demand of fetal bovine serum.

The fetal bovine serum report includes an in-depth coverage of the industry with estimates & forecast in terms of revenue in USD Million from 2018 to 2032 for the following segments:


Click here to Buy Section of this Report
By Product Type
Stem cell
Charcoal stripped
Exosome depleted
Dialyzed fetal bovine serum
Chromatographic
Other product types
By Application
Cell culture media
Human and animal vaccine production
Drug discovery
Cell based research
Other applications
By End-user
Biotechnology & pharmaceutical industries
Research and academic institutes
Diagnostic labs
Other end-users
The above information is provided for the following regions and countries:
North America
Europe

Germany
UK
France
Spain
Italy
Rest of Europe

Asia Pacific

China
Japan
India
Australia
Rest of Asia Pacific

Latin America

Brazil
Mexico
Rest of Latin America

Middle East & Africa

South Africa
Saudi Arabia
Rest of Middle East & Africa